Across the Universe: Winners and losers
Which genre shows fared best and worst this fall?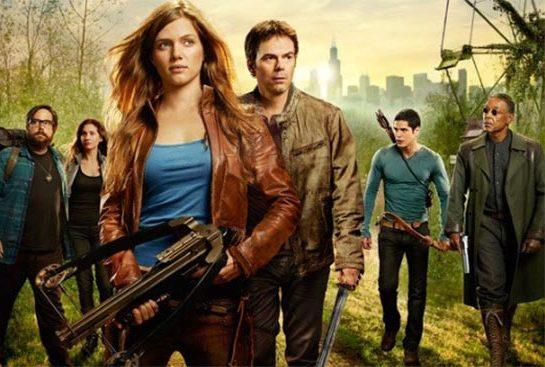 By Don Kaye
Special to MSN TV


The fall television season -- also known as the first half of the overall TV year -- is coming to a close this week, with many shows going on hiatus until February or March. So how have the new influx of genre shows, as well as those returning for a fresh season, fared so far? Let's take a look at the winners and losers of fall 2012:
Bing:
More on 'Revolution'
|
More on 'The Walking Dead'
Winners

"Revolution":
After the failure of "Alcatraz" last season, this new entry from J.J. Abrams' Bad Robot production company proved to be a nice rebound in ratings and critical approval. We haven't been on board with the show (the wider implications of its post-apocalyptic society have not been much explored) but we respect its narrative style and a number of performances. We'll see if a long hiatus (the show resumes in March) has any impact.
"Arrow":
Despite sneering from the hardcore comics brigade over the dropping of "Green" from the title and star Stephen Amell's perfect six-pack, this CW series has managed to hold its own and introduce some key villains from the DC mythology. Is it a worthy successor to "Smallville"? Ask us in 10 seasons.
"The Walking Dead":
Not only is the show hitting record-breaking ratings highs, but it is better than ever. Bad memories of the slow-moving second season have been erased by the white-knuckle intensity of the third, in which zombie horror has actually taken a back seat to the kind inflicted by humans on one another. Kudos to the cast as well, including David Morrissey as the frightening Governor. Can't wait for the rest of this season to start up in February.
"Fringe":
"Fringe" lands in the winner's circle simply by virtue of still being here. Not only did the show survive for five years against all odds, but it got to go out in style with a 13-episode final season that allowed its creators to wrap the story line the way they wanted to. Whether or not you like the way it ultimately ends is another matter entirely; fans should be grateful that it made it far enough for you to decide.
"Person of Interest":
Still more of a police procedural -- with a heavy dose of sci-fi -- this Jonathan Nolan-created program continues to hold its own and remain one of Thursday's top-rated shows, as well as its most thought-provoking.
"Once Upon a Time":
The fairy-tale fantasy drama has been a steady hit for ABC in a difficult Sunday night time slot, continuing to do well while methodically putting together its mythology a piece at a time.
"Grimm":
This mix of police drama and fantasy (in which creatures from the Grimms' fairy tales are real and cross over into our world regularly) tells almost the same story for NBC as "Once Upon a Time" has told for ABC, with solid ratings and critical acclaim.

Losers"American Horror Story: Asylum":
We're going somewhat controversially, we think, in the losers' column with this, but the fact is that we've steadily lost interest in the show as the second season has dragged on. Unlike the tightly focused first season, which also featured a worthy protagonist in Connie Britton, the second year has been all over the map, with aliens, serial killers, demonic possession, human mutants and mad scientists all jammed into a story with hardly any characters we really care about. Ratings have dipped, too (not much, but enough to be noticeable), which indicates that we may not be in the minority.
"Last Resort":
We were riveted by this show's pilot episode, in which a nuclear sub went rogue after being used as a pawn in some sort of mysterious global game. But as the show wore on, we started to wonder how the producers could make this work over the course of a season, let alone several of them. We won't get the chance to find out: "Last Resort" was a ratings loser from the start and has been canceled. A shame, but perhaps the show was never meant to last anyway.

"666 Park Avenue":
Was this supposed to be a soap opera or a horror tale? Glitzy yet superficial, "666 Park Avenue" was no doubt commissioned in the wake of the success of "American Horror Story." But it was humdrum from the start, unlike that frequently insane and shocking series, and ended up finding fans in neither camp.

"Beauty and the Beast"
: Ratings have been pretty dismal for this show, very loosely inspired by the 1987 TV series of the same name. The silly updating of the premise (the "beast" is actually the survivor of a "super-soldier" experimental program) is pointless, while the acting has received its share of critical arrows. We don't think this CW series will be around for much longer.