Across the Universe: Robert Downey Jr. talks 'Iron Man 3' as new trailer debuts
Star gives early look at this May's blockbuster sequel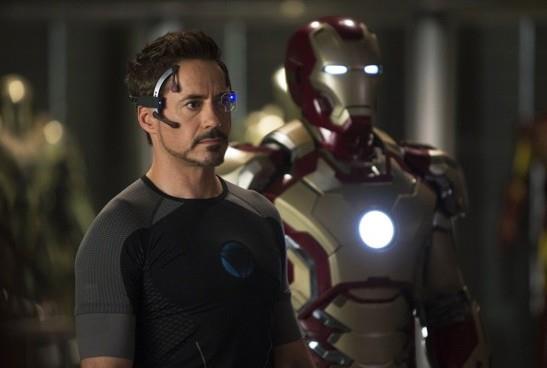 One of the most heavily anticipated movies of the upcoming summer season has to be "Iron Man 3," which arrives in May as the first Marvel follow-up to last year's astonishingly successful "The Avengers." This time around, Tony Stark (Robert Downey Jr.) is on his own -- with returning friends Pepper Potts (Gwyneth Paltrow) and Jim Rhodes (Don Cheadle) along for the ride -- as he faces his deadliest enemy yet, a mysterious terrorist known as the Mandarin (Ben Kingsley). A new trailer has just debuted for the film, which you can see below.

Downey's fourth appearance as Iron Man brings Shane Black ("Kiss Kiss Bang Bang") on board as writer and director, after Jon Favreau directed the first two "Iron Man" movies, and marks the beginning of Marvel's "Phase Two," the second slate of stand-alone films that will eventually lead to "The Avengers 2" in 2015. But rather than rely on his new superhero pals to bail him out, Stark must contend with the Mandarin on his own in a story that pushes him to his most extreme limits.
Parallel Universe was one of a number of outlets that got a chance to see some footage from the film and speak with Downey a few months ahead of its release date, with the footage consisting primarily of an attack by the Mandarin that utterly destroys Stark's Malibu mansion and sends him into temporary hiding. The attack sequence is as big as anything we've seen before from Marvel, including "The Avengers," while Downey's ease in the role after four films is readily apparent, especially in a scene where he takes shelter in a garage and meets up with a young boy.
At a roundtable discussion with several reporters after the screening, Downey was asked how Iron Man now fits into a post-"Avengers" world -- a concern that Downey admits both the character and the actor share.
"To me the big gamble was 'Avengers' to begin with," said Downey. "And that seemed to all come together nicely. All those characters coming together was well received and obviously did exemplary business. But it wasn't particularly likely that all those pieces from five years ago would fit together, so I think I'm still processing in a way what Kevin (Feige, Marvel head of production) and Marvel and now Disney did and what the whole big plan is. I'm kind of catching up. ... All I know is that I really, really loved this last shoot."
For many fans and critics, it seemed as if 2010's "Iron Man 2" often seemed like one big setup for "The Avengers," but now that the latter has become such a huge phenomenon on its own, the burden is off the "Iron Man" films to support it.
"Favreau carried a lot of extra weight on a film where usually you would go back and go, 'Wow, it's our second time around, so we can try this and that,'" recalled Downey. "But instead, there was other wood to chop and water to carry. So if it was frustrating at all then, it seems kind of liberating now because of the way 'Avengers' turned out. My big question was, 'OK, so we didn't jump the shark even though the sky opened up and turned into a wormhole in Manhattan?'  And they went, 'Apparently not.' So now there was nothing we needed to set up. This was freedom. And so this time they were kind of like, 'Let's get back to just nuts and bolts of Tony stuff.'"
"Nuts and bolts" includes Tony's relationship with Pepper, his personal assistant who has become both the head of his company and the love of his life -- their chemistry continues to be a major part of the backbone of the "Iron Man" franchise. "I thought, 'OK, what do we want Gwyneth to be able to do this time?'" said Downey. "And how do we not have it so that she's not just going (screamy voice), 'Tony!' And he's not just going, 'Where's Pepper?' Someone reminded me that there has never been one of these superhero genre films where the guy is in a committed relationship. It's kind of like, 'Oh no, don't do that.' But we thought it sends a better message than 'Don't you want to be like this guy who dates Nicole Kidman one year and Kim Basinger the next?' Well, yes, you do (laughs). But there's no stability there."
Paltrow does a bit more in terms of action this time as well: There's even a moment in the Malibu sequence where Pepper gets to don the Iron Man suit. "That's the other thing that I have been pushing for," added Downey. "She's in great shape. She's really game. That was the other thing, too: You have all these genre movies and you have these capable women. And they're kind of like, 'Oh my God. Some action is happening. I better step away or get caught in something over here.' And I was kind of like, 'Really? Is that where we're at in the 21st century?'"
Another major element of "Iron Man 3" is the addition of Ben Kingsley as the Mandarin, long known in the comic books as Tony Stark's greatest nemesis. "We were talking about the Mandarin for the first 'Iron Man,'" said Downey. "Then for 'Iron Man 2,' we said, 'Let's just cut to the chase and bring in the best adversary he's ever had.' And I was like, 'Yes, the Mandarin.' It didn't happen. And then I was thinking, 'All right, maybe the Mandarin will be the guy who comes in for 'Avengers,' right?' And they're like, 'No, no, no, don't worry about it.' So by default he never came in because I didn't think they knew how to write it. But that's what Shane and Drew (Pearce, co-screenwriter) did. And the biggest kind of non-surprise but delight in the whole making in the movie was what Ben did with the role."
Which is? "He's incredibly game," continued Downey. "Like when I was doing 'Tropic Thunder,' I felt like I was just in this kind of nether land of 'This is a really bad idea and I'm going to be careful with it, but I'm certainly not going to back off going for it.' And I felt that very self-same sort of energy coming off (Kingsley) ... it was just delightful because he is so off the chain and yet so professional and controlled and all that. But he has as big a toolbox as you could ever ask for, so to just have him come in and execute just what's on the page or what the director's vision was, to me, would be a huge loss."
The elephant in the room as our meeting was winding down was the fact that Downey's contract with Marvel was up with "Iron Man 3," although it seems a given that he'll make at least one more appearance as Tony Stark when "Avengers 2" rolls around. While Downey hinted that there are a few references to the Avengers in "Iron Man 3," he also admitted that Tony's future beyond this film is as much a mystery to him as us.
Asked if "Avengers" writer-director Joss Whedon has given him any insight into "Avengers 2," Downey said, "Not in the slightest. Nor have I him. But the funny thing in the genesis of these last five years is by the time we did 'Avengers,' we kind of realized that everybody pretty much knows what they're doing. And if everybody stays in their own lane, we're all going to get where we want to go. So it's been a trust game with all my peers for over half a decade now."
"Iron Man 3" is out in theaters in 3D on Friday, May 3.