Across the Universe: Peter Jackson and 'The Hobbit'
We talk with the director about his return to Middle-earth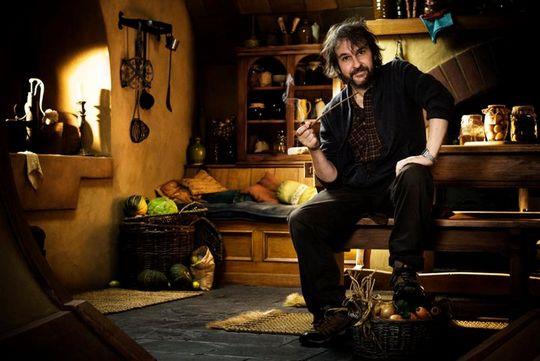 By Don Kaye
Special to MSN Movies


Back in the mid-1990s, filmmaker Peter Jackson and his
wife/co-producer/co-​writer
Fran Walsh dreamed of filming J.R.R. Tolkien's classic children's fantasy novel, "The Hobbit, " followed by a two-part version of Tolkien's darker, more mature follow-up, "The Lord of the Rings." The rights to "The Hobbit" were split between producer Saul Zaentz and MGM Studios, making "The Lord of the Rings" easier to obtain and develop first. Jackson and Walsh started on the project in 1997 and the rest is film history: The "Rings" trilogy, as they were eventually filmed, became critical hits, a box office phenomenon, and beloved modern classics of the genre.
Bing:
More on Peter Jackson
|
More on 'The Hobbit'
Yet the dream of "The Hobbit" never died, and even though many issues had to be navigated and Jackson at first did not want to direct, he eventually got back behind the camera to make "The Hobbit" -- and, as of this past summer, to make that book as a trilogy as well, in 3-D, and filmed at a higher frame rate per second (48 as opposed to 24) than the standard motion picture. The results are both familiar and new, different but the same, and Parallel Universe got a chance to speak with Jackson via phone about returning to the wondrous land known as Middle-earth more than a decade since he first set foot there.
MSN Movies: You were not going to direct this at first. What was the process that led you to, for lack of a better phrase, almost to embrace your destiny to direct this.
Peter Jackson: (Laughs) I did feel a little bit like that. I have to admit, yeah.
Was there any sort of eureka moment when that really came to you?

In a way "The Hobbit" was always -- it was part of our plan, as you would imagine, because it's the first book and it would be in some respects the sensible way to tackle that. And then after "The Lord of the Rings" was made, it was still -- the situation was still complex because Warner Bros. have the Saul Zaentz part of the rights but MGM still had theirs and that was going to always need the two studios to sit down and kind of figure it out. You know, it was a situation that only really started to happen about three years ago.
The irony was, because it was Warner Bros. that led the initiative and when they started to engage with MGM to look into the idea of the two studios joining forces, it was at the exact time that MGM was going through terrible financial trouble and it was teetering on the edge of bankruptcy. So Warner's got us underway with developing "The Hobbit" (but) still, there was no guarantee that the film was going to happen. Guillermo Del Toro came on board as a director but he ended up having to leave because the MGM situation was still not figured out. So it was a long, slow birthing process, really. But walking onto set the first day of the shoot, it's gone incredibly smoothly and it was a very enjoyable film to shoot.
Can you talk about the importance of that sort of family aspect of making these films? Because one thing that permeated "The Lord of the Rings" and that permeates this is seemingly the love that every single person seems to have for getting this out there.
There are a couple of factors in that. I think one is we like to work with nice people, and I know that sounds incredible simplistic and rather naïve, but when you're working on a movie, especially three movies, you know, shooting back to back over 18 months, it's a very, very hard. It's quite stressful, it's a lot of pressure, it's a lot of responsibility, a lot of long days, and it would be an absolute nightmare if their personalities or the movie or the crew or the cast were wrong and there was conflict and there was resentment, and people were buckling to stress. It would just make it a miserable experience.
So we do try very hard, even with the casting of the actors -- obviously, you cast by performance and for the particular skills of the actor, but we also do make sure we cast nice people and good people to work with. So that's one part of it. The other half of the situation is that I don't subscribe to any bit of nonsense about how having stress or pressure on a set sort of helps the creativity or helps the creative process. For me, I think you get the best out of people if you've got a happy set. I try to keep things light and funny, and if I'm feeling stressed, I try not to pass it on to anybody else. So I try to create an atmosphere that gets the best out of people.
What was the biggest challenge of keeping the tone of "The Hobbit" from the book but also sort of gradually bending it towards the tone of "The Lord of the Rings" so that there's a continuity between the two?
That's one of the benefits from shooting them in this order. I mean, I think that if we'd shot "The Hobbit" first, by itself, without having done "The Lord of the Rings," we would have probably made it much more of a children's story, much more of the tone of the book, which is quite simple and very sort of innocent. That would have been the film that we'd made. But because we had done "The Lord of the Rings" and I'm aware that once we are through these three movies, this is going to be a six film box set, if you like, I wanted the six films to have a unity, so that meant that we were really putting a foot in both camps. 
We had to keep an eye on the fact that we're shooting with the same filmmakers, shooting in the style of "The Lord of the Rings," and we wanted to keep that synergy, but at the same time we are telling a more humorous tale. Rather than me approach it saying, "I'm making a children's film," which I didn't want to do, I approached it with the thinking, well, the situations and the characters in this particular story are more humorous than "The Lord of the Rings."
What effect did the decision to make three pictures have on this film? Did you have to do some editing on this towards the end as you realized you were going to make this a trilogy?
We ended up really with a situation that wasn't so much driven by what we'd shot. It was what we hadn't shot. It was the fact that we were taking the material out of the appendices in "The Return of the King" and also the Council of Elrond sequence in "The Fellowship of the Ring." In the book, that chapter has a bunch of interesting material about what was happening around the time of "The Hobbit" to the group. So there was other material that we had access to beyond just what's in the pages of the book itself.
We were also aware that we're not going to ever probably -- I would imagine we're probably never going to come back to Middle-earth as filmmakers again. This was our last chance. So Fran and Philippa (Boyens, co-screenwriter) and I started to talk about other opportunities and things that we could have shot. Then that conversation turned into, "Well, perhaps we should shoot it -- we should talk to the studio and see if now's our chance. If we don't put our hand up now, it'll never happen." So was a result of that, we've got about another 12 weeks of shooting that we need to do next year in order to shoot the extra material to make it the three films. But to answer your question, we had to restructure the two films into three.

So the shooting you do next year, is that for films two and three or just for three?
It'll be a bit for film two and the majority of it for film three.
You're in the position of sort of being the champion for 48 frames because you're going out with this as an experiment. How did the format come into the picture for you and what is the pitch, if you like, for it?
Twenty-four frames is a speed that's been kind of the standard since 1927 ... this is the look of cinema that we've obviously lived with and grown up with. But it has motion blur, which means a lot of blurring in the frames, a lot of strobing, a lot of flickering, but we're used to our brains kind of processing all that and making it into the pictures that we're used to seeing. But if you double that speed from 24 to 48, it's almost like somebody has taken the screen away out of the cinema and cut a hole in the back wall and you're looking into the real world. It's very, very surprising how different it looks and it's a look that's very immersive, especially in 3-D. It's much gentler on your eyes because your brain doesn't have to resolve all the strobing and blur in each eye. You've actually got a much sharper picture.
I think as an industry we're also facing the prospect of so many other choices for how you see films, whether it's your high definition plasma or an iPad, which a lot of kids are perfectly happy to watch films on. So I think we have a responsibility to keep looking at the technology that's around and try to make that experience of going to the cinema special and magic still.  I think that this is certainly something that's different enough and exciting enough to hopefully make the movies more immersive.
Do you think the criticism that is coming at the format from some quarters is a question of people just seeing something they're not used to, combined with the usual kind of human ability to embrace change very slowly?
Yeah. Look, I mean, it's a pointless argument to some degree because if your favorite color is blue, I can't convince you that red is better, you know. If people are reacting and objecting because they are used to the look of film and that's what they want, then it's hard to argue with anybody. But I'm fascinated by people's reactions to it and what is coming through loud and clear is that the younger people, people that have no investment in what films should be like, you know, anyone under the age of 20 really, they're reacting to it very, very well. They're thinking it looks incredible and that's good because these are exactly the people that are watching films on their iPad. But certainly it takes some getting used to, just as we all had to get used to hearing our music on CDs instead of vinyl, you know. There's a clarity and a purity to it that is a little bit disconcerting at first, and it takes a while to relax into it.
"The Hobbit: An Unexpected Journey" opens in theaters Friday, Dec. 14.