'The Shrinking Man' to get reboot treatment
New version of sci-fi novel to be penned by original author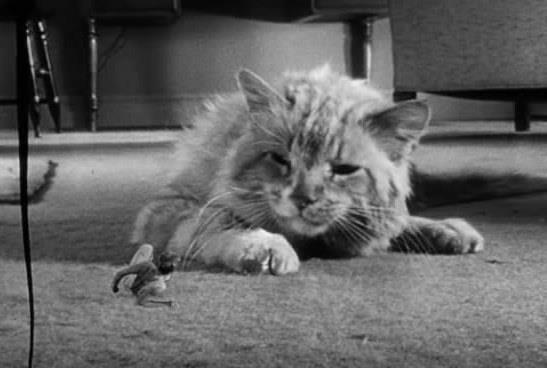 Richard Matheson's classic novel The Shrinking Man will come to the screen once again, with the legendary author himself writing the screenplay.
According to the
Hollywood Reporter
, MGM has picked up the rights to Matheson's book, which was first filmed as "The Incredible Shrinking Man" in 1957. Matheson, now 87 years old, will adapt his tale with his son, novelist and screenwriter Richard Matheson Jr. The plan is to retain the tone of the novel while updating it for the 21st century.
The book told the story of a man who begins shrinking in size after being exposed to a cloud of mysterious radiation. Battling for his life against once harmless things like the family cat and a spider in the basement of his house, the man's perspective on the universe -- and his place in it -- begins to change. Matheson adapted the story previously for the 1957 film, which won the first Hugo Award for Best Dramatic Presentation and was named to the National Film Registry by the Library of Congress in 2009.
Universal Pictures held the rights to the novel for years, and at one point considered adapting it as a comedy starring Eddie Murphy. But Matheson says that the new version will be an "an existential action movie," adding, "My original story was a metaphor for how man's place in the world was diminishing. That still holds today, where all these advancements that are going to save us will be our undoing."
MGM president Jonathan Glickman remarked that "the Mathesons' cutting-edge ideas for the adaptation will make for a great film that will play all over the world."
Matheson, who continues to write novels, is a giant in the genres of horror and science fiction. He is perhaps best known for the novel I Am Legend -- an acknowledged masterpiece of both fields that has been filmed three times -- but his other works adapted for the screen include Hell House (filmed as "The Legend of Hell House"), What Dreams May Come, A Stir of Echoes and Bid Time Return (filmed as Somewhere in Time).
He also wrote the classic 1971 TV movie "Duel," directed by Steven Spielberg, and penned a number of unforgettable "Twilight Zone" episodes, including "Nightmare at 20,000 Feet," "The Invaders" and "Steel," which was the basis for the 2011 movie "Real Steel."
The Shrinking Man is a profound, visionary work of science fiction, elements of which the 1957 film retained quite well. If the same tone and intelligence can be achieved with today's modern effects, Matheson's story may become a masterpiece all over again.
Are you sure you want to delete this comment?