Across the universe: 'Dawn' arrives
Notes from the final 'Twilight' press conferences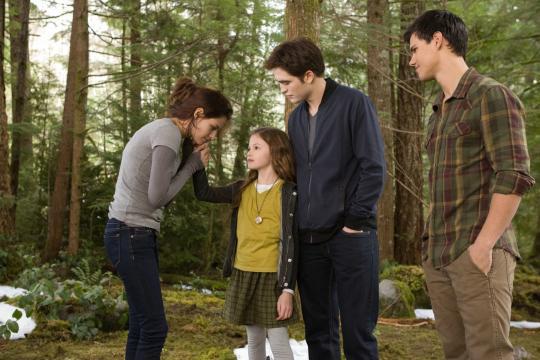 By Don Kaye
Special to MSN Movies


This Friday (Nov. 16) marks the arrival of "The Twilight Saga: Breaking Dawn: Part 2," the final cinematic chapter in the teen vampire-werewolf franchise that has earned one of the most fervent and loyal fan followings in the world, along with hundreds of millions of dollars and the ire of film critics and horror film fans everywhere. With author Stephenie Meyer's concluding novel split into two parts on-screen, "Part 2" begins right where "Part 1" left off, with Bella (Kristen Stewart), having just died after giving birth to her and Edward's baby, awakening as a vampire after Edward (Robert Pattinson) turns her into one of the undead to "save" her life.
Bing:
More about 'Twilight'
|
More about Kristen Stewart
The movie quickly escalates toward its climactic confrontation as the Cullen family and its shape-shifter allies (led by Taylor Lautner's Jacob) face off against the Volturi and their leader Aro (Michael Sheen), who see little Renesmee (Mackenzie Foy) -- whom they mistakenly perceive as an "immortal child" -- as a threat to their existence that must be destroyed.
Related:
What comes for the actors of 'Twilight' after film franchise
As the end of the series unfolds at last, it seems simpler to let the principals -- Stewart, Lautner, Pattinson, Sheen, Meyer and director Bill Condon -- speak for themselves, which is what they did at a marathon press day in Los Angeles recently. With each one sitting for their own press conference, we've collected the most interesting and thoughtful of their comments as the sun sets on the "Twilight" saga.
Robert Pattinson responding to whether he has any perspective on the series and what it means to the fans: "It's funny, people were asking me how I'd feel when it all ends on the first movie, and I don't think I've ever felt more completely bewildered, knowing that I only have a month of 'Twilight' stuff left to do. ...I've said, I think since the second one, that it's going to take 10 years to really settle in my brain, and I'm four years into it. But I don't think there is any analysis. I don't think anyone knows why people like it. I don't think even the fans know why they connect with it the way they do. It's a visceral thing. I don't even know if Stephenie could tell you why she was so fixated on this very, very contained story about these very obsessive characters."
Kristen Stewart is asked if there was ever a moment in the entire series when she knew how big a phenomenon it was going to be: "It's grown so much, even recently, so I don't know if you ever realize the extent that it's gotten to. But Comic-Con, for me, was the first time I was ever hit with a wave of human energy that was like, 'This is not a normal movie.' It felt like something that was so very much our own. That first dose of looking up and seeing that something that's really affected you does the same things to other people is mind-blowing."
Bill Condon commenting on the difference between working on a huge franchise film as opposed to the mostly smaller movies he's made in the past: "First of all, the fan base. This seems to be the most interactive franchise. I remember the first thing I shot was in Brazil. We were in a mad dash and there were paparazzi pics online 20 minutes after they took their first shot. And fans noticed Bella's wedding band was missing, so we were able to fix that. There's sometimes tension because you have to be loyal to the book. I've been very aware with this movie that you're making it for people who love it."
Michael Sheen describing his approach to playing Aro, who is perhaps the most outsized character in the film: "He thinks of himself as being this sentimental old fool. He just enjoys watching the young people having fun, and then likes to kill them. So I like the idea of someone who, instead of just being the big bad guy, has something a bit more fun about him. He's been around for hundreds and hundreds and hundreds of years. I would imagine the biggest problem is that you just get bored. Who wants to live forever? So he has to come up with things that are new and interesting, as well as being quite threatening. ...I really creep myself out in this one. I don't usually, but there are moments where you see how much the character enjoys violence and just the general meanness, and then there's that smile. The insanity of him really runs underneath. So I kept it light and playful, which really helps when you go for the nasty moments."
Jacob the werewolf "imprints" on Renesmee almost as soon as she is born, becoming her protector and a sort of soul mate. Taylor Lautner discussed finding the right way to play that without it becoming unsavory: "Yeah, it's a fine line and I was worried about it. We were very lucky to have Stephenie on set with us for these last two movies, and I definitely had quite a few conversations with her. There was nobody better to ask about it than her, and she basically told me, 'Stop over-complicating it. Think here and now. That's all you really have to focus on. It's simple.' She said that it's a lifelong bond between two people, and that's it. At this point, it's more of a brother-sister protective thing. That's really all it is. I couldn't allow myself to think ahead and go beyond that, so that's the zone I had to stay in."
Stephenie Meyer, on casting the role of Renesmee and using CG to show actress Mackenzie Foy growing older rapidly: "That was a big discussion early on. We thought, can we make Renesmee look good? We looked at younger actresses, but we needed this person who could have a conversation with her parents. After we saw Mackenzie, for me and Bill it wasn't a question anymore. We were going to age Mackenzie up."
Stewart on Bella becoming a mother and playing that aspect of her character: "Some people have really, really strong natural instincts and desires to be a mom. That was one of my favorite things about the story. From day one, there was never enough about that in the script for me. Luckily, Stephenie has really been heavily involved. She was on set, every single day, and it was something that we were really together about. It was one aspect that I was really excited to play. Vampires have slightly more animalistic natures, and what better way to show that? I have a great relationship with my mom, and she can be a bit feral when it comes to being a mom."
Pattinson, on letting the character go: "I still had the same frustration with trying to play it, the entire way through, right up until the last shot. It's a strange part because, on one hand, a lot of the audience projects their idea of Edward onto him. It doesn't matter what he is.They want him to be a certain way. And then my instinct's to try to play it were to try to find the fallibility in him and the weaknesses. You're trying to play both these things at the same time and it becomes very strange. You're trying to play someone who's seen by a lot of people as this perfect thing, but what is that? ...You're trying to play an archetype on one hand and a character on the other, so I felt insanely frustrated, right up until the last shot, and then it ended."
Lautner, sharing what he learned from the experience of playing Jacob: "It was amazing to play the same character, but have different input each time. That's an actor's dream. When you do a normal film, you play the character for three months and you say goodbye to him. And then, when you watch the movie, you say, 'I wish I could have done that differently. I wish I could have added this to it.' With this, we had four more movies to play with. It was an amazing experience. I love Jacob! I really respect him, in so many different ways, and he has so many qualities to him that I'd love to bring with me, like his loyalty and his persistence."
While Meyer says she'd "never say never" to writing another "Twilight" story, she admits it would be hard to let other people take a crack at it: "I don't know. I've been very hands-on. I'm going to be the same way when my kids go to college. I'm a hands-on mom. It's hard to have them doing things that don't sound like them. I've had a couple -- not with the movies, but seeing other people's versions of my characters just doesn't seem right. ...(but) in ten years, who knows."
Stewart commenting on whether she's glad it's all over: "I'm so happy that the story is told. ...The fact that this thing is out and it's not weighing on us anymore, I'm super-excited about that. I don't want it to sound like I'm excited to be done with the experience because it's such a particular time. It's a feeling, and I will definitely miss that, but I feel like it's not going anywhere. It is strange. But, things shouldn't stay stagnant. You've got to move on."
"The Twilight Saga: Breaking Dawn: Part 2" is out in theaters Friday, Nov. 16.