Across the Universe: The living and the dead
'Walking Dead' soars while other genre shows falter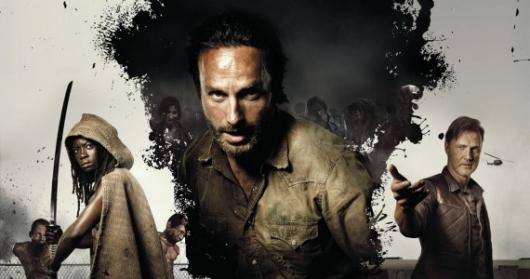 Wow. Just wow. We remember how it took "Star Trek: The Next Generation" three seasons to hit its stride, and now it seems that "The Walking Dead" is following that same pattern. While we liked the first two seasons, there were long stretches in both that skirted with boredom, delivered a
spinning-of-the-whee​ls
feeling and gave us some truly irritating characters. Almost all that has been erased in the show's third year, and after six episodes (with 10 to go), the show seems like it's firing on all cylinders.
Bing:
More on 'The Walking Dead'
|
More on 'American Horror Story'
We'll be getting into spoiler territory here, so stop reading if you have a few episodes still unwatched in your DVR. Perhaps the biggest difference between this season and the previous two is that the landscape has been expanded: Now we're not watching just Rick (Andrew Lincoln) and his group, but the townspeople of Woodbury led by the Governor (the excellent and creepy David Morrissey). Cutting between the two has given us room to breathe away from our main group, which we've focused on almost exclusively for two full seasons. More importantly, the underlying dread in the situation -- we know that the Rick group and Woodbury are going to come into contact soon -- has given the show a newfound urgency.
Meanwhile, those shocking deaths -- especially that of Lori (Sarah Wayne Callies) -- have reinforced just how tenuous life can be in the world of this show. Although her death is handled differently than it was in the comic book, where she was murdered by the Governor, it was still a powerful moment, especially since Lori was working her way toward becoming likable again (although we question her rationale in sacrificing herself for her baby when she already has a young son to care for).
While the initial tension between the Governor, Andrea (Laurie Holden) and Michonne (Danai Gurira) got a bit too dragged out, things moved forward finally in the fifth episode, "Say the Word," and this past weekend's "Hounded." With Andrea and the Governor consummating their attraction, the stage has been set for an eventual test of her loyalties. Same goes for Daryl (Norman Reedus), who is about to find out that psychopathic brother Merle (Michael Rooker) is still alive and working for the Governor.
And with Merle kidnapping Glenn (Steven Yeun) and Maggie (Lauren Cohan), as Michonne shows up at the prison to meet Rick's group, the pieces are being moved into place for the inevitable and anticipated showdown between the two camps. That is perhaps what is giving this season of "The Walking Dead" such dramatic potential: The evil that will be perpetrated by humans against humans can far outweigh that which is mindlessly unleashed by the walkers.
Has Rick permanently stopped hearing his dead wife's voice on a non-working phone and pulled back from a full breakdown? Will Andrea learn in time just how twisted the Governor is? Will Steven and Maggie survive Merle? And can Rick's group at the prison muster up the strength to battle and defeat the Governor's army (shades of Stephen King's "The Stand" here). We'll begin to see the answers to some of these questions in the next two episodes, which will be followed by what will doubtlessly be an agonizing break until the second half of the season starts up in March.
We've got some quick notes on a few other shows: As "Walking Dead" continues to soar, "American Horror Story: Asylum" is, to our thinking, faltering. Not in the ratings -- it's just been renewed for a third season -- but in its quality. Whereas the first season focused pretty tightly on the flawed if still empathetic Harmon family and the haunted house they moved into, Season 2 has been a hodgepodge to us of half-developed ideas, scenes for shock or gore value, and a flood of characters who flash before us so fast that we barely get a chance to know them. Plus, they're throwing aliens into the mix as well?
There is still much to like about "AHS," such as several wonderfully staged and unnerving death scenes, not to mention solid performances from the likes of Zachary Quinto and, of course, Jessica Lange. The show also retains much of the dread-filled atmosphere of the first season. But it somehow doesn't feel as fresh, and the overstuffed story and its multiple plotlines are frustrating and even tedious. We're not giving up just yet, but truly great horror often relies on your concern for the protagonists. We haven't felt that concern this season at all.
Finally, a word or two on two of this season's genre casualties, "Last Resort" and "666 Park Avenue." The latter seemed to want to jump on the "American Horror Story" bandwagon, but just seemed too soapy and high-toned to descend to the level of the scares and gore that "AHS" wallows in. "Last Resort," on the other hand, was a genuinely interesting show, often hitting a level of suspense and tension that we rarely feel on a lot of TV series and featuring a nice amount of plot twists. In this case, however, no one wanted to watch.