Across the Universe: 'Paranormal' Princess
A talk with 'Paranormal Activity' star Katie Featherston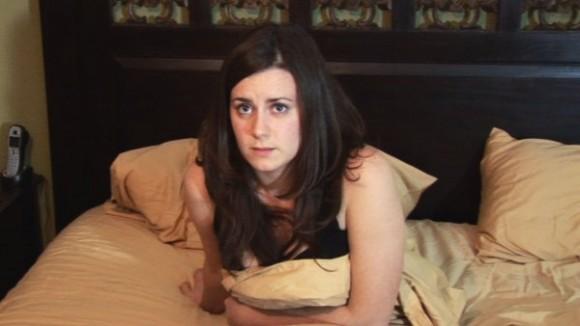 By Don Kaye
Special to MSN Movies


Most horror franchises have a deformed or masked bad guy; the "Paranormal Activity" series, which brings its creepy fourth entry into theaters this Friday (Oct. 19), has Katie Featherston. The attractive, Texas-born actress has appeared in all four of the films, starting out in 2009 as the terrified heroine of the first, micro-budgeted movie, and then making smaller appearances in each successive entry in the "found-footage" horror series.
Bing: More about Katie Featherston | More about 'Paranormal Activity 4'

Her character, also called Katie, has performed a different but important function in each story, yet is overall the focus of the malignant evil visited upon her family and others. So it is Katie the character – as personified by Featherston the actress – who unites all four films and is the focal point of the mythology that has slowly been built into the fabric of the movies. That mythology takes an interesting turn by the end of the fourth film, and where it goes now is anyone's guess. But it's pretty safe to say that there will be a "Paranormal 5," and that Katie will be there as well.

Related: Deja view: movie franchises that keep coming back

We spoke via phone with Featherston about the past and future of "Paranormal Activity."
MSN Movies: First of all, let me take 10 seconds of my 10 minutes to wish you a happy upcoming birthday (Oct. 20).
Katie Featherston: Oh, thank you. That's so nice of you. I really appreciate that.
You're welcome. So are you going to celebrate your birthday this weekend watching "Paranormal Activity 4" somewhere, or do you have other plans?
Well, I have seen "Paranormal Activity 4" and have a lot of friends that are going to go out and see it. So there will be one "Paranormal Activity" night and then one birthday celebration. So, I'm going to squeeze it all into one weekend.
A new "Paranormal" movie opens every year around your birthday. So it's kind of the gift that keeps giving in a way.
Yeah, I remember the first film -- we actually started filming "Paranormal Activity" on my birthday, which was, I think, a Monday that year, if I remember correctly. Somehow my birthday always tends to have some sort of significance either filming or coming out right around it or something like that.
So you started filming on your birthday six, seven years ago now. Is it kind of surreal to be here now seven years later and still involved in this?
Oh, yes, yes, it is. Surreal is a great word. I say this every year, but it still doesn't really feel like it's sunk in. We filmed the first movie and we just wanted to make the best movie we could, and we had so much fun doing it, and we were thrilled and flabbergasted by its success. And to be coming back every year and sitting here with you talking about a fourth film is truly amazing. And I have to say, and I've said this before, but I will keep saying it, it's because we have such amazing fans. The sequels would definitely not have been made had fans not been excited. And the first one never would have seen the light of day if fans hadn't really gotten behind this in the beginning and helped spread the word and helped demand it in their cities. That was very life-changing for us. So I know I speak for Oren (Peli, director of the first film and producer of the sequels) and Micah (Sloat, star of the first film) and everyone when I say we are very, very thankful.
We are not going to get too much into plot specifics here, but it's safe to say that you have somewhat of a bigger presence in this film than the last one, which was a prequel.
Yeah, I think that's safe to say. This movie takes place, I think, like five, five-ish years after "Paranormal 1" and "2" end, so I think the questions about the characters will be answered, questions that maybe fans have been wondering about for a while. And I think other questions will be asked for the first time. Hopefully people will be really excited about that. And it is really scary. It's just as scary, if not scarier than the last film. So I'm really excited for people to have fun in the movie theaters when they go see it.
What do you see Katie's (the character's) role in the series as now? As the mythology of this series expands, what do you see Katie as representing or standing for? What's her place in all this now?
Well, I would hate to give a definitive answer and set it in stone for people. But for me she is a really sweet, nice girl who had some horrific things happen in her past, which she didn't seem to be aware of as an adult, so something happened there. And there's some darkness that surrounds her in her life for sure. But in my estimation of the character, she is, at the end of the day, just a really nice, normal girl and is, unfortunately, a bit possessed at the moment. Hopefully she'll have some happier closure with that, but we'll have to wait and see.
This is the first time that you've had the same director -- in this case, two of them -- on a "Paranormal" movie. How does that make the experience different in terms of having the same hands behind the camera on two films in a row now?
I think it was probably more of a shift on the production teams than it really was for us. I mean, I think they just jumped back in and sort of already were in the flow from working on the third one, so there was really no need to make a transition or to sort of give someone time to sort of figure out how things worked, because they already knew. So it was just sort of picking up where we left off and we were able to jump right in, which was really fun.
What has actually changed in the production now? Obviously they're bigger now, but it's still different from shooting at Oren's house for $15,000 seven years ago.
The first one was just the three of us for the most part, and we had one camera, and that was it. It is definitely bigger than that. We have a great crew and a great team that's there. And Paramount's really involved. We have all the producers there, so it feels very large in comparison. But like you said, it's still very small on the scale for Hollywood standards. It still remains very fun, very improvisational, very collaborative, and I think that's the most important thing. No matter how big it gets or how big it feels it's still at the end of the day the same. We do our best to make it the same kind of movie, which I think serves the story.
Do you see Katie and yourself continuing with "Paranormal Activity"? How much further do you think these can go? Do you think there could be an end in sight at some point?
I think there are really a lot of directions that the story could take from here and plenty of ways a creative team could take it. I don't know what will happen with that, so we'll have to sort of see if fans are excited. And if that happens, we'll have to kind of see how the chips fall. But there's definitely room for the story to grow. There's no question about that, but we'll see.
Why do you think these movies have continued to have a huge pull with audiences?
One, it's the kind of movie that doesn't throw a lot of blood and guts in your face, which is not bad. I'm a fan of some of those movies myself. But this kind of movie really utilizes your own imagination. And anything you can think of in your own imagination is going to be scarier than what we can show you. So it taps into that sort of fear. The other thing is that at the end of the day, these movies are about real people, a girl and a guy in their house, or a teenager and her parents in her house. And everybody has either been there or could imagine themselves there. So it's very relatable. And when you're done watching the movie you have to go home to your house and you have your own weird sounds in your house and your own doors creaking. And that sticks with people, and I think that helps the fear sort of linger a little bit longer, which is fun.
"Paranormal Activity 4" is out in theaters Friday, Oct. 19.
Are you sure you want to delete this comment?