Across the Universe: No harm done ...
... except to logic and sense in new NBC take on 'Dr. Jekyll and Mr. Hyde'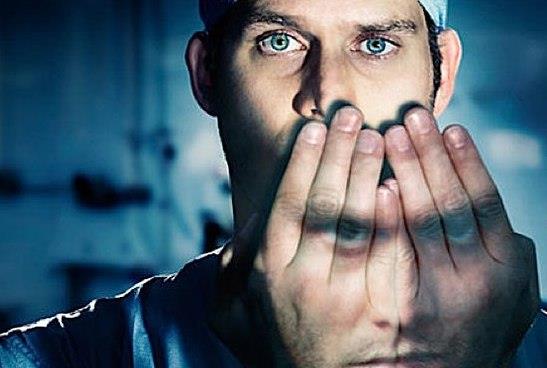 "Do No Harm"
is a new NBC series that presents a modern take on the classic Robert Louis Stevenson tale "The Strange Case of Dr. Jekyll and Mr. Hyde."
Steven Pasquale
("
Rescue Me
") plays Jason Cole, a successful, ambitious and exceptionally skilled neurosurgeon who just happens to turn into someone else at 8:25  every night. That person is Ian Price, a violent psycho who enjoys throwing depraved all-night parties and generally messing up people's lives, especially Cole's.
The twist here is that unlike Dr. Henry Jekyll, who used a newly developed serum to turn himself into his evil other half, Cole uses a dangerous pharmaceutical concoction to keep Price at bay. As the show opens, however, the drug fails to work for some reason and Cole -- who seems to have kept Price under wraps for a few years -- is helpless as his alter ego is set free.
The basis of Stevenson's original story -- and most other variations since, including "Do No Harm" -- is dissociative identity disorder, in which several distinct personalities can reside in one body. Stevenson took it to a metaphorical level, positing Jekyll as a generally decent fellow who, in the hopes of keeping a lid on some of his acknowledged darker impulses, accidentally gives those impulses complete free rein in the form of Hyde.
In "Do No Harm," Cole is perhaps overly confident as a surgeon but otherwise practically a saint; we don't see any evidence of his dark side except when he turns into Price. But how long that transformation has been going on, why it started, and how the guy has remained a practicing surgeon are questions that are not answered in the "Do No Harm" pilot.
The unhappy truth is that events fly by so fast in the show that we got exhausted just watching Cole run from the hospital to a local church (where the man who runs the AA meetings acts as a confidante) to his condo in time to give himself an injection. As a result, nothing sticks and the whole show just gets more frenzied and flailing as it goes on. The other major problem is that, unlike in the Stevenson story, Cole's dilemma doesn't seem to be much of a secret (at least three or four people know about it), which begs the question of why he isn't in a psych ward yet.
And we have to admit that we are suckers for Jekyll and Hyde stories where Mr. Hyde looks significantly different from the doctor. All Pasquale does is put on a black jacket and glower more, which makes it even tougher to distinguish between the two. In one scene, he takes on a burly cop as Cole and is getting his butt kicked when he suddenly transforms into Price and beats the guy to a pulp -- did he suddenly get stronger and better at punching?
We just wish the show would slow down and consider all this stuff a bit, while also giving us a little time to get to know the other characters. The potential love interest, Dr. Lena Solis (Alana de la Garza), goes through hell with Cole and Price in just the pilot, while the other hospital staff members are mostly hipster irritants (with Phylicia Rashad appearing rather randomly as the head of the hospital, who does nothing but give Cole plenty of rope). 
A modern version of the Jekyll and Hyde story seems like a fine idea to us, but perhaps it's doomed to always be a period piece simply because we live too much of our lives in public these days. Despite a few fun moments, "Do No Harm" is pretty suspense-free and Pasquale is a bit too bland to make much of an impact in the dual role. Future episodes look like they might have a few interesting story lines happening, but we're not sure if we'll drink any more of this particular potion.
For the record, here are some of our favorite versions of "Dr. Jekyll and Mr. Hyde." Yes, we admit, they're almost all old (people started putting this story on the screen in 1908). Told you it works best as a period piece:

"Dr. Jekyll and Mr. Hyde" (1920):
The legendary John Barrymore took on the role, not using a lot of makeup but doing an incredible contortion of his face and body to "become" Hyde. Creepy and still effective, his performance anchors an underrated and somewhat overlooked horror gem that is worthy of standing alongside the great German horror films of the same era.
"Dr. Jekyll and Mr. Hyde" (1931):
This is the version that most people remember, if only for the now-iconic Hyde makeup worn by Fredric March, who won an Oscar for his work in the film. The movie was also pre-Production Code, so it gets a little more daring than most movies of its time. It was remade 10 years later with Spencer Tracy in a lot more staid version.
"The Two Faces of Dr. Jekyll" (1960):
Horror factory Hammer Films made at least three films based on the Jekyll story, adding a different spin to two of them. In this one, an unappealing Dr. Jekyll (Paul Massie) drinks his potion and is transformed into a handsome and charming Hyde, who is still a psychopath -- and frames his alter ego for the murder of his own wife.
"Dr. Jekyll and Sister Hyde" (1971):
Yep, this is the one where Dr. Jekyll (Ralph Bates) turns into a ravishing brunette played by former Bond girl Martine Beswick. Hammer Films went wild on this one, somehow mixing Jack the Ripper and the infamous grave robbers Burke and Hare into the proceedings alongside the movie's kinky, morbid eroticism.
"Jekyll" (2007):
Written by current "Doctor Who" mastermind Steven Moffat, this six-part BBC series offered a successful modern update on the story, with James Nesbitt as a modern-day descendant of the original doctor in a story that involved a shadowy bio-tech company, conspiracy theories and even cloning. Fun, lurid and smartly written.


"Do No Harm" premieres Thursday, Jan. 31, at 10 p.m. on NBC.