Across the Universe: The Wonder Woman of 'Red Dawn'
A chat with Adrianne Palicki
By Don Kaye
Special to MSN Movies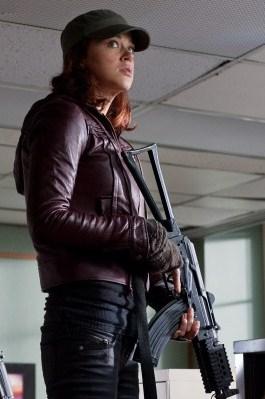 In the new remake of the 1984 alternate reality thriller "Red Dawn," which comes out this week, Adrianne Palicki plays Toni, a role taken by Jennifer Grey two years before her breakout appearance in "Ferris Bueller's Day Off." Palicki confesses that she has yet to meet Grey, but did watch the original "Red Dawn" as soon as she got the role. "I loved it," she says during an afternoon chat in Beverly Hills. "I mean, obviously it didn't resonate with me the way it did with people of that generation. But I loved it, and I do feel like it transcends to now. It's the same story: We have to protect ourselves. We have to protect our soil, we have to protect our family and ourselves, and it's the same, just 20-something years later."
Bing:
More about Adrianne Palicki
The first "Red Dawn," in which the U.S. is invaded and conquered by Russian forces as a ragtag group of kids in a small Colorado town fights back, was steeped in fears of the Cold War turning hot and Communism on the march. That particular paranoia has receded (at least among sane people), but the threat of rogue nations taking the same kind of desperate action -- personified in the new film by North Korean troops touching down in Spokane -- still makes some uneasy. The idea that anything could happen in a post-9/11 world also makes the premise easier to swallow.
Bing:
More about 'Red Dawn'
"9/11 was so poignant," says Palicki. "I mean, for so many reasons, but the fact that as Americans we, a lot of the time, feel invincible, and I think that was the first time just utter shock went through the entire country. It was the first time our country came together fully 100 percent." She adds, "Making a movie like this now, after that, I think it will resonate a little bit more just because we have been hit in our home, you know. Not quite to this extent, but the possibility, I think, lingers in the back of our heads that it could happen."
Related:
Rebels with a catchphrase
Of course, the new "Red Dawn" wasn't exactly made "now." The film was actually shot three years ago, but the financial troubles that befell its backing studio at the time, MGM, kept the picture locked away until it was finally picked up by FilmDistrict for release. "I really feel like I can take a step back and just appreciate the movie," says Palicki when asked about watching herself in scenes she shot three years ago. "As an actor you're constantly questioning yourself, looking at yourself, going, 'Oh, God, why did I do that? Why am I making that facial expression?' You're judging yourself the entire time, and it's actually been nice to kind of just sit back and enjoy the movie and almost forget that I'm in it."
Palicki does, however, have vivid memories of the shoot, which was mostly done in the woodlands outside Detroit as well as the city itself: "It would be below 30 degrees, and I remember the first day we didn't even have heaters. Dan (Bradley, director) wouldn't let us sit in chairs for a while either. He's like, 'You know, real stunt people don't do that.' So it took a while for us to even get some chairs on set. Of course they put the girls in the little leather jackets and the guys all have big parkas on and like three layers underneath. I'm like, 'Are you kidding me? I'm freezing my ass off.' But I think all of it really added to where we were at ... the elements made you really feel like you were kind of  this horrible situation."
Palicki also recalls her extensive screen time with star Chris Hemsworth, who was still mostly unknown when "Red Dawn" was filming but was about to become a star playing the God of Thunder in "Thor." "He was going to do that movie right after, you know," says Palicki. "We got him right before he blew up." What's even more amusing, looking back now, is that Palicki was still two years away from getting cast as Wonder Woman in a pilot for a new series that was ultimately not picked up; her on-screen kiss with Hemsworth in "Red Dawn" -- i.e. Thor and Wonder Woman hooking up -- was a sort of comic book crossover no one could have imagined.
As for "Wonder Woman," which was rejected by NBC after the network viewed the pilot -- a version of which leaked online to scathing fan reaction -- Palicki says she is proud of the finished product. "I was lucky enough to see it, and it's much better than the one that got leaked," she insists. "But I think there were a lot of politics behind it that I don't know about 'cause I know that people were really excited about that and we were pretty much picked up. I mean, I was going on Leno like it was happening. So it was a shock when it didn't. I was devastated. I put my heart and soul in that and loved every single person I worked with, but everything happens for a reason."
She is also at ease with the scrutiny that came with playing the part and that would have continued if the show was picked up. "There's always going to be, especially if you're doing something in the comic book world, there's always going to be such scrutiny, and I understand," she says. "I'm a comic book fan. But you just go, 'I have to do this the way that I would do it, and hopefully they like it,' and even the people who are naysayers are going to see it anyway 'cause they're going to watch it." (Asked if she intends to throw her hat in the ring to play Wonder Woman in the upcoming "Justice League" feature film, she says, "Absolutely.")
Yes, you read that right: Palicki is a comic book fan. That's in addition to the rest of her geek-friendly résumé, which includes stints on "Smallville" and "Supernatural" as well as the role of Lady Jaye in the upcoming feature "G.I. Joe: Retaliation." "My brother was really into comics when we were growing up," she explains. "He's actually now a comic book writer, and I wanted to be like my big brother, who is one of my best friends. I was just like a fuzzy, dirty-haired knock-kneed, skinny little kid and he was reading all of these amazing comics with all these guy characters. And I was like, 'I don't want to read guy characters,' so I found Super Girl, who was this blond-haired, blue-eyed girl who I wanted to be. So I just fell in love with her. She was my favorite, and from there I fell in love with comics."
"Red Dawn" opens in theaters on Wednesday, Nov. 21.