Across the Universe: An unexpected journey
'The Hobbit' takes first step into new realm of filmmaking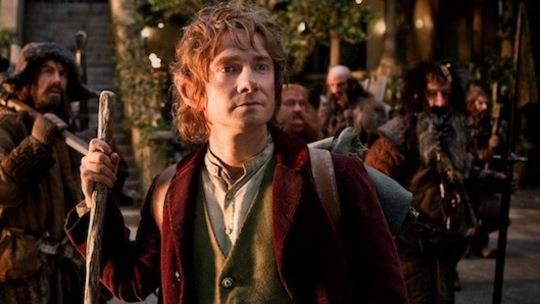 By Don Kaye
Special to MSN Movies


"The Hobbit: An Unexpected Journey," the first of director Peter Jackson's three movies based on the J.R.R. Tolkien fantasy novel, will open on thousands of screens in about two and a half weeks. But audiences will have a chance on around 450 of those screens to see the movie as it was actually filmed, in a new format being marketed by Warner Bros. Pictures as HFR 3D, with the "HFR" standing for "high frame ratio."
Bing:
More on 'The Hobbit'
|
More on Peter Jackson
The format, also known as 48 fps (frames per second), is relatively easy to explain: Since around 1927, the standard speed at which films are projected is 24 frames per second. This gives movies, among other things, their unique "look" that separates them from, say, video or "live" images. "The Hobbit" has been filmed at twice the usual frame rate for movies, 48 frames per second, and the resultant image is supposed to be more immersive, more full of depth and clarity, and more lifelike than any film image previously seen -- because the projector is sending twice as much information to the viewer's eyes (a simplistic way to put it, but you get the idea).
Jackson decided to film "The Hobbit" this way after being convinced of its quality, saying that it eliminated much of the blurring in standard 24 fps and also made 3D viewing less of a strain on the eyes. James Cameron, a proponent of the format, has said he intends to film his two "Avatar" sequels at 48 fps or even 60 fps. Yet the rollout for "The Hobbit" is a cautious one, with Jackson and the studio both maintaining that the new system will take time for audiences to get used to it.
That's quite possible. When 15 minutes of "The Hobbit" in 48 fps was unveiled at the Las Vegas film industry conference CinemaCon last April to members of the press and theater owners, the response was decidedly mixed.
Some
praised the format for doing exactly what it was supposed to do: removing the thin gauze of "film" from the image and bringing it to the viewer in as realistic and lifelike a way as possible.
Others
, however, said that 48 fps made the image too lifelike -- with the ironic effect of making elements of the film look fake. While shots of, say, natural locations were supposedly breathtaking, things like sets and makeup on actors were projected in too much detail to look believable (CG creations like Gollum were said to look seamless). The glossy sheen of "film," meanwhile, was eliminated by what looked like a very, very, very enhanced hi-def video image.
So the question is, is that what audiences want to see as film technology moves forward? It's no secret that studios are worried about the future of the theatrical experience, and think that snazzy new additions like 3-D and now HFR will keep enticing viewers into the auditorium. Will audiences accept a film that no longer looks quite like film, or is this a concern that belongs only to cinema purists? Will we trade in the "celluloid shimmer" of 24 fps film for the photo-realistic immersion of this extreme high-definition format?
Peter Jackson seems to think audiences will come around. You can read his explanation of the process
here
. Right now, there is no extra charge for HFR at the box office (you still have to pay extra for 3D, though, and the HFR version of "The Hobbit" is being shown only in 3-D) and you still have the option to see it in 2D. Whether people like the format or not, there is no question that the moviegoing experience is about to change again and be quite different from what it was before. "The Hobbit" is indeed taking an unexpected journey in more ways than one.


"The Hobbit: An Unexpected Journey" opens in theaters on Friday, Dec. 14.