Across the Universe: A 'Warm' feeling
Star Teresa Palmer finds 'beautiful message' in new zombie film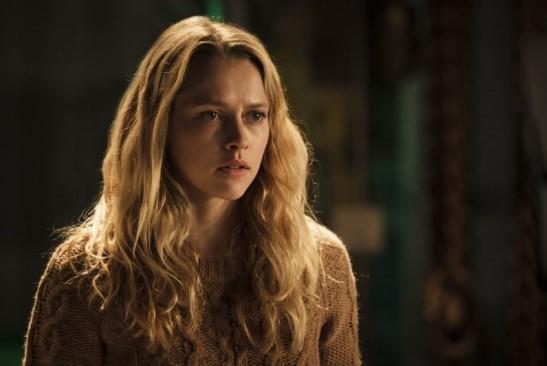 In "Warm Bodies," Australian actress Teresa Palmer ("I Am Number Four") plays Julie Grigio, the independent-minded daughter of a general (John Malkovich) who leads one of the last remaining enclaves of human society in a world overrun by the reanimated dead. Julie loses her boyfriend to a zombie attack and is losing all hope until she meets R (Nicholas Hoult), a ghoul who is not only semi-intelligent, but is crushing hard on her thanks to ingesting part of her boyfriend's brain. Although she is unaware of that fact, the two begin a curious courtship -- one that could be ruined by either Julie's father or the zombies known as "bonies" who want to kill them both.

"This script was so strong," says Palmer in her rich Australian accent during a press day for the film in Los Angeles. "It was something I had never read before, the whole concept and this idea of taking this classic love story and putting a quirky spin on it.
(Screenwriter-direct​or)
Jonathan Levine's writing is really strong; the world (novelist) Isaac Marion has created is just really refreshing, and I thought there was a really beautiful message in this story that love prevails and that love can breathe life back into you, and into society."
Although Palmer speaks eloquently about the movie's themes and the world it is set in, she admits that she chose not to read the novel until after making the film. "No, I made a point of not reading the book 'cause I knew it was relatively different," says the actress. "It's obviously very, very similar to the book and fans are not going to be disappointed, because it stays within that world, but we do take some liberties. I just didn't really want to be swayed either way by Julie in the book versus Julie in the film. I wanted to really stick with what was in the movie, portray her the way I see her in Jonathan Levine's writing and then go back and read the book. He's done an amazing job with that book, and the Julie in the film and Julie in the book are very similar."
Right from the start, the movie version of Julie is portrayed as someone who is not afraid of standing up for what she believes in, even if it goes against the conventional wisdom of everyone else. "I think Julie is a little warrior," agrees Palmer. "All she knows is this dark world. Her father has been absolutely hardened and broken by what has happened to society, and she has definitely had her spirit dimmed in a way. But she is such a glass-half-full sort of girl and she draws hope and inspiration from anywhere, and I think R really reignites this flame in her. ... I think she's a real go-getter, and she definitely stands up for what she believes."
Palmer says that she fell so in love with the character that leaving Julie behind felt almost like a breakup. "I can usually just move on from the film and go about my day, but the world that was set up for us was so realistic that I felt it was really difficult to walk away from her. ... I just felt so connected to Julie on such a deep level, also because who she is and what she believes in and what she stands up for is very much in line with who I am and what I believe in, so there was just that line was so blurred between her and I."
With Marion writing a sequel, Palmer might get a chance to walk that line again if "Warm Bodies" ends up being a hit. For many observers, Palmer is overdue: She was unquestionably the best thing in "I Am Number Four," an otherwise bland sci-fi dud that was given a jolt of electricity by her third act appearance as Number Six. There are no current plans to film the second novel, "The Power of Six," which is a disappointment to the actress.
"I think there were a lot of expectations for ("Number Four")," theorizes Palmer. "I was really sad about that because I threw my everything into that character and I trained really hard; I became essentially a stuntwoman for that film and I just wanted to transform myself into a warrior. And I felt like Six's story wasn't over. There was so much more to find out about her; she's kind of this mysterious character. In a way, I had to make peace with the idea that we may not see Six again on-screen." The failure of the film also taught Palmer a valuable lesson: "I've learned to do the movie, let it go, and not place expectations on the outcome, critically and commercially. I just let it go and I celebrate the experience I had whilst filming, which are usually were very positive."
Strangely, Palmer -- who also has ambitions to write, produce and perhaps even direct -- could possibly get a second chance at another opportunity that didn't pan out the first time. Palmer was cast in 2008 as DC Comics villainess Talia al Ghul in a "Justice League" movie that got all the way into preproduction before being abandoned (Talia, of course, surfaced in Christopher Nolan's "The Dark Knight Rises"). With a new "Justice League" film being mooted for 2015, it's conceivable that Palmer could get a shot at the film again -- perhaps even as Wonder Woman or another female character.
"I think I'm a little short (for Wonder Woman)," laughs Palmer. "But I love comic book movies; I love superheroes. I love being thrust into fantastic worlds, worlds that I'm not too familiar with. That's my favorite thing, playing these characters that are so far removed from who I am. I've played a ghost; I've been captured by a sorcerer; I've been an alien; I've made out with a zombie. It's like you get to experience all these crazy things that you never would get to experience in your everyday life, and that's what I love. They're my favorite type of roles."
With "Warm Bodies" hitting screens this weekend, Palmer hopes that this particular favorite resonates with audiences. "I just already feel like I'm a winner 'cause I got to play Julie and I got to be a part of this amazing film," she says. "If it does find an audience, great. I do think this really deserves to find a wide audience, because it's a really special, unique film."

"Warm Bodies" is out in theaters Friday, Feb. 1.