Across the Universe: 12 Years Into the Future
The best sci-fi movies (so far) of the 2000s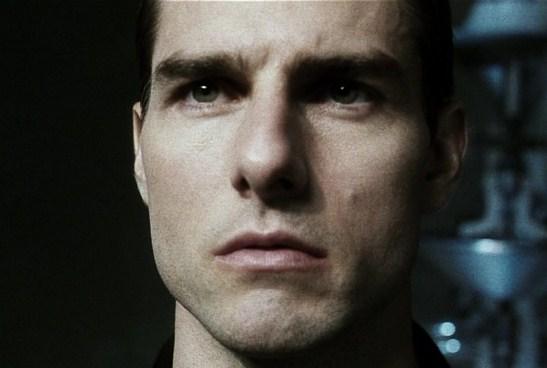 By Don Kaye
Special to MSN Movies
We've spoken before in this space about the past decade or so gradually ushering in a new Golden Age of science fiction cinema, and we keep getting more and more evidence of that: For example, two of the biggest films at the Toronto International Film Festival this week are "Looper" and "Cloud Atlas," one acclaimed as a mind-bending thriller and the other hailed as a visionary epic, and both standing tall at that festival amid the customary festival fare and Oscar bait.
Bing: More about 'Minority Report' | More about Tom Cruise
Appropriately, since the start of the new millennium, we've seen movies that aim for – even if they don't always reach – the standard set by Stanley Kubrick's "2001: A Space Odyssey." Yes, there's still plenty of dross like the "Transformers" junkers and nonsense like "Battleship." But we're more than happy with the good stuff that has come across the screen in the past 12 years. Can "Looper," "Cloud Atlas" or "The Hunger Games" join our lofty list? Check it out (so far) and see:
"Minority Report" (2002): Steven Spielberg adapts Philip K. Dick's story about crimes of the future – and the people who predict them – with stunning visuals and a complex story, while Tom Cruise gives one of his better performances of recent vintage. The only wrong note is that the story ends – and the movie goes on for another 15 minutes.
"Eternal Sunshine of the Spotless Mind: (2004): Jim Carrey and Kate Winslet meet on a train, but it soon becomes apparent they've done this before. Michel Gondry's beautiful, surreal and poignant fable of memory and love lost and regained shows how wide the sci-fi genre can stretch.
"Serenity"(2005): Joss Whedon's sole previous feature film before "The Avengers" showcased his dexterity with character, dialogue and action, all set against a detailed future universe and intergalactic political conspiracy. You don't even have to know the TV series ("Firefly") to enjoy it.
"War of the Worlds" (2005): Spielberg brings us the most faithful and terrifying version of the H.G. Wells classic yet. The faults in the story (like the cause of the aliens' eventual defeat) mostly belong to Wells, too, but they're overshadowed by the director's frightening invasion sequences as a metaphor for post-9/11 paranoia.
"The Fountain" (2006): This overlooked gem from Darren Aronofsky ("Black Swan") spans 1,000 years of time as it tells three parallel narratives about love, consciousness and the nature of reality. It may well be the spiritual predecessor to the Wachowskis' "Cloud Atlas."
"Children of Men" (2006): The horror of director Alfonso Cuaron's grim tale – in which humankind is inexplicably unable to procreate anymore – is the accumulation of details that paint a portrait of a dark future not too far removed from our own present. A moving, almost unbearably intense masterpiece.
"Sunshine" (2007): This underrated favorite of ours, this time from "Slumdog Millionaire" director Danny Boyle, puts a small space crew on an almost certainly doomed journey to reignite the sun and save the Earth. Gripping, chilling and occasionally visionary, "Sunshine" is a film waiting to be rediscovered and savored.
"Moon" (2009): Duncan Jones' debut feature is a throwback to the '70s, with claustrophobic sets and atmosphere getting the job done instead of visual razzle-dazzle, anchored by a tremendous performance from Sam Rockwell as an astronaut and his clone – who both want to live.
"Star Trek (2009): It's far from perfect, but J.J. Abrams' reboot of the classic series was a shot in the arm for the worn-out franchise. The director and his team revitalized the central concept and characters while paying respect to what had come before, a delicate juggling act that he mostly managed to pull off.
"District 9" (2009): It's still hard to believe that this confident, focused film was the first feature from director-writer Neill Blomkamp, since it's very close to a masterpiece. A brilliant commentary on South Africa's long, painful struggles with race, it's also a satisfying, gory action thriller and a moving character piece where the most sympathetic character is not human.
"Avatar" (2009): It almost didn't make the list because it retells the hoary and vaguely insulting "white man comes to save the natives" story one more time, but for the creation of a wholly new world and the level of technical innovation it introduced, "Avatar" still shines.
"Monsters" (2010): This little indie gem tells a big story on an intimate canvas as two people make their way across a Mexico crawling with extraterrestrial life – and it's starting to spill over the border. The current-events subtext is well-handled, while the story has its moments of sheer terror and even profundity.
"Sound of My Voice" (2012): Is cult leader Maggie (Brit Marling, who also co-wrote) really from the future or just another scam artist? That's the central question of this tiny mood piece, which examines just how far people will go for their beliefs.

"Serenity"(2005): Joss Whedon's sole previous feature film before "The Avengers" ...

Um, excuse me, but his actual first feature film was "Buffy the Vampire Slayer" in 1992, starring Kristy Swanson, Donald Sutherland, Rutger Hauer and Luke Perry.  I remember because I saw it in a theater in California while on vacation in August 1992.  Get your facts straight, please.

I guess I'll have to watch them again, because I thought "Sunshine" and "Monsters" just sucked. I'll have to agree re "Minority" tho I hate Tom Cruise. I loved "War", also, except that Tom thing, and that entirely inexplicable plot change Spielberg did; The Martians buried their War Machines here before civilization, and rode the lightening down to the cockpit. Pause, then a loud HUH????????
So the Martians were here, while Man was still living in the bushes. Why didn't they just stay, instead of somehow manage to bury Tripods under what turned out to be every major city on the planet? Not one of which was ever found while digging sewers or subways, or showed up on a ground-radar. They would have carried the contagion back to Mars, probably wiping out everybody (end of movie), or been immune to it like us (end of PLOT). Bonk on Head, Mr Spielberg. I've got more Willing Suspension than most but Come ON!
Are you sure you want to delete this comment?