Across the Universe: Spider-Man no more?
700th issue of 'Amazing Spider-Man' turns series on its head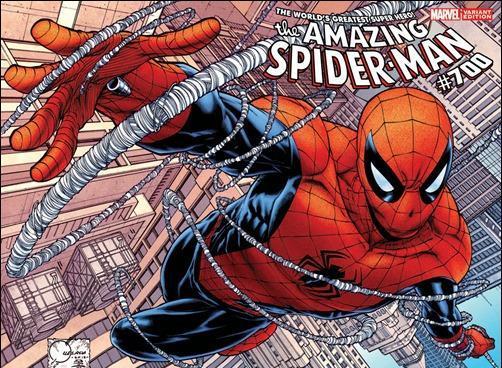 By Don Kaye
Special to MSN Movies

First, a spoiler warning, in case you don't want to know what just happened in the historic 700th issue of "The Amazing Spider-Man," which arrived on the stands this week.
OK, ready to keep going? Let's press on.

Bing: More on Spider-Man | More on Marvel Comics

Spider-Man is dead. Long live Spider-Man. Peter Parker -- the nerdy young man from Queens who was bitten by a radioactive spider and developed superhuman powers, becoming one of the most beloved superheroes of all time -- is gone, his consciousness trapped in the broken and now-dead body of his archnemesis, Dr. Otto Octavius, aka Doctor Octopus, after their minds were swapped.
Meanwhile, Doc Ock's mind has taken up residence in Peter's body, but in a surprising turn of events in the final pages, Ock is deeply affected when he abruptly relives all of Peter's memories from throughout his entire life. After that, Octavius pledges to the dying hero that he will take up the responsibilities of being Spider-Man and become a force for good.
The final scene between Peter and his longtime nemesis carries quite a bit of emotional power, but there's even more poignancy on hand in an earlier sequence in which Peter dies for three minutes and sees everyone who he has ever lost, including his Uncle Ben -- who absolves him of guilt over Ben's death all those years ago. This is comic book writing at its best.
And that's how "The Amazing Spider-Man" concluded this week, with the 700th issue also being the last of the decades-old line. It will be replaced in January by "The Superior Spider-Man," with Octavius' consciousness inside Peter's body -- and costume -- while Peter Parker himself is presumably gone forever after 50 years of web-spinning.
But is he really? Marvel and writer Dan Slott have been saying that this is a permanent change, but comic book fans know better. Superman was famously killed off in the '90s, yet came back. More recently, Captain America was assassinated at the end of the "Civil War" saga yet eventually returned as well. Even Bruce Wayne was presumed dead for more than a year not long ago, with the original Robin, Dick Grayson, donning Batman's cape and cowl in the interim.
It seems as if superheroes always come back in the end, and this is one of the reasons why we have gradually stopped reading comic books, at least the major superhero lines: If someone can come back to life, there's inherently no sense of true loss when they die. It's very difficult to have a truly dramatic story or character arc when the whole thing can be reset with the turn of a page. Anyone remember when Peter made a deal with Mephisto and wiped out his entire marriage with Mary Jane Watson, just because?
The idea of Doc Ock struggling to pretend he's Peter Parker, in Peter's body, while also going against his own nature and learning to be a good guy, is a fascinating one that could lead to a number of cool stories as "The Superior Spider-Man" progresses, just as the death of Captain America led to some great stories with Bucky Barnes taking up the mantle.
But in the end, we know Peter will be back, and the only suspense will be in figuring out how he does it. Remember, his memories and perhaps even a bit of his consciousness are still locked in his physical brain, just crowded to one side by the powerful mind of Doc Ock.
Some fans have responded with outrage to the story's turn of events, with Slott even reportedly receiving death threats. How anyone can do that is beyond our understanding -- threatening to kill someone over a comic book hero? Come on, guys. Even if it's a prank, it's an awful one.
Comic books have had as hard a time transitioning to a digital world as any other form of entertainment, and they're far from out of the woods. This shake-up of the Spider-Man universe is no doubt one way to jazz up publicity for the line and rattle readers' cages. And it will probably work -- in the short term, anyway. But how long will it be before "The Superior Spider-Man" makes way for the return of "The Amazing Spider-Man"?
We're guessing that the wheels will start turning at Marvel Comics to bring Peter back approximately a year from now -- just as the marketing for the summer of 2014's big screen "Amazing Spider-Man 2" starts to get under way.