Across the Universe: Godzilla raids again!
Lots of news on the King of the Monsters reboot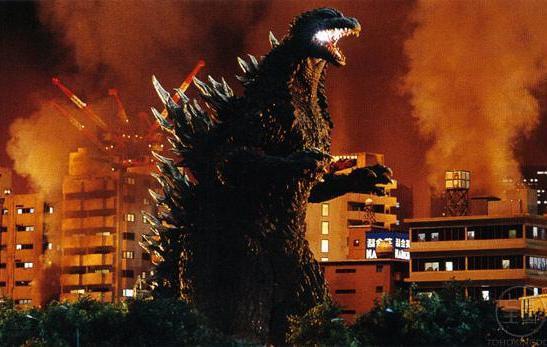 By Don Kaye
Special to MSN Movies
Godzilla is coming. After years of being in development, a reboot of the iconic Japanese monster is finally slated to go before the cameras this March, with a release date set for May 16, 2014. That's the news from
Deadline
, which dug for further details on the production after
Hitfix
launched an initial news blast earlier this morning.
Aside from the start of production and the release date being finalized, the big takeaway is that Frank Darabont, a genre expert who co-created and executive produced the first season of AMC's "The Walking Dead" -- along with writing and directing three of the finest Stephen King adaptations ever committed to film ("The Shawshank Redemption," "The Green Mile" and "The Mist") -- has been brought on board to write a new draft of the "Godzilla" screenplay.
Bing: More on "Godzilla" | More on Frank Darabont
Now, there have already been a few writers on this one, including Drew Pearce ("Iron Man 3"), David S. Goyer ("Man of Steel") and Max Borenstein (who wrote the original script). That's not unusual for a major studio picture (in this case, Legendary Pictures is producing through Warner Bros.), and while it can sometimes be worrying, Darabont's presence tells us one thing: that this movie won't necessarily skimp on character, dialogue and moral complications -- areas in which he specializes -- in favor of wall-to-wall spectacle.
A movie like "Godzilla" has to have both. That's what made the original 1954 film so powerful, and that's why the last iteration of the character that we got on these shores -- Roland Emmerich's dreadful 1998 version -- was such a complete disaster. Emmerich's jokey, campy film, in which an oversized iguana standing in for the real Godzilla scurried through the streets of New York, was an insult to audiences, as were the awful performances led by a mugging Matthew Broderick. We happen to like a lot of Emmerich's movies, but we hated his "Godzilla."
This one, however, looks like it's going to be a completely different beast (pardon the pun). The director is Gareth Edwards, a young British filmmaker who impressed many people three years ago (including us) with "Monsters," a low-budget sci-fi film that was the most intelligent, compelling movie about giant tentacled thingies in years. Edwards' vision of "Godzilla," apparently, is along the same lines as Christopher Nolan's take on Batman: What would happen if Godzilla actually appeared in our world? What would the real-life ramifications be? (Legendary, by the way, is home to Nolan's "Dark Knight" movies, as well as the upcoming "Man of Steel" and "Pacific Rim" -- the company seems to have the genre thing down.)
While there is one possible black cloud surrounding the project -- producers Roy Lee and Dan Lin exited the film today, and apparently not on the best terms -- the combination of Edwards, Legendary and now Darabont is giving us a good buzz about this "Godzilla." A brief teaser trailer shown last July at Comic-Con was downright chilling, and Edwards apparently made a presentation to the suits at Warner Bros. that was impressive.
With the script being tweaked and production ramping up, next is casting. Various tweets from Variety and The Hollywood Reporter (as per
The Playlist
) indicate that names like Joseph Gordon-Levitt (who has already passed), Henry Cavill (Superman in "Man of Steel"), Scoot McNairy ("Killing Them Softly") and Caleb Landry Jones ("X-Men: First Class") have been thrown around, but there's no indication yet of who any of them might be playing.
You can be sure, however, that none of them will be donning a rubber suit to play the big green lizard himself. Godzilla has been the subject of much love -- and not a small amount of ridicule -- among generations of fans for decades. While there have been some fine Godzilla movies made by Toho Studios in Japan, especially in the '90s, we all know there's been plenty of schlock as well. Can a big-budget, kick-out-the-jams Hollywood version of this cinematic legend equal the power and majesty of the 1954 original on its 50th anniversary? The answer will be stomping its way to us 16 months from now.


"Godzilla" is out in theaters Friday, May 16, 2014.