'Jurassic Park 4' gets its director
Indie filmmaker lands in big chair for new dinosaur epic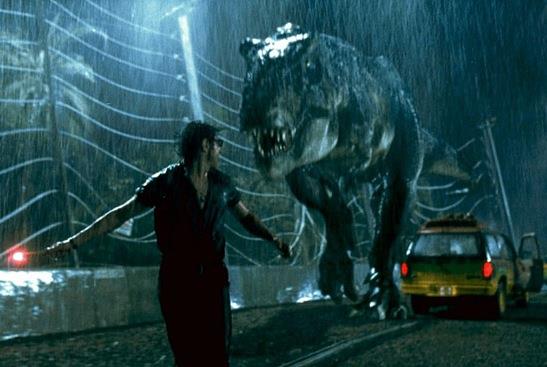 Universal Pictures has announced that Colin Trevorrow will direct "Jurassic Park 4," continuing the
dinosaurs-in-the-mod​ern-world
franchise that Steven Spielberg launched on the screen 20 years ago.
Who is Colin Trevorrow? He has one feature film credit to his name, last year's critically acclaimed tiny independent movie "Safety Not Guaranteed." While lightly touching on the sci-fi genre, the movie was made for what will probably be the cost of one shot (or less) on "Jurassic Park 4."
So why is the studio entrusting such a massive undertaking to a director with just one low-budget film to his name? According to Deadline, the studio and producers (presumably including Spielberg, who is executive producer on this) thought he was a "good match for the material" who will "preserve and protect" the story and characters.
Trevorrow is apparently not just a huge fan of the three previous "Jurassic Park" films, but of dinosaurs in general. And he must be doing something right in these meetings, because he was also rumored to be a contender for "Star Wars Episode VII" at one point (that turned out not to be the case, but he did reportedly impress Disney execs when he met with them).
So now a director is set, a screenplay is ready and a location for shooting has
possibly been found
. All the movie needs now is its cast. While that process gets underway, don't forget that April 5 will see the re-release of the original "Jurassic Park" in 3D.
"Jurassic Park 4" -- also in 3D -- is out in theaters Friday, June 13, 2014.

Sam Neill and Goldblum need to be in the movie.   Either one or both.  Without them, it would not be a movie.    It has been so long since we have had any exiting movies.   Please no more movies that only women love.   Also, retire Adam Sandler, Sandra Bullock and Drew Barrymore.    I think Milla J. would do good in the new movie or Michell Rodriguez.    How about say 40 raptors take after the Kardashian family?   Now that would be a great reality show to watch.

Any film franchise that goes past film #3 sucks and usually is dull and played out. They needed to make the Diehard and Lethal Weapon films a trilogy and just leave them at that. Ditto for Rocky, but Rocky should have stopped after 2. The story lines for the above sequels were fine, but just the premise gets old. How many car chases, stunts, shootouts does one need? Do I really need another dose of CGI dinosaurs chasing and eating people yet again?
Are you sure you want to delete this comment?