Across the Universe: Holiday hangover
Sci-fi and horror Blu-rays arriving this week include 'MIB 3'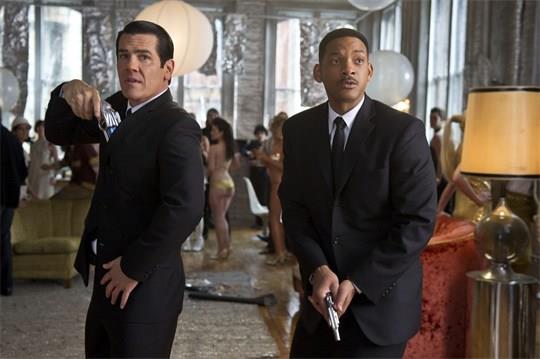 By Don Kaye
Special to MSN Movies


Thanksgiving and Black Friday are behind us, but with the holiday shopping season now in full swing, the post-Thanksgiving period is a fantastic time to scoop up all kinds of horror, sci-fi and related goodies. The Parallel Universe gift guide will be coming your way in a week or so, but first we'll recap several Blu-ray releases arriving this week that may end up as a nice stocking stuffer for the fan boy or fan girl in your life/immediate family.
Bing:
More about 'Men in Black 3'
|
More about 'ParaNorman'
"ParaNorman"
(Universal Studios): This gorgeous-looking tale from Laika Studios (which also gave us the marvelous "Coraline" a few years ago) is one of those animated films that does live up to the oft-stated promise of appealing to both kids and adults. Norman (Kodi Smit-McPhee) can see and communicate with the dead in his rundown little town of Blithe Hollow. No one believes him, of course -- until a witch's curse from 300 years ago suddenly reactivates a mass of corpses and sends them rampaging through the streets. Screenwriter Chris Butler (who also co-directed) can't resist some dumb jokes and simplistic supporting characters, but there are a number of eerie scenes and a surprisingly touching finale. Overlooked on release, "ParaNorman" is one of the year's best animated films and should look amazing on Blu-ray (also available in 3-D).
"Men in Black 3"
(Sony Home Video): Despite a troubled production that involved stopping shooting to finish writing the script, the final product is actually fun, thanks to a clearly uninterested Tommy Lee Jones stepping out for most of the movie and letting Josh Brolin take over as his younger self in a time-travel story line that's not too badly convoluted. Brolin steals the show, and Michael Stuhlbarg almost lifts it from him as an alien with the power to see all possible futures. But Brolin really does shine while Will Smith does his thing, and the ending is emotionally satisfying as well. The Blu-ray doesn't appear to have a 3-D option for those who can watch it, which is too bad, since this was one of the better post-conversion jobs we've seen.
"The Apparition"
(Warner Home Video): Ashley Greene (Alice from the "Twilight" movies) and Sebastian Stan (Bucky from "Captain America") move into a new home only to find out that an entity summoned a few years back during a college experiment -- in which Stan's character took part -- has moved in with them. Aside from a few cool images, this is horror gone badly wrong, with almost no characterization, wooden performances from both the mannequin-like Greene and the perplexed Stan, and a script that leaves all its ideas undeveloped. There's also no tension and no scares at all in the film's brief 82-minute running time. Writer-director Todd Lincoln is a first-timer; he's attached to some other projects that hopefully turn out better. Avoid on disc and just go for the Netflix option if you must see it.
"The Day"
(Anchor Bay): Five survivors, including former hobbit Dominic Monaghan, onetime X-Man Shawn  Ashmore and "Last Exorcism" possessee Ashley Bell, make their way across a post-apocalyptic America with just a few guns, knives and harsh words to see them through the usual gauntlet of crazies, cannibals and washed-out cinematography. There's nothing new here that we haven't seen before in this genre, and aside from a few instances of nasty violence, the movie gets monotonous. It's also hard to look at after a while -- surely director Douglas Aarniokoski doesn't think the end of the world means the end of all color?
"MIB 3," "ParaNorman," "The Apparition" and "The Day" are all available now.