Across the Universe: Taking 'Beautiful Creatures' from page to screen
A talk with authors Kami Garcia and Margaret Stohl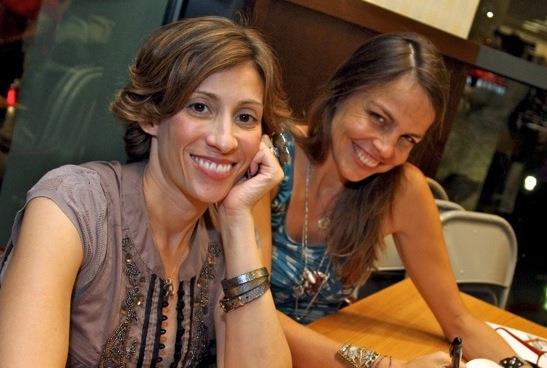 For "Beautiful Creatures" authors Kami Garcia and Margaret Stohl, writing their first novel all came down to having lunch.


It was sitting down for that meal which led the two -- who had never tried their hand at writing before, let alone getting published -- to devise the story of Ethan Wate and Lena Duchannes, two teens in love who come from very different backgrounds. Ethan is a native of the small town of Gatlin, S.C., more bookish than his classmates and yearning to get out into the world. Lena is part of a clan of immortal, witch-like beings called Casters, who has come to town to stay with her reclusive yet powerful uncle, Macon Ravenwood.
Related:
10 Southern Gothic movies
|
Video:
Watch the trailer for 'Beautiful Creatures'
Ethan and Lena's forbidden romance may be short-lived: At the age of 16, Lena will be "claimed," meaning she will either become part of the Light or part of the Dark -- with members of her own family eager for her to turn toward the latter for their own nefarious reasons. It's a classic love story set against an intricate supernatural mythology that surprised even its creators.
"We've been friends for a really long time," says Stohl when she and Garcia sit down with a small group of reporters at a recent press day in Los Angeles for the film adaptation of their book. "Kami taught all three of my daughters in elementary school, and we sometimes say that we're the only two people in Los Angeles who actually read books anymore, which is probably not a good thing to say (laughs). We started trading fantasy books back and forth, and we are exactly like 60 percent of our genre's audience, who are adults who read young adult fantasy for fun.
"So one day we had a long lunch where we cooked up a world based on a fantasy idea. Also, Kami's family is from a small town in the South and mine is from a small town in the West, and we both come from a great tradition of storytelling. So we kind of cooked up this story that was really a response to what my kids and her students were saying that they wanted."
Young adult fiction is a monster business, with teens -- and adults -- eager to dig into series such as "Twilight" and "The Hunger Games." But that kind of success breeds repetition as publishers -- much like movie studios -- attempt to duplicate what has worked before. Garcia says that her own students and Stohl's kids told them exactly what they didn't want to see more of.
"They said, 'We love all the vampire books we've read, but we're tired of vampires now; that's been done. No vampires, no werewolves,'" recalls Garcia. "They really wanted to see a book written from the boy's perspective, where the boy was a regular mortal and the girl was the one with the supernatural powers. They were like, 'Why does the girl always fall in love and never get to have any magic?' They also wanted it to feel like it wasn't generic. It couldn't take place in any city. They wanted it to have a very specific sense of place."
So the two women began to collaborate, outlining the story together before trading chapters to write and edit. The next step was giving each chapter to the teens that they knew, who in turn passed it along to their friends. "We didn't write the book to be published," says Garcia. "We cooked up this idea saying, 'Well, why isn't anyone doing that? We could do that.' We came up with the idea, but we never in a million years thought it would become a book in bookstores."
But it did become a book -- in bookstores -- after a writer friend passed it along to his agent. "Beautiful Creatures" was published in 2009 and became a best-seller, leading Stohl and Garcia to pen the rest of what became "The Caster Chronicles: Beautiful Darkness" (2010), "Beautiful Chaos" (2011) and the conclusion, "Beautiful Redemption" (2012). (The pair are now working on separate projects, with Stohl's "Icons" coming out in May and Garcia's "The Legion" set to arrive this fall).
Naturally, with that kind of success, Hollywood came knocking as the studios themselves scrambled to find the next "Twilight"-type hit. "Beautiful Creatures" eventually landed at Alcon Entertainment, with Richard LaGravenese ("The Fisher King") signed to write and direct. "When Richard came to us and told us he loved the book, we already knew his work," says Garcia, admitting that she and Stohl were understandably anxious about their book being filmed. "We knew 'The Fisher King.' We knew he was amazing at adapting, and also what a lot of people don't know is how much he loves fantasy. Once he started sharing that with us -- we who are fantasy nerds -- we knew he was going to be able to do this."
"We viewed him as an ally from the very beginning because the things that we care about the very most is that our teens are smart and critical," adds Stohl. "We respect teens, we respect our teen readers, and we really respect the smart teens we wrote it for. I think the thing we were most afraid of was that it would become this sort of generic movie where the actors might be Hollywood celebrities in the making and the roles dumbed down in a certain way. But Richard was ferocious about that. He protected the wit and the classical charm and the characters."
The film version of "Beautiful Creatures" does in fact have a wit, sly self-awareness and depth of characterization that other teen-oriented dark fantasy films have mostly lacked. We come to care about Ethan and Lena, as played by Alden Ehrenreich and Alice Englert, and perhaps most importantly, Lena herself is not a passive young girl (we're looking at you, Bella Swan) who needs a young man to come along to give her life meaning.
"We wrote chapters and handed them directly to the teenagers," says Stohl about making sure that their female lead was a strong, empowered person. "It was like serialized fiction. So you're not going to write something and hand it to your daughter --"
"-- Or your sister or your students, that doesn't say, 'Be who you are, embrace the person you are, claim yourself and don't give a crap what anyone else thinks,'" interjects Garcia without missing a beat. "That was the heart of the whole series and what it's about."

"Beautiful Creatures" is out in theaters Thursday, February 14.