Across the universe: Return of the Jedi
What the sale of LucasFilm to Disney could mean for 'Star Wars'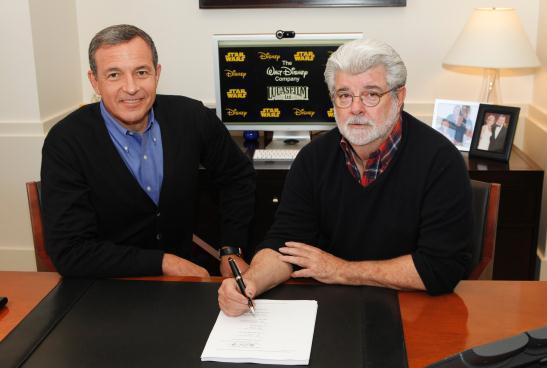 By Don Kaye
Special to MSN Movies

By now you've heard the blockbuster entertainment news that was probably the third-biggest story of last week (after, we must say, the much more important Hurricane Sandy and the election): The Walt Disney Co. bought LucasFilm from sole owner George Lucas for just over $4 billion. And while LucasFilm encompasses many things -- including pioneering special effects giant Industrial Light & Magic, among other assets -- the Mouse House plunked down four
extra-extra-extra-la​rge
for one item and one item only: "Star Wars."
Bing:
More about George Lucas
|
More about 'Star Wars'
Lucas himself wants out, and has for many years. Although he long ago conceived of "Star Wars" as a nine-part saga, he more or less made it clear after finishing "Episode III: Revenge of the Sith" in 2005 that chapters VII, VIII and IX would probably never see the light of day. And after the disappointment of the prequels (large chunks of "Sith" excepted), even the most die-hard "Star Wars" fans would probably secretly admit that they weren't exactly crying in their Cheerios over that news.
More:
Do the 'Star Wars' films hold up?
But now a new hope has emerged -- or has it? Not only has Disney bought LucasFilm lock, stock and barrel (which means, we suppose, that execs could also make a "Radioland Murders" sequel if they wanted to), but it has already announced that "Star Wars Episode VII," the sequel to 1983's "Episode VI: Return of the Jedi," will be coming our way in 2015. Less than three years! And now the questions turn to this: What will "Episode VII" be about, and who will make it?
Lucas himself will be a "creative consultant," but that will put him in roughly the same position Gene Roddenberry was in for the five "Star Trek" sequels made between 1982 and 1991: He'll more or less give some notes and otherwise stay the hell out of the way. This is the new good news: After all, the worst thing the old man did on the prequels was write and direct them himself -- it's no accident that the best "Star Wars" film, "The Empire Strikes Back," did not have Lucas' name anywhere near either of those credits.
So who will take on this massive, pressure-filled undertaking? Rumors that "Mission Impossible -- Ghost Protocol" director Brad Bird and "Prometheus" writer Damon Lindelof were already secretly working on "Episode VII" were debunked as quickly as they came out last week, although Bird remains at the top of many fans' wish lists to direct. Names like David Fincher and Christopher Nolan have been thrown around as well. Sorry, but we just can't see Fincher's dark take on everything working for a space opera, and as for Nolan, our guess is that we'll see him doing a Bond picture before bopping about on Tatooine and other assorted planets.
Who else could take the reins behind the camera? Other names buzzing around the geek universe include Rian Johnson ("Looper" -- interesting choice), Darren Aronofsky ("Black Swan" and the forthcoming "Noah" -- great but too twisted), J.J. Abrams ("Star Trek" -- he's probably quite happy with one sci-fi franchise) and Joss Whedon ("The Avengers" -- probably perfect, but he's got something called "The Avengers 2" to get out in 2015).
With frequent Steven Spielberg producer Kathleen Kennedy taking over as head of LucasFilm, could the Beard himself interview for the job? Spielberg's a natural for directing "Star Wars," but he may be reluctant to pursue anything other than his own projects at this point. (Update: "X-Men: First Class" director Matthew Vaughn is the new rumored favorite for "Episode VII," especially since he recently dropped out of the next "X-Men" movie)
Finally, what will happen in "Episode VII" (as well as "VIII" and "IX," which are also coming -- with more possibly beyond that)? Lucas has hinted that he has had story treatments for the next three chapters all along, but has not revealed anything about when or where they're set or who's in them. While there have been a wealth of "Star Wars" novels, comics, video games and TV shows (most notably "The Clone Wars") in what is now called the "Expanded Universe," we can probably expect the next trilogy to ignore all that (at least for now) and focus on fleshing out whatever Lucas has hidden in his treatments (although as many have pointed out, the "Thrawn trilogy" of novels by Timothy Zahn -- "Heir to the Empire," "Dark Force Rising" and "The Last Command" -- are probably an excellent template for a sequel trilogy).
What would we like to see? The simplest story to tell would take place perhaps a few years after the destruction of the Empire, as the rebel alliance struggles to turn into a working new Republic, restore the Jedi Knights and mop up the remnants of the Imperial forces. Perhaps we could see an older Luke and Leia (in cameos) mentoring a new order of Jedis; perhaps their own children could take center stage as the saga's new heroes. And there could well be another dangerous enemy -- a true phantom menace that could be related somehow to the Sith -- lurking in the background and preparing to smash the Republic before it truly blossoms.
Stay tuned for more developments as we march toward 2015, when the Force will no doubt grow strong once again.
How the heck can you make a new trilogy without HanSolo, Princess Leia and Luke Skywalker?? at their age you would have to CGI?? and Ford has already said NO WAY to CGI imaging of any known actors!!!! He is totally against it. I DNK about anyone else but the reason the first Trilogy is still the best is partly because of Ford's Han Solo without him, the other two characters and the story line are too dark and gloomy. It takes itself to seriously! This is the reason Lucas wouldn't let Ford kill off Solo in the first place! This all seems ridiculous to me. It is like trying to make a sequel to Gone With The Wind without Viven Leigh and Clark Gable. They tried it for TV and it was stupid and Bad really Bad! Leave the Movie alone it generates millions on its own every year! Why can't Disney be satisfied with that??? Those of us who love and cherish this Movie should be respected we are the reason Lucas could sell it for a Gagillion dollars! I dnk  want to see anyone else playing those 3 characters other than the 3 actors who played them originally!
Are you sure you want to delete this comment?