More 'X-Men' cast members returning for 'Days of Future Past'
Bryan Singer film will link old and new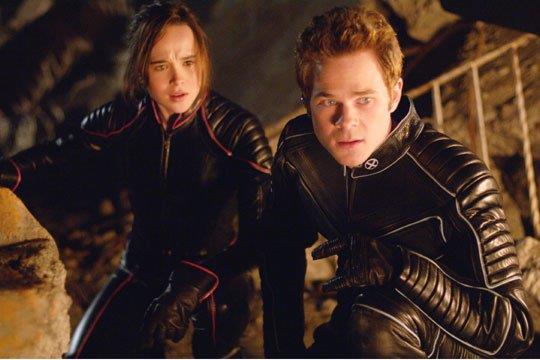 In case you needed more proof that the new "X-Men" film was going to link together the casts of the first three movies in the franchise with that of 2011's "X-Men: First Class," three more actors from the former are officially joining the latter.
Director Bryan Singer
tweeted
on Saturday that Ellen Page, Anna Paquin and Shawn Ashmore are all coming on board for
"X-Men: Days of Future Past,"
his 2014 follow-up to the series reboot of two years ago, which was a surprise hit with fans and critics if not exactly a blockbuster at the box office.
Ashmore played Bobby Drake, a.k.a. the mutant Iceman, in 2000's "X-Men," 2003's "X2" and 2006's "X-Men: The Last Stand," while "True Blood" star Paquin also appeared in all three as Rogue. Page joined the series as the mutant Kitty Pryde in "X-Men: The Last Stand," as the character took on a bigger role than in the previous films.
The trio will be joining fellow trilogy alumni Patrick Stewart (Professor Xavier), Ian McKellen (Magneto) and Hugh Jackman (Wolverine) in "Days of Future Past," along with returning "First Class" members James McAvoy, Michael Fassbender, Jennifer Lawrence, Nicholas Hoult and others.
McAvoy and Fassbender played younger versions of the Stewart and McKellen characters in "First Class," which was set in the 1960s and explored the origins of the X-Men and how the two friends became enemies, with Xavier sworn to preserving peace between humans and mutants and Magneto determined to wipe out humanity.
In the 1981 comic book story on which the new movie is based, the mutants are living either underground or in internment camps in a dystopian future version of America. It's up to Kitty Pryde to send her consciousness back in time and into the body of her younger self to warn the X-Men of the past that they must stop a tragic incident that will launch a wave of anti-mutant hysteria and lead to this bleak future.
The story is one of the most popular in the "X-Men" comics' history and makes sense as a way to bring together the old and new casts. There's no word on how closely the movie will follow the comics as Singer is still finalizing the script.
Singer directed the first two -- and most popular -- "X-Men" movies, but stepped away from "The Last Stand." He came back to produce "First Class" for director Matthew Vaughn. The two have switched places for "Days of Future Past," which is due out in July 2014.

If it follows the storyline - it was Jean Grey/Scott Summers daughter Rachel who sent "Kate" Pryde' consciousness back to Kitty Pryde (she hadn't been taught by Xavier how to block telepathic assaults like his older students) - it would be a nice touch to see a "Red Head" telepath in the future - even if they don't say her name and  fans could feel that the Phoenix ending (Awful in X3) wasn't really that - and that somewhere somehow Jean and Scott come back to life (and why not Xavier's body too) and would eventually have a daughter together.
As anyone who has read the original Phoenix Saga knows it is one of the best storylines ever in the comic history, Changing it for the movie did not do it justice – they took elements – but  failed to show Jean's sacrifice (again) and why she did it. 
 If anyone had read the movie novelization of X3 they could see how the Phoenix entity could have fit into an X4 – it starts with Jean first becoming a telepath and seeing past the veil of existence.
Hmm – maybe I should do a screenplay – nah.
Are you sure you want to delete this comment?