Across the Universe: Here Comes the Judge
Olivia Thirlby finds her inner action star in 'Dredd'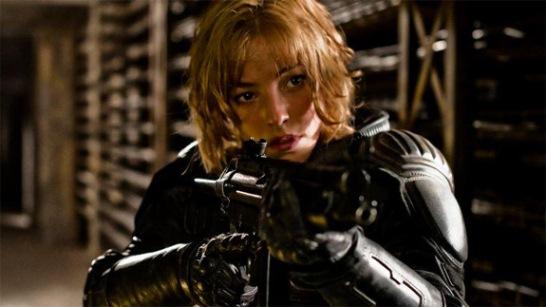 By Don Kaye
Special to MSN Movies
After breaking out in the movie "Juno" and taking on a number of other offbeat parts (mostly in independent films), New York-born actress Olivia Thirlby makes her first foray into the world of comics-based movies with "Dredd." Playing a new Judge named Anderson, whose mutant psychic abilities are as much a part of her arsenal as her physical prowess, Thirlby meets the double challenge of being both a commanding fighter and playing against the raw aggression of Karl Urban in the title role.
Bing: More about Olivia Thirlby | More about 'Dredd'
Fans will decide whether Thirlby is equal to the task (and to the mighty Dredd), but there's no question that she and the filmmakers have taken care to give Dredd a believable partner. "This script didn't read like a normal genre script," said Thirlby when speaking recently to reporters about the movie. "The characters felt so real and the circumstances felt like they could be real. Something I like about the heroes in this film and this comic is that they're just men and women. They don't have superhuman strength. They're not gods from a different planet. They don't wear magical suits that can do everything. They're just really brave and they're really real."
Related: 10 reasons why the new 'Dredd' rules
While her co-star is well known for action-heavy genre roles, with "The Lord of the Rings," "Star Trek" and others on his résumé, Thirlby had to learn the moves from scratch. "There was weapons training and handling, and I had never handled or fired weapons before, so I had to kind of start from the very beginning," explained Thirlby. "Karl was an old pro. He just picked up the gun and hit the ceramic pigeons, but I was shooting all over the place at first. I did get better, though. Then there was also fight training: I had to learn how to do a roundhouse kick, which was a great challenge, but I did learn how to do it."
Thirlby admitted that the combination of training, the weapons and her costume all helped to make her feel like the powerful crime-fighting warrior that Anderson is aspiring to be. "It was a combination of all those things, but there is definitely a feeling that you have of being cool," she said. "It's like playing laser tag, but with production values and you're an adult. It actually took a team of people to get you into the leather bodysuit, and there is something about being covered in blood and looking and feeling really mean and having a submachine gun in your hands that is really fun."
It's quite a different kind of fun for the actress, whose previous choices have been in movies with a much more independent and low-budget aesthetic (her one previous sci-fi outing, "The Darkest Hour," was not a success). "My interest really varies on the material, and there doesn't seem to be any genre that I would exclude," she said. "So I do mostly small films, mostly independent films, but then sometimes things like this come along, and it's a pleasure to work on a film like this because I really believe in the story and I like these films. I find their entertainment value to be culturally significant and I enjoy going to the theater and putting on a pair of 3-D glasses and living in the fantasy for a couple of hours."
As for whether "Dredd" has any real cultural relevance, Thirlby is less certain. One could read the film as a portrait of a society – in some ways one possible future for ours – where expedience is valued over process, and war and crime have escalated to such catastrophic proportions that basic human and civil rights have been abandoned. The actress agreed that the horrifying world of "Dredd" does offer one scenario that could happen.
"It might be like a commentary on what happens when all you can do is treat the symptoms," she reflected. "In Mega-City One, this post-apocalyptic world, things are so dire and so black-and-white that you have to give individuals absolute power, but it almost seems like there is no end in sight. At the beginning of the film, the chief Judge says that the Judges are losing the battle for the city, the crime and the desolation is taking everything over. It's a fully broken society … when it's so bad that all you can do is persecute and execute criminals, there is no way to treat the grander problems that are happening."
"Dredd" is out in theaters Friday, Sept. 21.