Across the Universe: Say Your Prayers
Why are stories about cults so frightening?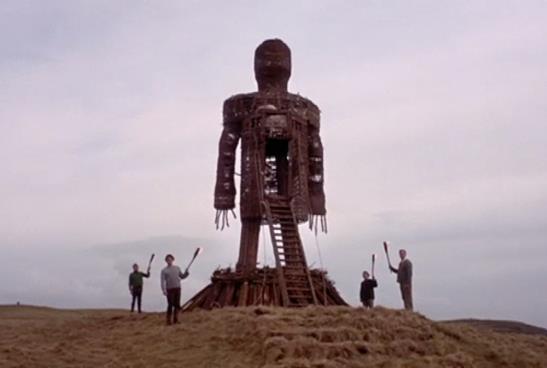 This Tuesday's (Feb. 19) premiere of "Cult" on the CW -- a new series in which a crime drama on TV could be inspiring its devoted followers to re-enact the crimes they see on the show -- got us thinking about cults themselves, and why the characterization of them in movies and TV shows always seems to be so damn scary.

It has to be because a cult is the embodiment of a relentless, implacable groupthink, a single entity comprised of many smaller parts (its followers) all working for one purpose. Often that purpose is nefarious: the induction of new members, a sacrifice or summoning of some kind and so on. There's also a lot of paranoia around when a cult is on the scene: Who is a member and who isn't? Who can I trust?
Those two aspects -- that implacable, single-minded force and the suspicion and fear associated with it -- have played a large role in some of the more frightening portrayals of cults on both the big screen and small screen. Sadly, some of those portrayals, such as that of the Manson family and the Jonestown horror, are not fictional at all. Here are some of the sects (religious, personality-based or otherwise) we've found particularly unnerving to watch.

"The Seventh Victim" (1943):
This early shocker from famed horror producer Val Lewton ("Cat People" and "I Walked With a Zombie" are among his other classics) stars Kim Hunter (Zira from "Planet of the Apes" in her screen debut) as a young woman who comes to New York to find her sister, who has become involved with a satanic cult. The moody cinematography, sense of paranoia and downbeat ending keep this one fresh and frightening.
"Rosemary's Baby" (1968):
What's so spooky about the cult that helps impregnate poor Rosemary (Mia Farrow) with Satan's child is that they look like a bunch of senior citizen tourists getting ready for a four-day cruise to the Bahamas. Yet they are the devil's minions and will stop at nothing -- including killing -- to see his son walk the Earth.
"The Wicker Man" (1973):
A devout Christian policeman (Edward Woodward) travels to a remote British island to investigate the disappearance of a little girl, and is shocked to find the island's inhabitants all belong to an ancient pagan cult (led by the great Christopher Lee). Now considered one of the classic horror films, "The Wicker Man" is a truly weird and unsettling examination of the nature of faith, with one of the all-time most shocking endings.

"Helter Skelter" (1976):
We remember being terrified by Steve Railsback's performance as Charles Manson when this first aired on CBS in two parts. One of two TV movies sadly based on true events, "Helter Skelter" paints a frightening picture of the Manson Family and the insane leader at its core who led his followers to commit some of the most horrific murders of their time.
"Guyana Tragedy: The Story of Jim Jones" (1980):
Yet another two-part film that premiered on CBS, this chronicle of the ghastly mass suicides at the Jonestown camp in Guyana is anchored by Powers Boothe as the forceful and unsettling cult leader Jones, who turned from idealist to fanatic -- and took more than 900 followers along on his dark path to destruction.
"Indiana Jones and the Temple of Doom" (1984):
  Yes, this is one of the more fanciful cults on this list, but that doesn't mean this evil Thuggee sect is any less frightening. They were so intense and demonic that their presence resulted in the creation of the PG-13 rating -- understandable for a cult whose leader rips the beating heart out of his victims.
"Children of the Corn" (1984):
Stephen King's short story inspired this B-movie and an astounding seven sequels, not to mention a 2009 remake on Syfy. Husband and wife Peter Horton and Linda Hamilton come upon a Nebraska town where a boy preacher has led all the children to murder all the town's adults in service to "He Who Walks Behind the Rows."
"The Believers" (1987):
A murderous brujeria cult in New York chooses the young son of Cal Jamison (Martin Sheen) as its next human sacrifice. Creepy and effective (if derivative), "The Believers" did have the unfortunate side effect of equating brujeria, a form of witchcraft, with Santeria, the benign and complex fusion of Caribbean, West African and Catholic rituals.
"Martha Marcy May Marlene" (2011):
A shattering performance by Elizabeth Olsen and a terrifying one by John Hawkes are at the center of this thoroughly unnerving story of a young woman trying to escape the grip of a cult based in the Catskill Mountains. The true horror of the film is the realization that Martha may never escape the cult -- even if she doesn't physically return.
"Sound of My Voice" (2012):
Maggie (Brit Marling) has traveled here from the year 2054 to prepare us for a rough future. Or has she? Two undercover journalists pose as recruits for Maggie's small but growing cult to learn the truth. A tense study on why and how people become followers, this is also a perfect example of independent, ambiguous science fiction filmmaking.