Across the Universe: Now that's scary
Does 'The Collection' cap a good or bad year for horror?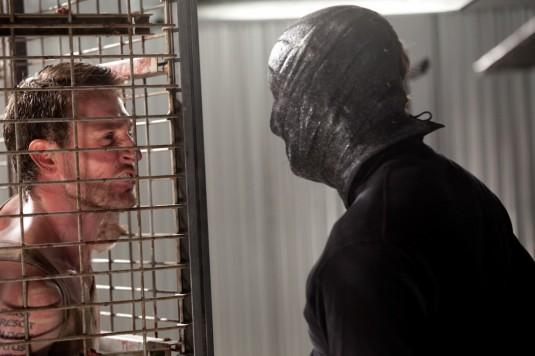 By Don Kaye
Special to MSN Movies


The opening of "The Collection" this week pretty much marks the end of the year for the horror film genre. The last few weeks will be taken up mostly by awards contenders and "The Hobbit," which may have its dark moments but doesn't quite qualify as horror. But as the Collector returns in a bigger follow-up to his surprise 2009 hit, is he ringing out a good year or a bad year for the genre?
Bing:
More about 'The Collection'
|
More about 'Sinister'
Horror has always had its share of ups and downs, and 2012 has probably been a bit rocky, with several of the genre's trends in flux. The year began with the surprise success of the terrible found footage movie "The Devil Inside," and wound down in late October with another faux-doc, "Paranormal Activity 4," which did not match the box office earnings of the previous entries in the series. Barry Levinson's found-footage tale of environmental terror, "The Bay," while genuinely frightening in a number of spots, failed to gain traction with a lower-level debut.
At the same time, ghost stories told in a more traditional narrative style, like "The Woman in Black," "The Possession" and "Sinister" (although that contained found footage elements), seemed to strike a chord and become modest hits for their studios -- not bad at all considering the relatively low budgets of both films. Other major genre titles, however, like "Silent Hill: Revelation 3D," "The Apparition" and "Silent House," flopped immediately upon release.
There was also a stream of smaller fare, ranging from the dreadful and near unwatchable (yet bizarrely overrated) "V/H/S" to the intermittently creepy "Lovely Molly," that came and went quickly, perhaps getting a cursory run in theaters for a few days before heading directly to DVD, VOD or both. A number of other lower-profile releases, such as "The Loved Ones," "Excision" and "The Revenant," continued a more recent excursion into pitch-black satirical horror.
"The Collection," in which the title villain, the masked killer from the first film, mows down a club full of partygoers and then lures an armed team into an abandoned building full of body-ripping booby traps, seems almost quaint, an exercise in the kind of torture porn that went out the window with the last "Saw" film. But early reviews have been stronger than expected, with the film putting an emphasis on performances and a certain amount of intelligence that exploitation filmmakers can often dismiss. A strong heroine (Emma Fitzpatrick), instead of the usual
helpless-woman-as-sa​crificial-lamb,
freshens things up considerably.
The movie (directed by Marcus Dunstan and co-written by Dunstan and Patrick Melton, both of who have also worked on the "Saw" series) still relies like its predecessor on an ongoing string of creative deaths and copious gore -- such as the showstopping nightclub scene -- but done with an over-the-top sense of humor that keeps this one from bogging down in heavy-handed moralizing and ridiculously contrived plot twists like the "Saw" sequels, from which this does take a few cues without falling into the same traps (no pun intended).
If "The Collection" shows that filmmakers can take what audiences lapped up from the torture movies of the last eight years and apply it to a more compelling story, then "Sinister," released earlier this fall, represents the triumph of atmosphere over narrative. The script by director Scott Derrickson and C. Robert Cargill gets more and more rickety the more you think about it, but there's no denying that Derrickson's smooth direction and expert use of sound, silence and composition create one hair-raising moment after another.
Derrickson seems to be working more in the vein of Italian horror icons like Mario Bava, Dario Argento and Lucio Fulci, who often sacrificed plot in favor of imagery and mood. We see this as a welcome development even as we would like to see stronger writing and less determination to create a new franchise, which is what brings "Sinister" down somewhat in its third act. Still, the focus on the unseen or the half-glimpsed -- combined with a truly haunting soundtrack and array of sound effects -- is what makes "Sinister" an impressive genre achievement.
If "The Collection" and "Sinister" bode well for their respective genres, where does horror head in 2013? For starters, we've got more from the remake factory, including "Carrie" and an upgrade of "The Evil Dead" which is already being promoted as the scariest film ever made (the trailers certainly live up to that billing). We can also look forward to "Insidious 2," "The Last Exorcism 2," "Texas Chainsaw 3D" and, of course, "Paranormal Activity 5," since it wouldn't be horror without a boatload of sequels. And finally, there are the unknowns: original titles like "Mama" (produced by Guillermo Del Toro) "The Conjuring" (directed by James Wan of "Insidious"), "Stoker," "Warm Bodies" (based on a young adult zombie novel) and "I, Frankenstein" (from a graphic novel), any of which might twist horror's head all the way around on its neck once again.

"The Collection" opens in theaters Friday, Nov. 30.