Meghan Ory of 'Once Upon a Time'
Actress talks playing Ruby, Little Red Riding Hood and the Big Bad Wolf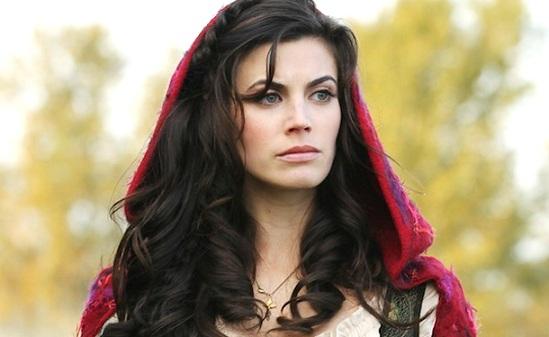 By Minh Nguyen
Special to MSN TV
Talented actress Meghan Ory has her hands full in ABC's "Once Upon a Time" where she not only plays the sexy diner waitress, Ruby, while in Storybrooke, and both Little Red Riding Hood and the Big Bad Wolf while in Fairytale Land. In an upcoming epsisode, titled "Child of the Moon" Ruby fears turning into the wolf in the first curse-free full moon to hit Storybrooke.  MSN TV had a chance to speak with Ory about her many characters and even shared some advice that made us laugh out loud. "Once Upon a Time" airs Sundays at 8p.m. ET on ABC.
MSN TV: Congrats on being a series regular. I always thought you were a series regular, until I did my research today.
Meghan Ory: Awww, perfect!
Bing: More on 'Once Upon a Time' | More on Meghan Ory
In your own words, can you tease the show on Sunday, and what Ruby will be going through?
Ruby is going through a lot. It's been tough to be a wolf, these days for her. It's the first full moon, since the curse was broken. And, as we've sort of seen over the past few episodes, her wolf senses are coming back slightly, so she's not totally sure if she's going to turn into a wolf again or if she's not but she is definitely pretty stressed about it.
And, in the preview clip, it looks like she goes to jail? Is there anything else you can tell me, or should I just stick to the clip until next Sunday?
The clip was definitely a pretty good tease. She definitely ends up in a jail cell; that is for sure. You saw that with your own eyes. Yeah, let's just say that things are not…, (it's) not the best day of Ruby's life.
Could you talk about Ruby and Little Red Riding Hood's relationship with Granny?
Well, I think that last time we saw them together they sort of worked through their issues. Now, post-curse, they're back to sort-of being as they were, in (that) they're having a good relationship. Granny is standing behind Red, trying to support her, and help her out when she is dealing with her wolf-ness and what not.
There are so many stories going on in Storybrooke, how do you keep up with all the characters and everything that goes on or do you just focus on your character?
I read the scripts many, many times, to keep up with what's going on. You kind of have to know what's happening with everybody because everything is always interlinked.
When you auditioned for the role, how did they explain the show,  Ruby and Little Red Riding Hood to you?
Well, they were pretty secretive, back in the audition process, with what was going to happen with the full story. All I really knew, is that it was Red Riding Hood, and she was a little bit on the sexy side.
Once I got to filming the pilot, I had some conversations with Adam and Eddie, and they sort of expanded a little bit more on what the show was going to be and what they were going to do with Red. They told me that my name was going to be Ruby, in Storybrooke, which was very clever. Yeah, so it was once I got to work, that they shared things with me.
What did you think of the concept of "Once Upon a Time", when they told you?
Oh, when I read the pilot, I freaked out! I was so excited that somebody was doing a show like this. It's so creative and so imaginative and ambitious and brilliant, I think. And I just wanted to be involved, in any way that I possibly could.
I know your resume is quite long but there are so many talented actors on the show. Is there one that you love to watch and have learned a lot from?
I think everybody brings something so unique, and special to the show, that working with everyone is great. It's a really remarkable cast, to be a part of. I feel very fortunate, because I learn from everybody every day.
What were your favorite Fairytales growing up?
I was a fan of "Little Red Riding Hood". I was obsessed with "The Little Mermaid", for about a year. I always really loved "Peter Pan", and Tinkerbell, so I'm hoping that we get to explore Neverland a little bit more now that we have Hook in our midst.
Was it interesting for you to see any Fairytale characters come to life, as told on the show? Like, someone you were really excited about?
You know, I was pretty excited for Captain Hook, and I think Colin (O'Donoghue) has been doing a wonderful job. I just think that every time they bring someone new on, it's always exciting. You have an idea about who these characters are, based on having heard about them, since we were little. And then, to see what the actors that they cast, bring to the roles. They make them so full, and rounded, and these real people. It's just really exciting to see what people do with their characters.
Were you excited, to be approached, to do Little Red Riding Hood?
Yes! Specifically, I really like the color red and I like wolves.
And, what's the best advice you've ever gotten?
Hmmmm… Don't eat yellow snow! It's snowing on the East Coast isn't it?

I saw the episode and it lived up to this interview and the excitement that Ory gives it.  (SPOILER!)  It was one of the darker episodes to date and certainly leaves us in a lurch since there is a murdering king on the loose.  I'm glad that Ory is a regular on the show now too; she's very attractive.  LOL!  My DISH coworker and I catch OUAT and at least one other show when he comes over now because of the time we save by watching commercial free with the Auto Hop Feature on my DISH Hopper DVR.  It is so awesome because I can skip the commercials automatically and it's like watching a DVD instead of TV.
Are you sure you want to delete this comment?