Across the Universe: 'Frankenweenie' comes home
Tim Burton's animated film joins Frankenstein mythology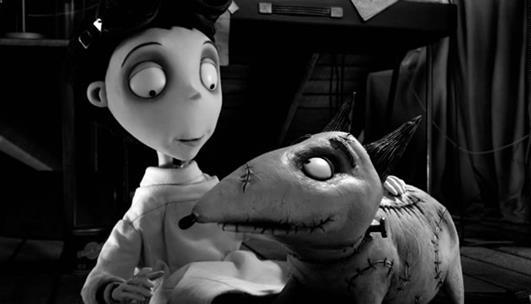 By Don Kaye
Special to MSN Movies


"Frankenweenie" is director Tim Burton's loving stop-motion animation tribute to both his own live-action short film of the same name (created in 1984) and the black-and-white horror and monster movies of his youth, particularly the classic Universal version of "Frankenstein." The full-length "Frankenweenie," shot in black and white, tells the story of a young boy (voiced by Charlie Tahan) whose loss of his beloved dog, Sparky, leads him to macabre experiments in reanimation, which in turn leads other kids in his class to perform the same experiments until the
half-Gothic/half-sub​urban
town of New Holland is overrun with monsters.
Bing:
More on "Frankenweenie"
|
More on "Frankenstein"
There's not quite enough story to fill out a full-length "Frankenweenie," and even as gorgeous visually as the movie is (along with the new Blu-ray/DVD that's loaded with extra features, including the original short), it falls short as a truly compelling animated horror comedy. Yet the best parts of the movie are often its direct tributes to the classic Frankenstein mythology, an iconic narrative that finds itself at the center of many horror and sci-fi films -- and not just ones with "Frankenstein" in the title.
Here are a few of our favorite movies based on the theme of Mary Shelley's original "Frankenstein" -- some using that name and some not -- a list to which "Frankenweenie" aspires with sometimes delightfully ghoulish results.
"Frankenstein" (1931):
Not the first film based on Shelley's classic novel, but certainly the most iconic. Boris Karloff plays the deformed, reanimated creation of Dr. Henry Frankenstein (Colin Clive) to perfection, making him both a frightening and sympathetic being. Director James Whale's classic is still the version of the story to which all others are compared.
"Island of Lost Souls" (1932):
In this once-banned masterpiece, Dr. Moreau (Charles Laughton) doesn't bring the dead to life -- he transforms one kind of life into another, in this case animals into half-human freaks. But like so many scientists, Moreau has a God complex, and a cruel streak to go with it.

"The Curse of Frankenstein" (1957):
Hammer Films' first foray into full-color horror was also the first real successor to the Whale version, with Peter Cushing icily ruthless as the doctor and Christopher Lee hideous yet also empathetic as the monster.
"Colossus: The Forbin Project" (1970):
Here's where we get a little interesting. "Colossus" is one of the minor gems of early '70s sci-fi, in which a scientist named Forbin (Eric Braeden), a cold, unemotional man, creates a sentient supercomputer that quickly turns on him and the government, seizing control of the country's nuclear arsenal and essentially the world. It's "Frankenstein" in high-tech terms, with the creation still turning on the creator.
"Frankenstein: The True Story" (1973):
Hardly true or even particularly faithful to Shelley's story, this still literate and impeccably cast TV movie (James Mason, Ralph Richardson, John Gielgud and others all show up) is a nevertheless interesting twist on the tale: Frankenstein's creature is perfect at first, but is quickly abandoned by the doctor when he begins to physically degenerate. A morality play about the ugliness inside everyone.
"The Rocky Horror Picture Show" (1975):
If you haven't attended a midnight screening of this cult rock musical, you haven't truly lived. Composer Richard O'Brien's spoof of horror movies is a takeoff on "Frankenstein" among others -- except that the scientist is an alien transvestite and his creation is a greased-up, muscle-bound boy toy.
"Blade Runner" (1982):
The replicants of director Ridley Scott's dystopian future are created by their "maker," Dr. Tyrell, with a deliberately finite lifespan. Like all creations, however, they eventually demand more from their creator -- in this case, more life -- and make him pay the ultimate price when he can't deliver. The replicants have a lot of parallels to Frankenstein's monster: Created and abandoned, they eventually turn to violence.
"Edward Scissorhands" (1990):
Tim Burton visited this territory once before with his 1990 classic, in which Vincent Price (in his last role) brings Johnny Depp to life as the title character, a pale, puppy-like being with large blades for hands and Winona Ryder for a girlfriend. Like all monsters, however, poor Edward is misunderstood and ultimately forced to be alone.
"Species" (1995):
Sexuality enters into the picture as scientist Ben Kingsley creates a new female being through mixing alien and human DNA -- an alluring creature named Sil (Natasha Henstridge) who murders men after giving them the goodies. Until Sil ends up turning into a Lovecraftian monster, no variation on the Frankenstein monster ever looked so good.
"Frankenweenie" is out this week on Blu-ray/3D Blu-ray/DVD.