Across the Universe: Rearview Mirror, Part 2
Which geek movies were the summer's big losers?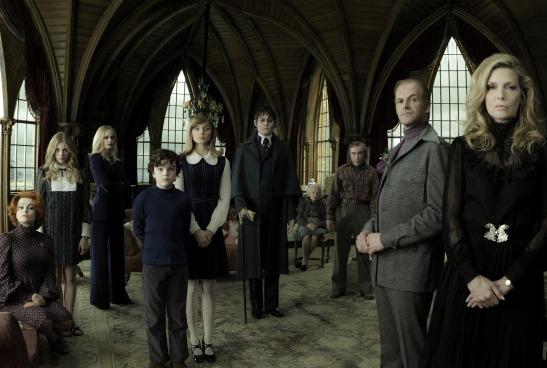 By Don Kaye
Special to MSN Movies
We've already discussed the summer's big winners in terms of geek movies, and now comes the hard part: dealing out the hurt to the movies that failed both creatively and as moneymakers. We take no pleasure in doing this, since we go into every sci-fi, horror and superhero film with an open mind and heart, hoping for the thrills, sense of wonder and emotional thrills that the best of those genres can give us. But far too many films often fall short, and this past season had its share. Perhaps the biggest loser of all? "G.I. Joe: Retaliation," the quality of which apparently spooked Paramount Pictures so badly that it postponed its big summer opening a scant five weeks before its release date. If only some others had followed suit … 
Bing: More about 'Dark Shadows' | More about 'Total Recall'
(Note: Remember to double the budget before looking at the movie's grosses to see if it was profitable, since half the box office goes to theater owners) 
"Dark Shadows"
Did it work as a movie? Director Tim Burton and actor Johnny Depp's creative partnership has been on a roll lately – too bad it's down the side of a very steep cliff. The two have fallen into a formula that perhaps reached its nadir with this update of the cult '60s daytime soap. This was a movie made for no one: Average moviegoers didn't get the satirical take on the old show (if they even remembered it), while fans of the series were outraged by the same thing. Depp gave one of his now-standard gimmick performances, while Burton's usual visual flair couldn't save this thing's leaden pace and unfunny tone. One of the year's worst movies.
Did it work at the box office? Hardly. With a $150 million budget and $237 million taken in worldwide (it didn't even crack $80 million in the U.S.), "Dark Shadows" is red in the wrong way.
"Battleship"
Did it work as a movie? Here is what happens when a studio partners with a "brand" – in this case, the Hasbro toy company – and tries to make a movie out of the equivalent of nothing. A simple naval strategy board game got turned into a bloated, loud, utterly hollow alien-invasion flick, with director Peter Berg laying the superficial patriotism and Michael Bay-style idiocy on thick. Yes, the effects and scale were impressive, but that's about it. "Star" Taylor Kitsch, starring in his second big bomb of the year, led the parade of non-performances.
Did it work at the box office? This "Battleship" sank in spectacular fashion. With just $302 million in the global bank (including a meager $65 million in the States) and a $209 million price tag dragging it down, "Battleship" becomes a $100 million write-off for Universal Pictures. Ouch.
"Prometheus"
Did it work as a movie? This was one of our biggest disappointments of the year because we had such high hopes going into it. The idea of director Ridley Scott returning to the "Alien" universe with a story about the search for humankind's very origins sounded like sci-fi heaven to us. Indeed, the movie was visually astonishing, and showed promise for its first half-hour or so, but Damon Lindelof's script soon unraveled in an ooze of unanswered questions, vague pretensions and pointless fan service. A missed opportunity in every way.
Did it work at the box office? For an R-rated film that wasn't a reboot or had a number in its title, "Prometheus" did pretty well overall, earning $341 million worldwide on a concise (for this type of movie) budget of $130 million. Yet it didn't "feel" like a blockbuster (which it wasn't), so we don't know if we'll get a sequel to resolve some of the movie's mysteries.
"Abraham Lincoln: Vampire Hunter"
Did it work as a movie? The semi-satirical premise of Seth Grahame-Smith's novel, in which the 16th president leads a secret campaign to rid the Union of vampires, could not make the transition to the screen and ended up as a dull, often silly action thriller. Little-known lead Benjamin Walker actually did a commendable, dignified job in the title role, but the rest of this genre mashup fell flat and wasn't even visually appealing.
Did it work at the box office? Moviegoers didn't get the joke either – while "Lincoln" cost just $69 million to make, it's earned only $84 million around the globe, making this particular campaign a losing one for the great president.
"The Amazing Spider-Man"
Did it work as a movie? Retelling the origin of Spider-Man just 10 years after it was told the first time (and five years after "Spider-Man 3") was a risky move that didn't quite pay off. Too many of the story beats felt the same, only done this time around with a more angsty, somber tone and too many shots of a crying Peter Parker (Andrew Garfield). Despite that, Garfield did show promise in the role, and Emma Stone was terrific as Gwen Stacy (our favorite, though? Martin Sheen as Uncle Ben). The Lizard, however, was a half-baked villain, and too much of the movie just felt like a setup for a sequel – always an unsatisfying way to tell a story.
Did it work at the box office? This "Spider-Man," while successful, was far from amazing. The movie earned $259 million at home and $447 million abroad – both the lowest tallies of all four "Spider-Man" movies. But even with the budget picture cloudy – it officially cost $230 million but might have climbed to $300 million – the movie was still profitable.
"The Watch"
Did it work as a movie? We didn't hate it, but "The Watch" made us laugh only intermittently – and the more we think about it, the less we like it. The leads (Vince Vaughn, Ben Stiller, Jonah Hill) all did their schtick, but this odd mix of suburban buddy comedy and alien-invasion scenario (with toilet humor thrown in) was no "Men in Black" or "Ghostbusters," the movies it tried desperately to emulate in some respects.
Did it work at the box office? Nope. Even with the Stiller-Vaughn star power, "The Watch" was a flop, making just $34 million at home (it has not received much of a foreign release to date).
"Total Recall"
Did it work as a movie? We've said before that we don't hold the original "Total Recall" in such high esteem, but this leaden remake makes that over-the-top gorefest look like "Blade Runner." Speaking of which, director Len Wiseman seems to have copped a lot of the production design here from that film (although the elevated highways are pretty cool) but none of the thoughtfulness, discarding any real exploration of the story's potential themes of identity and memory in favor of one long, boring chase. He also gets OK work from Colin Farrell, forgettable mark-hitting from Jessica Biel and ridiculous posing from his wife, Kate Beckinsale, as the villain.
Did it work at the box office? Moviegoers either had no "recall" of the original movie or didn't care about a new version, because the box office on this has amounted to only $136 million worldwide (with an embarrassing $56 million taken in the U.S.) on a budget of $125 million.