Across the Universe: Subspace Chatter
New 'Man of Steel' trailer, 'Star Trek' theories and more!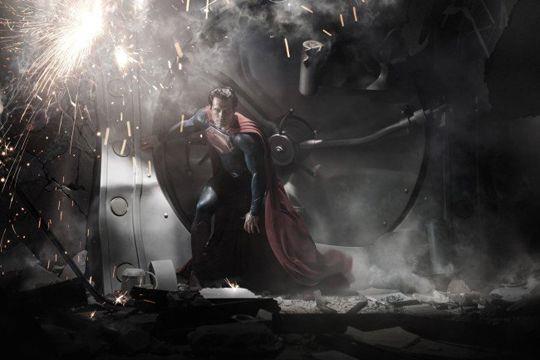 By Don Kaye
Special to MSN Movies


What geeks are talking about this week...
The new trailer for
"Man of Steel"
has arrived and it's a doozy. Our first glimpse of this Zack Snyder-directed, Christopher Nolan-produced Superman reboot was a short teaser issued back in the summer (Comic-Con attendees got a longer look at that show). This second trailer is a full 2:33 and starts to give us a wider look at what Snyder, Nolan and screenwriter David Goyer have in store for us.
Bing:
More on 'Man of Steel'
|
More on 'Star Trek Into Darkness'
One thing's for sure: this is undoubtedly a full reboot that ignores 2006's "Superman Returns." With its glimpse of Clark Kent's youth and his discovery as an adult (played by Henry Cavill) of his true identity, we are getting a new variation on his origin story for sure. And with General Zod (Michael Shannon) as the main villain, it seems as if "Man of Steel" will quite possibly combine the best aspects of the original "Superman" (1978) and "Superman II" (1981) in a modern context.
We're cool with that, since this footage looks spectacular and majestic. There are hints that this Superman is a bit more brooding, but there are equally signs that he'll be the big, wholesome, earnest Boy Scout that we all know and love. The scene of him launching into the sky and soaring through the atmosphere into space is awe-inspiring. Other highlights -- of some huge destructive force above Metropolis, of Supes being led in chains by soldiers and the narration over the final shot -- genuinely gave us goose bumps.
We'd like to see more of Zod, Lois Lane (Amy Adams) and Jor-El (Russell Crowe) in the next trailer, but in the meantime, this one rocks. Check it out below. "Man of Steel" comes out June 14, 2013.
This seems to be "sci-fi trailer" week, as two more action-packed teasers hit the Web this week: one for
"Oblivion"
with Tom Cruise and the other for "After Earth" with Will and Jaden Smith. The former film is directed by Joseph Kosinski ("Tron: Legacy") and features Cruise as a repairman charged with fixing the drones that are slowly cleaning up an abandoned Earth that has been ravaged by aliens. His rescue of a young woman from a downed aircraft leads him into the middle of some sort of plot or conspiracy that turns his knowledge of the world upside down.
As with Kosinski's "Tron" sequel, the visuals on this look amazing, especially the shots of Cruise on the devastated surface of Earth. But "Tron" fell down big-time in the story department, and we're hoping that the same fate does not befall this movie. Kosinski developed the story himself as a graphic novel, so perhaps that personal touch will bring to it a compelling narrative to go along with the visuals and Cruise doing his Cruise thing.
"After Earth"
stars Will Smith and his son, Jaden Smith, as a space pilot and his son marooned on a dangerous planet where all the local wildlife seems out to kill them -- a planet known as Earth. Yes, it's another take on a post-humanity Earth, but it looks a lot different from "Oblivion": The Earth here is lush, green and populated by all kinds of animals (nasty ones) as opposed to the gray, ashy ruins of the Cruise picture. "After Earth" is directed by M. Night Shyamalan, badly in need of a hit since, oh, 2002's "Signs," and written by "Traffic" scribe Stephen Gaghan, trying his hand at sci-fi. Smith brings the gravitas and Shyamalan seems to bring the visuals. Check it out:
"Trek" trap: A select group of journalists, including MSN's own James Rocchi, got to preview the first nine minutes of "Star Trek Into Darkness" and spend some face time with the cast and filmmakers earlier this week, while the rest of us got the first teaser trailer for the movie. Said trailer does nothing to definitively identify the villain that Benedict Cumberbatch is playing, but published recaps of the footage indicate that he doesn't come across as particularly Khan-like -- and that the name thrown around for him was "John Harrison."
Now that sounds like a total decoy to us, meaning that his true identity still has yet to be revealed. But there are some "Wrath of Khan" references in this thing to be sure: Alice Eve plays Dr. Carol Marcus, future inventor of the planet-remaking Genesis Device from "Wrath" and mother-to-be of James Kirk's son David; there is a shot of two hands touching through glass that unquestionably invokes the same shot from "Wrath"; and there is a voice-over of Spock (Zachary Quinto) reciting one of that movie's most famous lines.
But that strikes us as way too obvious -- if J.J. Abrams was redoing Khan, he wouldn't put those clues out so clearly for Trekkies to pick up. We're saying this is all misdirection and that the villain's ID is still yet to be fully revealed (the Klingons are in this one as well. Could he be an undercover agent for them?). We'll also table our own speculation that it's the original series' Gary Mitchell for now. Watch the Hitlist  for James' upcoming take, and also check out Jen Yamato's interesting theory at
Movieline
.