Across the Universe: Movies to blow your mind
The new Golden Age of sci-fi continues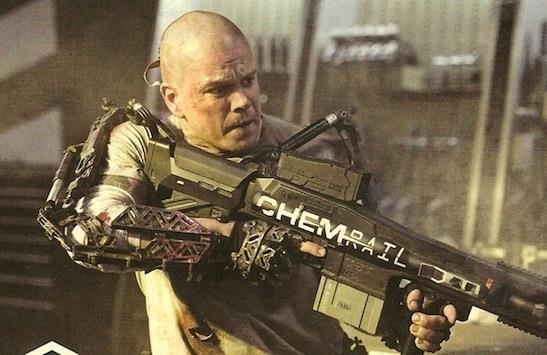 By Don Kaye
Special to MSN Movies


The new Golden Age of science fiction cinema is real, and continuing. It began rather quietly in the second half of the previous decade, when films like Darren Aronofsky's "The Fountain" (2006), Alfonso Cuaron's "Children of Men" (2006) and Danny Boyle's "Sunshine" (2007) came out and promptly disappeared. The public wasn't interested, but the movies were interesting: intelligent, character-driven stories that explored scientific or philosophical ideas in visually striking settings with special effects that served the narrative and not vice versa.
Bing:
More on sci-fi movies
|
More on 'Interstellar'
Then two things happened: The first was that "The Dark Knight" was a colossal blockbuster in 2008, giving director Christopher Nolan the leverage to make his next movie, a (literally) mind-bending 2010 sci-fi epic called "Inception." But even before that, 2009 brought us -- almost out of nowhere -- "District 9," a brilliant film made by an utterly unknown director (Neill Blomkamp), who used a no-name cast and made a $30 million budget look like $100 million. And he did this while telling a story that had powerful relevance to the world today.
There can be so many different types of movies that fall under the sci-fi umbrella, from the dumb mayhem of the "Transformers" films to the sublime, no-budget lo-fi approach of "Primer," that the genre can't be defined by just one movie (the "Star Wars" films are part of the sci-fi family as well, although they are really fantasies disguised in the trappings of science fiction). But there is no question that we are in the midst of a wave of (mostly) big-budget, visually dazzling and thought-provoking films -- a wave that will engulf us in the next two or three years with what could be the most potent lineup of science fiction cinema since the late '60s and early '70s.
2012 saw two entries in our Golden Age, one successful and one not. "Prometheus" came on with swagger and self-importance, helmed by a master craftsman in Ridley Scott (who already had, shall we say, a bit of experience in bringing visionary sci-fi films to the screen), but even Scott's stunning 3-D visuals couldn't mask a fatally flawed and patronizing script. "Looper," meanwhile, delivered in both the script and action department, with writer-director Rian Johnson making the finest genre film since the aforementioned "District 9" (let's not count out indies of the past few years, like "Another Earth," "Monsters" and "Timecrimes").
So what happens next? Check out this array of original science fiction films coming our way in the next couple of years, along with the all-too-rare adaptation of a classic sci-fi novel:
"Oblivion":
A drone repairman (Tom Cruise) on an Earth devastated by some sort of otherworldly invasion discovers a secret that could change the fate of what's left of the human race. Director Joseph Kosinski ("Tron: Legacy") has crafted his own story this time to go along with his visual panache -- let's hope it's a good one. (April 19)

"The Purge":
A tightly controlled near-future America deals with an overcrowded prison system and a fear-driven populace by allowing 12-hour periods in which all illegal activity is permitted. Sounds a little like the old "Star Trek" episode "The Return of the Archons" -- we'll see if it features the same kind of social commentary. (May 31)
"After Earth":
Yes, we know it's got the much-ridiculed M. Night Shyamalan behind the camera and a wisecracking Will Smith (and his son, Jaden) in front of it. But their crash-landing on an abandoned Earth, where the ecology has carried on post-humanity, has some potential to it, especially with a screenplay from Stephen Gaghan ("Traffic").  (June 7)
"Pacific Rim":
Yes, it's giant robots vs. giant monsters from another dimension. But director Guillermo del Toro always infuses his movies with an extra layer of intelligence and emotion, and we're curious to see how much he explores just how civilization looks in the wake of such calamitous events. (July 12)
"Elysium":
Neill Blomkamp's long-awaited follow-up to "District 9" looks like another visceral, dynamic sci-fi action blockbuster set against a backdrop of social themes and subtext. Matt Damon plays an ex-con with a fatal illness on an overcrowded, environmentally ravaged Earth, and his only chance of a cure might be found on the wealthy, space-based enclave Elysium, where the Earth classes are forbidden to visit. (Aug. 9)
"Gravity":
Director Alfonso Cuaron made one of the greatest movies -- period -- of the last 10 years with "Children of Men," and his new sci-fi spectacle, which was delayed from release last year, is reportedly unlike anything ever seen before. The story sounds deceptively simple -- two astronauts (Sandra Bullock and George Clooney) are stranded in space -- which leads us to think there's much more to this. As of this week, it finally has a release date. (Oct. 4)
"Ender's Game":
Orson Scott Card's classic novel of young children being trained to fight in a devastating war against an alien race called the Formics finally comes to the screen after 28 years. Director Gavin Hood has allegedly taken a lot of liberties with the story, but Card himself is said to be pleased with the results. And there are 13 more books to go. (Nov. 1)
"1952":
The latest mystery project from the Bad Robot stable will feature George Clooney in a story that has to do with the first alien visit to Earth. That's all we know, except that Brad Bird ("Mission Impossible: Ghost Protocol") is directing and Damon Lindelof ("Star Trek into Darkness") is co-writing with him. Could it be a new "Close Encounters"? (Dec. 19, 2014)
"Transcendence":
Our last two films are where it gets really interesting. Wally Pfister, director of photography on almost all of Christopher Nolan's films, will make his own directorial debut with this tale of a man's (Johnny Depp) consciousness transferred into a supercomputer and set free to roam the world's networks. The goal for this one is a brain-buster along the lines of "2001: A Space Odyssey," a tall order indeed, but we're rooting for Pfister to do it. (TBA)
"Interstellar":
And then there's Pfister's former boss. It was just announced last week that Christopher Nolan had possibly decided on his first post-Batman picture -- and it sounds like a doozy. Nolan will rewrite the original script by his brother Jonathan -- who first wrote it for Steven Spielberg to direct -- which deals with time travel, wormholes and a voyage to the furthest limits of human understanding. The man who made "Inception" going even deeper into sci-fi, with a story that sounds like it has cosmic ambitions? Our minds are already blown.