Across the Universe: 'Zero Hour' exclusive
Star Anthony Edwards discusses his return to TV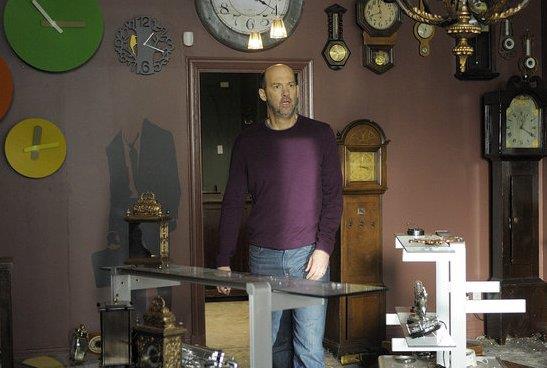 It took a clock to bring Anthony Edwards back to TV.
Well, not exactly. But a decade after finishing out his eight-season run on the modern television classic "ER," Edwards has returned to the weekly series format with
"Zero Hour,"
an hourlong headfirst dive into what could be the ultimate conspiracy theory.
Edwards plays Hank Galliston, publisher of Modern Skeptic magazine, who spends his time debunking myths and unraveling seemingly otherworldly mysteries. But when Hank's wife, Laila (Jacinda Barrett), is kidnapped after innocently purchasing an antique clock, Hank finds himself immersed in just the kind of scenario he's spent his career discrediting.
Video:
Watch a clip of 'Zero Hour'
Hidden in the clock is a map that opens the door to a centuries-old plot that could have cataclysmic repercussions for humankind and personal ones for Hank himself. The search for his wife puts Hank, his two assistants and FBI agent Rebecca Riley (Carmen Ejogo) on the trail of the villainous White Vincent (Michael Nyqvist), who has his own designs on the map and will stop at nothing to achieve his goals.
Secret societies, apocalyptic warnings, occult practices, alternate histories ... they're all here, and they're all geared toward making you feel like, as Edwards puts it in our exclusive interview, "someone gave you a great book to read on vacation."
MSN TV: What lured you to come back to television and do this? What was it about this premise and this show that attracted you to it the most?
Anthony Edwards: Not that I watch a lot of TV, but I hadn't seen this attempted on television, this kind of "Raiders"/"Da Vinci Code" mystery on such a big network scale. And I guess it just held my interest so much. I read the pilot going, "Oh my God. Really? Really? Really?" I know, having done this for many years, that the place you have to start from is that you're excited to be a part of the story, and that's what this was.
There's a lot of alternate history out there. Some of it's based in fact and some stretches into some really crazy theories, but either way, people seem to have a hunger for this kind of stuff. What do you think it is that drives people to not take events at face value?
I think we all feel overwhelmed by life sometimes and it's such a mystery to us anyway -- like why we fall in love or who we meet or, you know, the phenomenon that can happen in life that just seems indefinable. And I think stories like this -- I think there's a yearning in people to explain that unexplainable. I think that's where Hank Galliston is. I mean, he's a skeptic, but it's only because he wants to believe.
He wants to believe, but he's not willing to just kind of go on faith without having the proof in his hands -- is that what you're saying?
Exactly. Exactly. And I think that's why people are drawn to it. Why we're here on this planet is this huge mystery that religion's been trying to define and science has been trying to define. Ordinary people use storytellers and stories to help us define what that is and who we are.
Hank throws out a lot of these little tidbits of information throughout the show, like that there's no such thing as treasure maps. Had you known any of this stuff before? Have you ever read up on any of this stuff, or did you see it in the script for the first time and say, "Wow, I didn't know that either?"
I think I am similar to Hank in that I am someone who does need a bit of proof. But it is fun. You know you think about treasure maps, and that was actually one thing that did puzzle me in the pilot. I was like, "Oh, right, of course. Robert Louis Stevenson created this to help tell a story, not because they were finding treasure maps of buried treasure." And when that story becomes real, you know, what's the difference there from a lot of religious stories, too?

Very often truth is stranger than fiction.
That happens. I think that's the world that we're playing in, that I think (executive producers) Paul Scheuring and Zack Estrin really wanted to play in. It's the opposite of "ER" in a way, where "ER" was really basing things on reality and how things really work. This is really about the reality of storytelling, you know, and what is it that makes stories and why do people get intrigued ... things are not going to be what you think they're going to be in this pilot.
Everybody does quite a bit of globe-trotting in the premiere. Where did you shoot the tundra scenes?
We actually shot that up in Lake Winnipeg. Last spring we were up there, bizarrely on the warmest day of the year, because the ice was melting around us. We were landing that airplane on there and kind of sweating underneath all of our huge arctic down.
Hank goes to India in the second episode, so I guess we'll see quite a bit more globe-trotting as the series goes on.
Yeah, you know, it's an international show. And what's fun is that we shot it in New York. And the fun thing is that New York hasn't been shot out that way for television. When you have New York television shows, they're cop shows, you know, or "Rescue Me" or something that's really based in New York. They've been finding unbelievable locations for India and Paraguay and Germany and, you know, we go all over.
After 10 years, was there anything you missed about doing television? Anything you didn't miss?
The best part of it to me is that you're working with that crew and those actors for an extended period of time very intensely. It took us a hundred days to shoot our 12 episodes, and in that time every eight days we're starting a new script. So that kind of camaraderie that comes from moving quickly is what I loved about doing "ER" and it's what I love about being on a TV show as opposed to even film. Getting up early is annoying, but it's really like, "we're all into this together." That is the part that I really enjoy.
We're not going to give anything away here or get too much into the mechanics of the plot, but there's a lot that people get to chew on in that pilot. So does this get more expansive over those next 12 episodes?
Yeah, very much so. I think everything that we set up in the pilot we twist and turn in the next 12 episodes a lot. So characters are going to change, situations are going to change, priorities are going to change. In that way it's like someone gave you a great book to read on vacation -- you know, you sit down at the beach and you just can't put it down. That's what we want to do.
"Zero Hour" premieres Thursday, Feb. 14 at 8:00 p.m. ET/PT on ABC.