Across the Universe: You Say You Want a 'Revolution'?
A look at the latest from J.J. Abrams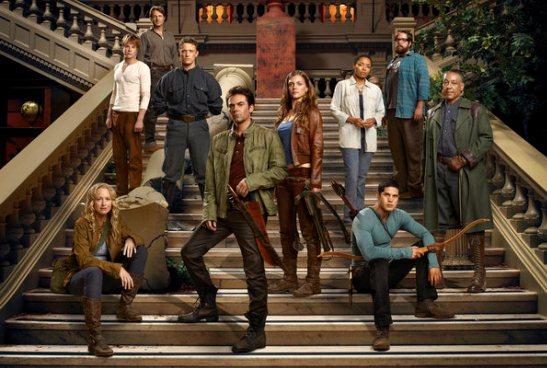 By Don Kaye
Special to MSN Movies
"Revolution" premieres this Monday (Sept. 17) on NBC at 10 p.m. as the latest offering from J.J. Abrams' Bad Robot production company. In addition to the stamp of Abrams and partner Bryan Burk as executive producers (the same team that brought you "Lost" and so many others), "Revolution" was created by Eric Kripke, the man behind the long-running "Supernatural," while the pilot was directed by Jon Favreau, who helmed "Iron Man" and "Cowboys & Aliens."
Bing: More about 'Revolution' | More about J.J. Abrams
With that kind of creative power behind the scenes, one might imagine "Revolution" has a shot at being epic sci-fi television. But instead, the pilot episode mostly offers up a warmed-over rehash of previous similar shows like "Jericho" and movies like – dare we say it – "The Postman."
Related: When is your TV show premiering this fall?
The premise is this: One night all electrical energy around the world is mysteriously and permanently shut off, and civilization comes to an abrupt, screeching halt. This all happens in the opening sequence, which features frightening imagery such as lines of cars with their lights going out, massive urban grids going black, and, perhaps most terrifying, airplanes tumbling out of the sky like leaves and crashing to the ground.
Cut to 15 years later and American society has been severely reconfigured. Urban centers have gone to seed (literally, as plant life overgrows everything), there is no central government and people live in rural-type enclaves within territories ruled by militias and warlords. The power is still out and a reason has never been found – although there are people who might have the key to the mystery and know how to reverse it.
One of those people is Ben Matheson (Tim Guinee), who seems to know something about the blackout and places a flashdrive with important information on it in the hands of his geeky best friend, Aaron (Zak Orth). Good thing that he does, because Ben is removed from the playing field early on by Capt. Neville (Giancarlo Esposito) of the Monroe Militia, which controls the territory in which Ben and his family live. With Ben's hothead son Danny (Graham Rogers) captured by Neville, it's up to his daughter Charlie (Tracy Spiridakos) to head to Chicago and find her uncle, Ben's brother Miles (Billy Burke of "Twilight"), who is keeping his own head low to avoid Imperial entanglements – sorry, we mean run-ins with the militia.
There are a few more twists and turns to the story in the first episode, including the fate of Ben's wife (Elizabeth Mitchell of "V") and the introduction of a woman (Maria Howell) with her own connection to the catastrophe and its aftermath. There are some developments that are supposed to startle us, but the problem is that we just haven't spent enough time with these characters yet to care about their implications.
The other problem is that the characters themselves are pretty dull. This is one of the biggest issues we have with network television: The actors and their characters are so uninteresting to watch that they fail to provide any spark to the story they're telling. Whether it is "Flash Forward" or "Alcatraz," the casts of so many TV shows are just one long parade of interchangeable, bland performers playing equally generic characters. Only one actor really shines in "Revolution," and that's Giancarlo Esposito. No one else has the kind of presence he brings to his scenes.
It also really bothers us that the show looks like it's going to focus a lot on the teen children of Ben, a decision that was one of the major factors in the crash and burn of the enormously expensive "Terra Nova." In fact, the son here shows signs that he could be just as annoying as the irritating son in that colossal misfire, although we hope that he doesn't go that way. Even so, the adults in the cast are all just average – when you get the star of the horrid, short-lived "The Cape" to play what appears to be a critical role, something is wrong.
The bigger picture, however, is that the show doesn't take full advantage of its premise. By setting it 15 years after the blackout, the creators have placed it in that same agrarian post-apocalyptic culture we've seen in countless movies and TV shows. No one can figure out another source of power in all that time? And if Ben has information critical to at least understanding the blackout, what the hell has he been doing with it for 15 years? The closer you look at the premise and the way it's been situated, the more it falls apart.
Why not set the show in the immediate aftermath of the disaster, with your characters struggling to stay alive as the world crumbles around them and the hope of a solution hangs in the balance? That might create a kind of tension and immediacy that "Revolution" is lacking. Instead we get the same old quest through the same old locations we've seen plenty of times before, built around the "mystery box" premise at the heart of every damn show Abrams produces. We imagine that if "Revolution" lasts more than a season, we're going to spend a lot of time being teased about what the hell is on that flashdrive.
Somehow, however, we don't see the show lasting that long. It's always difficult to judge a series from a pilot (and Favreau's rather leaden direction doesn't help), but "Revolution" already feels like it's trudging through very familiar and tired ground. The show needs some juice, all right, but it doesn't feel like the power's coming on anytime soon.