Across the Universe: He is the Law
'Dredd' star Karl Urban discusses playing the comics' killer judge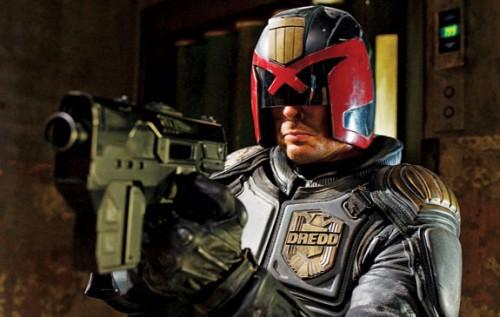 By Don Kaye
Special to MSN Movies
It was 1977 when Judge Dredd was first introduced in the pages of British comic book "2000 AD." Perhaps the best-known comic book creation to ever emerge from the U.K., Dredd is a law enforcement officer in Mega-City One, an ultra-violent, overcrowded American city set in a post-apocalyptic future. To combat rampant crime, Dredd and his fellow judges are authorized to act as judge, jury – and executioner, if it comes to that, which it often does.
Bing: More about 'Dredd' | More about Karl Urban
Created by writer John Wagner and artist Carlos Ezquerra, Dredd and his signature line, "I am the law," have been part of comic book culture for 35 years, so it's natural that he would eventually find his way to the screen as well. And he did, in the form of Sylvester Stallone in the 1995 movie "Judge Dredd." Directed by Danny Cannon, the movie played fast and loose with large portions of the Dredd mythology, and had the character remove his mask in deference to being played by a (then) big-name actor (the character never took it off in the comics). A disappointment with fans, critics and audiences, "Judge Dredd" was deemed a disaster.
Related: 10 reasons why the new 'Dredd' rules
But the notion of bringing Dredd to the screen was kept alive, and now an entirely new version – starting over from scratch – has been brought to the screen by director Pete Travis ("Vantage Point") and writer Alex Garland ("Sunshine," "28 Days Later"). In this version, Dredd is tasked with evaluating a rookie Judge named Anderson (Olivia Thirlby) as the two go after Ma-Ma (Lena Headey), a vicious drug lord who sits atop a 200-story slum and distributes a dangerous new narcotic called Slo-Mo. Behind Dredd's mask, which he never takes off, is New Zealand actor Karl Urban, a genre favorite as Eomer in "The Lord of the Rings" and Dr. Leonard "Bones" McCoy in the 2009 reboot of "Star Trek" and its upcoming sequel, "Star Trek Into Darkness."
"Going into this movie, I watched the Stallone version to see what worked and what didn't work," said Urban at a recent roundtable interview with members of the press. "And the way that I wanted to approach him was not to have him be a posturing, bellowing character that was kind of grounded in ego. That wasn't the Dredd that I knew. To me it was far more interesting to have a character with this inner rage and struggling to contain it rather than letting it all explode. So I was kind of -- that's the direction that I was going in, and I decided what I wanted to do was to find the humanity within Dredd because he's just a man. He's not a superhero."
From an acting standpoint, Urban said the hardest part of finding Dredd's humanity – and make no mistake, it might be a little hard to catch in such a hyper-violent film – was doing so without the use of one of an actor's most important tools: his eyes, which are hidden for the length of the movie. "It was especially a huge challenge to convey all this without the use of eyes because the character oscillates from being a protector to being incredibly violent, to having this wry, sardonic humor, to displaying compassion, protecting citizens and just unleashing the violence," Urban explained. "There is all these different aspects, and for me the challenge was how to convey as much as I could. There is a weariness too about the character, which is really important, and the challenge was, 'How do I convey all that without the eyes?'"
And just how does one do that? "You have to look at all the other tools that are available to you," continued the actor. "Your voice becomes extremely important, and in my research I discovered a passage in one of the comics which described Dredd's voice as a saw cutting through bone, so that was kind of the starting point for my character … obviously the physicality (is another tool). What can I express with my movement? The weariness; when is he tired? When is he really struggling to contain his rage? The physicality became very, very important, and then it was really important also to identify where the humor lies, and that's one of the things that I loved in the comic, was just the really dry, dark humor. So that became an important element as well."
The whole mask controversy about the Stallone film may seem inconsequential if you're not a die-hard Dredd fan, but Urban said that not showing his face in the film was a key component to him taking the role. "My agent called me up and said, 'Would you be interested in Judge Dredd?' and I said, 'Hell yeah, send me the script.' I read it and was immediately relieved to discover that the character kept the helmet on," the actor recalled. "So we had a meeting and at one point Alex turned to me and said, 'Look, just so we're clear, you're aware that Dredd keeps the helmet on in this movie; it's not coming off at any point.' And I looked at him and I said, 'I would not be taking this meeting if he did.' So we were all on the same page."
Despite "Dredd" being a complete cinematic reboot with no ties to the previous film, Urban said that the new movie is not a "Batman Begins"-type origin story: "This is not your traditional setup movie. This is not like Nolan's first Batman movie where we get a big backstory about Dredd, and that's what I love about it: You don't. You just come straight in and all you need to know happens in the first scene and the car chase, which ends in the perp getting his instant justice. All you need to know there was that that girl whose life he saved turns to him at the end and says, 'Thank you, Judge.' Right there you know what he is there to do. It's as simple as that."
It remains to be seen whether "Dredd" successfully connects with audiences the second time around, but there's no question that this movie's grim, gritty take on the character is a universe apart from the 1995 version that some may have a now-dim memory of. As for pleasing the die-hard fans, Urban said that all he could do was concentrate on his performance and interpretation and let the public decide from there.
"My mission was just to honor what Wagner and Ezquerra created back in '77 as best I could, and just to service the script and be in the moment and make the best film that we could," he said. "All you can do when you're in a situation like that -- despite the fan pressure, despite the expectations -- the best thing that you can do is not think about that stuff and just concentrate on the character and the story you're trying to tell, and then it's for everybody else to disseminate." And if Judge Dredd says it, then it must be the law.
Im glad they are starting to stick to the way the comics depicted these characters, and not change it for hollywood stars with big egos. All the older stuff sucked hard. Including all the old batman and superman movies. Ever since Nolan, its been getting better. I hope the trend continues.
Are you sure you want to delete this comment?