Across the Universe: 'The Dark Knight Returns, Part 2'
Second half of animated epic brings out filmmakers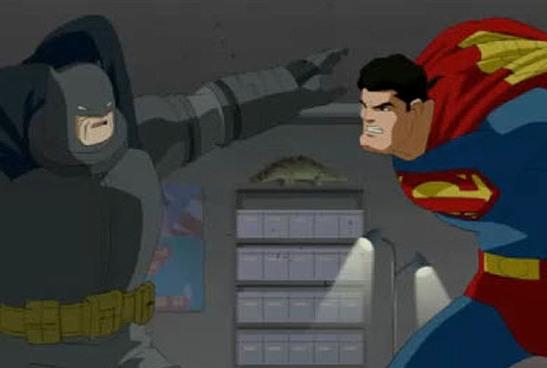 On Monday night (Jan. 28), the Paley Center for Media  was host to a premiere screening of "The Dark Knight Returns, Part 2," the concluding half of the DC Animated Universe epic based on the legendary Frank Miller graphic novel. On hand for a screening of the film and a Q&A afterward (moderated by Kevin Smith) were stars Peter Weller and Ariel Winter, director Jay Oliva, screenwriter Bob Goodman, casting-dialogue director Andrea Romano and executive producer Bruce Timm.
The first half arrived on Blu-ray/DVD back in September to critical and fan acclaim; the second half hit shelves this week and finishes the story of a 55-year-old Bruce Wayne (Weller), retired from fighting crime as Batman for a decade, who is forced to return by a vicious gang called the Mutants, among other dangers. In "Part 2," Batman and his new, female Robin (Winter) are still grappling with the Mutants when word arrives that the Joker (Michael Emerson) has emerged from a coma, conned his way onto a talk show and promptly killed more than 200 people.
With Batman using more authoritarian tactics to bring Gotham under control and stop the Joker, he attracts the unwanted attention of the U.S. government, which wants him shut down. To do that, the feds call in their secret weapon: Superman (Mark Valley), who is tasked with clipping the Bat's wings. But Batman has other plans -- he intends to defeat the Man of Steel in a hand-to-hand superhero brawl that stunned the world when the book was first published in 1986.
What we said about "Part 1" holds true about the second half of the story: The sober tone and grim mayhem of the comic has been preserved (within the bounds of a PG-13 rating), along with a faster, more streamlined pace and more fluid animation that makes this one of the more exciting DC Universe animated films we've seen in some time. While Weller growls appropriately and Winter is lively without being overly ebullient, it's Emerson's petulant and occasionally quite chilling Joker who steals the show (as the Joker usually does whenever he's around).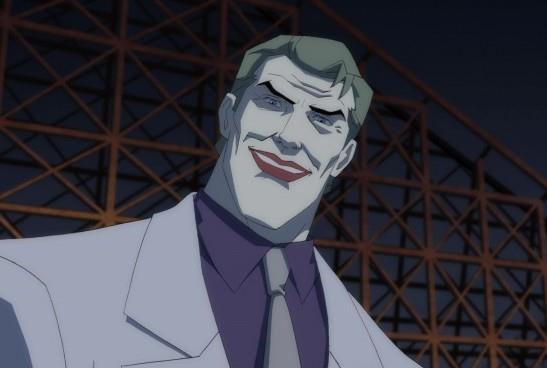 Prior to the screening, we asked Andrea Romano about casting the "Lost" and "Person of Interest" star as the Clown Prince of Crime. "I wanted something really different for this Joker," she explained. "I didn't want to play it the way we'd played it before with Mark Hamill's version or Kevin Richardson's version. We wanted something that was different and weird and scary and odd, and I adored Michael Emerson's work in 'Lost.' I had been looking for something for him ever since I started watching 'Lost,' and so this role screamed out, 'Let's get Michael Emerson,' because we knew he'd give it a really wonderful twist."
As weird and striking as Emerson's Joker is, it's Weller's grizzled, embittered Batman/Bruce Wayne who is the anchor of the story. Weller told us that he had to rid himself of all preconceptions -- along with his memories of other actors who had played the Bat in both live-action and animated projects -- to create his own interpretation. "You can't think about anybody that's come before," says Weller as he stopped to talk with us on the press line. "You can't think about the other actors. You've just got to come up with your own visceral and composite synthesis and make it up in a room. You've got a microphone. You have no costume, no weapons, no hair department, nobody else to play off of -- it's just you and Andrea, who is one of the great vocal directors ever -- and you've got to come up with this stuff."
Weller added that playing a version of Batman not seen before on the screen -- an aging, more cynical Caped Crusader who all but drags himself out of retirement -- also gave him the freedom to decipher the character in his own way. "There's nothing I'm trying to live up to. In spite of all the wonderful actors who have played Batman, in spite of the history of Batman as an icon and exponent of American justice, I just made him what I wanted to make him, which is essentially a dour, middle-aged guy who comes back and says it's his way or the highway."
For director Jay Oliva, the greatest challenge of making "The Dark Knight Returns" was boiling down Miller's expansive graphic novel into two tight halves. "These are not live-action features that can be three hours long," he said. "We have a certain limitation in that each part has to be around 78 minutes, just because of how long it takes to animate these films." Screenwriter Bob Goodman agreed that adapting the source material was a challenge, admitting, "I knew that there were a lot of people waiting for this, and that there was a responsibility attached to it. ... I knew that my job was to respect the source material, to always adhere to Frank's intent even when I had to adapt something for the screen, and hopefully people are happy with that result."
Before the press portion of the evening ended to make way for the premiere, executive producer Bruce Timm -- who has been arguably the creative mastermind behind the DC Animated Universe ever since bringing the classic "Batman: The Animated Series" to TV screens in 1992 -- summed up his personal feelings on shepherding this milestone in comic book and Batman history onto film.
"It's tough because I'm my own worst critic," he said. "I'm never 100 percent satisfied, but I'm pretty well satisfied with this movie. I think it does what it needs to do, and as a fan of the source material -- which is one of the greatest comic book stories of all time -- I'm pleased that the things I loved about the comic are mostly in the movie and that it has a lot of the same virtues. I mean, it's never going to be 1986 again; you're never going to be able to shock the world like this book did when it came out, but I think it's a good animated souvenir of the comic."

"The Dark Knight Returns, Part 2" is available now as a Blu-ray/DVD combo pack.