Across the Universe: Evil blooms like flowers in 'Stoker'
Kidman, Goode, Wasikowska talk Park Chan-Wook's unique thriller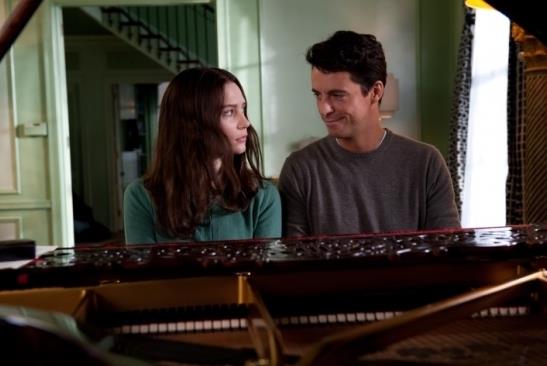 "Stoker" is the most unusual horror movie you'll see this year. Directed by Korean filmmaker Park Chan-Wook -- the acclaimed auteur of "Oldboy," "Joint Security Area" and "Sympathy for Mr. Vengeance" -- and starring Nicole Kidman, Mia Wasikowska and Matthew Goode, the movie is a surreal exercise in psychosexual horror and Southern Gothic atmosphere where each perfectly constructed shot is pulsating with color and meaning, and where the term "family values" is twisted into something grotesque yet beautiful. 
"I had to read it a couple of times to understand it just because it's got a lot of subtext and layers, so I wanted to absorb what the overall feeling of it was," said Nicole Kidman at a recent press conference for the film. "I think the strength of director Park is his atmosphere. He creates incredible atmosphere, and this script relies heavily on the language of the images because there's not a lot of dialogue ... it was extraordinary how detailed and precise he was in what he knew he wanted to say, and his use of color and sound and everything is all very specific."
The original script by Wentworth Miller (which is not about vampires -- no spoiler there -- despite the allusion to "Dracula" author Bram Stoker in the title) centers on the wealthy Stoker family, whose isolated Connecticut existence has just been shattered by the mysterious death of patriarch Richard (Dermot Mulroney). As his distant wife, Evelyn (Kidman), and troubled daughter, India (Wasikowska), come to terms with his passing, they are visited by his long-lost brother, Charlie (Goode), who begins to weave his own hypnotic spell over both.
"I was very lucky to get cast in this movie," said Goode ("Watchmen"), whose role was originally going to be played by Colin Firth until the latter had to drop out. "The role was so psychologically interesting and I got to go on a little trip with it. It was confusing and brilliant and wonderful and all those things, and I went, 'I'd like to be involved with this if it's all right.' And luckily, director Park said I could be, which was thrilling."
Wasikowska, who has previously been seen in quite different and much less unsettling roles in "Alice in Wonderland" and "The Kids Are All Right," added, "I thought (the script) was amazing the first time I read it, and I was instantly drawn into this world and these really complex characters and the mystery within all of them."
To say more is to give away the story's twists and turns, but Hitchcock fans can spot the reference to the master's classic "Shadow of a Doubt" (1943) in the arrival of Uncle Charlie into a teenage girl's previously idyllic existence. But the Charlie in "Stoker" takes his niece on quite a different journey, one that encompasses the questions of how and why people become evil and whether it can be passed down like a family genetic trait.
"I want the story to be interpreted in as many ways as possible," said director Park. "For instance, perhaps this is a story not about the hereditary nature of evil, but rather you could interpret it from a different perspective, too. You could say that evil is contagious in that we have this mesmerizing mentor in Uncle Charlie who comes into your life. Every person has a seed of evil inside them, and when you come across such a mesmerizing mentor, he is able to successfully turn it into a flower of evil."
Flowers and nature play an important visual and auditory role in "Stoker." One of the first opening shots is of flowers, with that shot repeated again at the end (and seen quite differently). This brings to mind such pastoral, rural horror tales as "The Other" (1972) and "Let's Scare Jessica to Death" (1971) -- both, oddly, also set in Connecticut -- where tranquil, beautiful surfaces hide malignancy and corruption. This theme is reinforced by the spider that we see crawling around the otherwise pristine Stoker house -- which conspicuously finds its way up India's leg -- and the grubby, darker interior of the house's basement, in which horrific secrets are stashed.
"I was amazed at the filmmaking," said Kidman. "You don't see that kind of filmmaking that often.  A lot of the stuff I hadn't seen because I'm not in it ... it's very, very layered in the metaphors that he uses. In the hair scene (an astonishing shot of India brushing Evelyn's hair that leads to a flashback), I had no idea when he said, 'We're just going to shoot you brushing your hair,' and then I see the film and I'm like, 'Oh, that's amazing!' That sort of detailed filmmaking is, one, hard to do without being pretentious, and, two, have it tell the story."
If, as Kidman added, "cinema is the language of images," then director Park speaks as fluently in "Stoker," his first American production, as he has in the movies he has made back home. But all his images -- a splash of thick blood against a crimson wall; a belt slowly, agonizingly sliding out of its loops; a figure in silhouette against a cold, gray sky -- also speak the universal language of evil in ways that are as inimitable as they are disturbing.


"Stoker" is out in theaters Friday, March 1.