Latest Robin in Batman comics dies this week
Damian Wayne, son of Bruce, meets his end in 'Batman, Incorporated'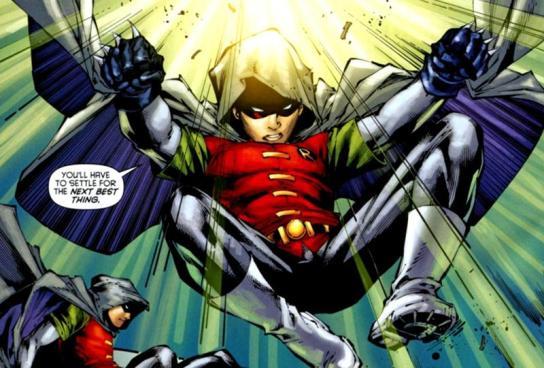 The latest version of Batman's crime-fighting sidekick, Robin, will die this week in Batman, Incorporated #8, which hits the stands on Wednesday (February 27).
But while Batman has lost people close to him before -- including an earlier Robin -- this one will hit particularly hard: the current Robin is Damian Wayne, his illegitimate son.
The
New York Post
and DC Comics confirmed the news on Monday (February 25), following rumors that had circulated through the fan community that Damian was going to meet his end. The cocky and whip-smart 10-year-old, often at odds with his old man, is Bruce Wayne's son by Talia al Ghul, the daughter of longtime arch-nemesis Ra's al Ghul.
(For those keeping score, Talia was played by Marion Cotillard in last year's "The Dark Knight Rises," while Liam Neeson appeared as her dad in that film and 2005's "Batman Begins.")
Damian will apparently die at the hands of a brutal assassin who also happens to be cloned from his own genetic material, with his father arriving too late to save him. But writer Grant Morrison promised that the young superhero "saves the world. He does his job as Robin...he dies an absolute hero."
DC has also posted a new
essay
by Morrison about his current run writing Batman comics, which began in 2006 and is coming to a close. He addresses the death of Damian by saying, "In many ways this has been Damian's story as much as it has been the story of Bruce Wayne and it's a story that had its end planned a long time ago -- for what son could ever hope to replace a father like Batman, who never dies?"
There have been five Robins in Batman comics continuity, starting with Dick Grayson, who debuted in 1940 as the original. Grayson later went off on his own as Nightwing and his replacement, Jason Todd, was famously murdered by the Joker in 1989's A Death in the Family. Todd was later resurrected and assumed the persona of Red Hood.
The next Robin was Tim Drake, who lasted from 1991 to 2009 before also becoming a superhero in his own right, Red Robin. He was briefly replaced by his girlfriend, Stephanie Brown, although she only lasted for a brief spell before Damian came on the scene. Another female Robin, 13-year-old Carrie Kelly, fought alongside the Bat in Frank Miller's The Dark Knight Returns, but that was not part of series continuity.
Batman has been to some pretty dark places in the last couple of years, between Morrison's books and those of Scott Snyder (Batman: The Court of Owls), so it will be interesting to see what Damian's demise does to his already tortured psyche. Of course, characters also have a habit of not staying dead in comic books, but this one seems likely to stick -- and do incalculable damage to the Dark Knight.
"Batman, Incorporated" #8 is out in stores Wednesday, February 27.