New 'Oblivion' trailer features Tom Cruise in action mode
Actor's on the run in this post-apocalyptic future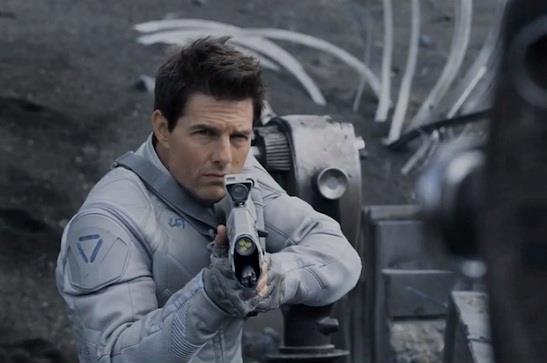 A new trailer has landed for "Oblivion," and it sheds some more light on the plot of the Tom Cruise sci-fi epic.
Directed by Joseph Kosinski ("Tron: Legacy"), "Oblivion" casts Cruise as Jack Harper, who repairs the drones that scour the surface of a ruined Earth for any vital resources they can find after the planet has been devastated by a decades-long war with something called the Scavs. 
But one day a spacecraft crashes to the surface carrying a beautiful, enigmatic woman (Olga Kurylenko), and Harper's life is changed forever as his own past, his mission and the fate of humanity itself are all called into question.
From the trailer, it looks like Cruise's employers -- we presume it's whoever's leading the human race -- are rattled by the arrival of the woman in the spacecraft, while Cruise himself seems to stumble across some sort of underground resistance led by Morgan Freeman. 
Many questions remain: who is the woman and what are her ties to Jack Harper? Why does her arrival precipitate a crisis? Who or what are the Scavs and what exactly is in store for what's left of Earth?
To be frank, we weren't impressed with Kosinski's storytelling skills in "Tron," although the movie certainly delivered on the visuals. The imagery here looks fantastic as well -- if somewhat derivative of a number of other sci-fi movies -- but we're hoping that Kosinski, who co-wrote the movie and developed the story first as a graphic novel, has also upped his narrative game.
Check out the trailer below.
"Oblivion" is out in theaters Friday, April 19.
Are you sure you want to delete this comment?