Across the Universe: Getting 'Warm'
British actor Nicholas Hoult makes zombies human again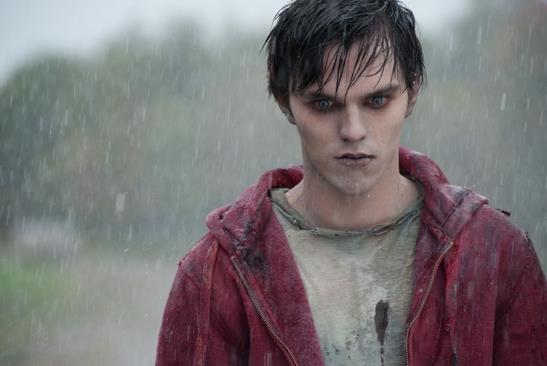 You have to go back probably to 1985 to find the first screen zombie who was sort of a hero: Bub (Howard Sherman), the semi-aware flesh-eater who begins to recall dim memories of normal life -- including how to fire a gun -- in George A. Romero's classic "Day of the Dead." Before and after Sherman's singular performance, zombies have always been more or less a personality-free bunch, given only token identifiers like a nurse's uniform or a hardhat and no other characteristics to set them apart from one another.
"Warm Bodies" changes all of that. Based on the novel by Isaac Marion, the new film stars Nicholas Hoult ("X-Men: First Class") as R, a zombie wandering a post-apocalyptic America who somehow manages to retain a fragment of conscious thought and a semblance of communication with his undead "friend" M (Rob Corddry). Attacking a group of young human explorers along with other zombies, R eats the brain of a young man named Perry (Dave Franco), allowing him to absorb Perry's memories and feelings for his girlfriend, Julie (Teresa Palmer).
R rescues Julie from the other zombies and keeps her in an abandoned airliner where R has made himself a hideout of sorts. The two begin a strange sort of romance -- although R knows he has to help Julie get back to the walled-off city enclave where she lives with her father (John Malkovich) and the small community of surviving human he leads. As they begin their journey and R starts to inexplicably regain more of his humanity, they are also targeted by the "bonies," living skeletons with no trace of humanity who somehow sense that R threatens their existence.
Related:
Our favorite zombies movies
"I liked the story a lot, but more than that I just really understood the character and wanted to play him," says the soft-spoken Hoult when we sit down in a Los Angeles hotel room. "I remember just sitting there and understanding what he was feeling. It was a difficult thing to try and take on, to not be able to talk much in a film and be a zombie and yet try and make the audience root for you and go on a journey with you -- and try to make a girl like you. It was a little bit of a challenge but also something that I just really liked and cared about."
Certainly in the movie's first two-thirds, Hoult has to do a lot without saying much, yet his trepidation around the beautiful Julie is an almost purely human response -- the way that young men freeze up around women they have an attraction to. "Yes, every guy has felt that at some point, but, I mean, he's got it 10,000 times worse," says Hoult about R's predicament. "He literally can't remember words and can't talk and he's a zombie. And she's terrified of him. But I think the thing about him is that he just cared about her so much, wanted to protect her and just wanted to connect with her. And the purity of the things he wants is why she falls for him. She sees him trying and doing his best, and that's the appeal."
Hoult admits that the extensive makeup required to turn him into a zombie -- around two hours every morning -- helped him get into character each day before the cameras started rolling. He adds that, because he was a sympathetic character who begins to revert to humanity, R was not as decomposed or grisly as your typical film zombie. "There was a gradual development with the makeup as my character got healthier and changed. At the beginning it was about finding a balance of making him look zombie enough but without having him so decayed and rotting that he couldn't stand next to a girl without her getting completely freaked out."
In addition to finding the right look, Hoult had to find a way to play opposite Teresa Palmer and especially Rob Corddry without the performance turning into something unintentionally funny -- particularly the latter, since the two actors communicate mainly through grunts in their early scenes. "The scenes with Rob were really tough just because he's so funny," recalls Hoult. "I'd laugh so much doing those things. But I think we were lucky that the environment on the set was very relaxed and safe and Jonathan (Levine, director) was very supportive and enthusiastic. You felt as  you could try things and do things, and if it didn't work you'd do something else."
If "Warm Bodies" is a hit, we're likely to see more adventures for R and Julie (Isaac Marion announced last October that he was writing a sequel), but in the meantime, Hoult will continue to make a name for himself in genre movies. He plays the title character in March's fantasy film "Jack the Giant Slayer," and recently shaved his head (his hair is just growing back when we meet) for a role in the upcoming "Mad Max: Fury Road."
And then there's Beast/Hank McCoy, the blue-furred mutant he played in 2011's "X-Men: First Class," who will be back in 2014's "X-Men: Days of Future Past." "I talked to Bryan (Singer, director) a little bit," says Hoult about returning to the franchise. "He seems very excited about it and has told me it's going to be very cool. I'm intrigued to see where the Beast character goes next. I really love the character and enjoy playing him, so it will be good fun."


"Warm Bodies" is out in theaters Friday, Feb. 1.