Jennifer Lawrence opens up in a refreshingly candid interview with the LA Times
Actress talks about Katniss, Tiffany and honesty in Hollywood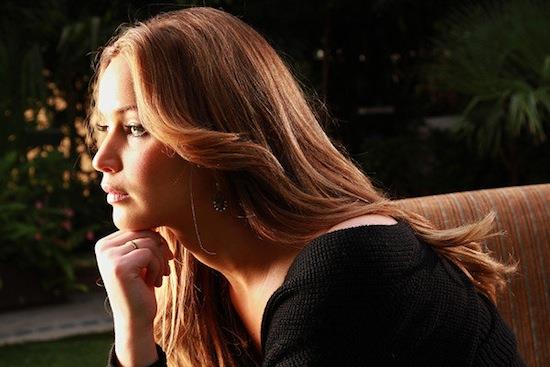 The LA Times recently interviewed
Jennifer Lawrence
during a break from her promotional work for the international release of 'Silver Linings Playbook.'
Lawrence, known for her frankness, spoke openly about the movie industry, its effects on young women's self-esteem, and her Katniss and Tiffany roles in
"The Hunger Games"
and "Silver Linings Playbook."
Bing:
More about Jennifer Lawrence
|
More about 'Catching Fire'
She is very aware of her young fan base and the influence she may have on them:
        But that's trivial compared to the disdain that the 22-year-old Kentucky native, who 
        just received her second lead actress Oscar nomination with her turn in "Silver 
        Linings," feels toward the sense of entitlement that runs rampant in the movie
        industry. She's also acutely aware of the influence she has on young women,
        particularly now that she's playing the strong, self-possessed heroine Katniss
        in the movies adapted from Suzanne Collins' young adult trilogy that
        began with "The Hunger Games."
      "I was a teenager too -- hard to believe, right? -- and remember reading magazines   
       and tabloids," Lawrence says. "I don't think the media realizes how much they glorify
       anorexia. You have an actress who loses a bunch of weight for a role and she's
       explaining how she lost it. 'I ate one grape a day and I lost 25 pounds and I was
       dangerously underweight and now I get awards.'
       "With Katniss, I never meant to make a big deal about it. It was just important she   
        was strong and a warrior instead of being wasted away, especially when, without a
        doubt, she's going to be a role model for a lot of young girls. I thought it would be
        better for them to say, 'I could look like Katniss' rather than 'I'll never be able to look
        like that if I keep eating.'"
Working with "Silver Linings" director David O. Russell, whose bluntness matched her own, was like a gift:
"It's so hilarious to me, especially after working in Hollywood where everyone tiptoes around actors and their feelings," Lawrence says. "We're all doing the same thing. We're all making a film. Let's just cut the ... . Don't tell me what I'm doing right. Tell me what I'm doing wrong, so I can fix it. I came from a sports family, so I respond better to that approach."

Read the whole article on
LA Times
.
Thoughts?  Share them in the Comments!
Check out MSN Movies on Facebook or Twitter.For more "Hunger Games" news, like the Hunger Games Blog on Facebook.
Are you sure you want to delete this comment?