Jennifer Lawrence was hesitant to play Katniss at first
Actress speaks with Collider at Santa Barbara International Film Festival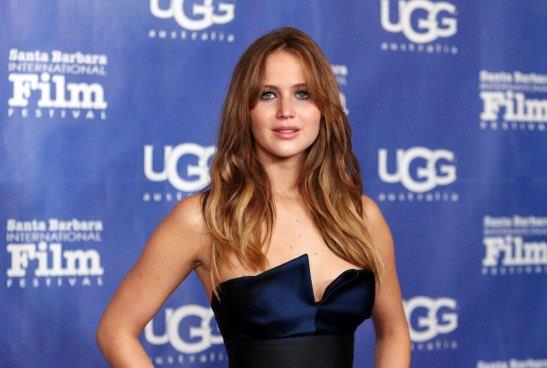 Collider spoke with
Jennifer Lawrence
at the Santa Barbara International Film Festival where she was recognized as Outstanding Performer of the Year.
Bing:
More about Jennifer Lawrence
The 22-year old Lawrence candidly talked about her amazing year, with both "
The Hunger Games
" and "Silver Linings Playbook" being
critically-acclaimed​
and hitting it big at the box office.
Excerpts from the interview:
What has this year been like for you?

Jennifer Lawrence:  Well, it's good and bad, just like any job.  There's an amazing side of it that feels incredible, and then there's the side that's the bad side and you just have to move on.  But, it's been amazing.  A lot of things that I didn't even think could ever be possible for me have happened, all in a year.  It's been really overwhelming, but in a wonderful way.

Why were you hesitant about taking on the role of Katniss Everdeen in "The Hunger Games"?

Because it's really rare in your life that saying yes to something will completely change your life.  I was happy with my life and I just didn't know if I wanted it to change.  I've always had this imaginary future in mind where I would be a soccer mom that drove a mini-van and my kids were normal and I had the same family that I grew up with.  That just didn't fit with taking on a giant franchise.  So, I took three days, and each day was a different answer.  I finally talked to my mom.  I had only really done indies before that, and she said, "Every time people ask you why you don't do studio movies, you always say that it's because you don't care about the size of the movie, you care about the story and the character.  But, you're a hypocrite because now you have a story and a character that you love, but you're not saying yes to it because of the size of it."  So, I said yes, and I haven't regretted it.  I expected to, but I haven't, so far.

How do you feel about so many young women looking up to you now, since having taken that role?

It's exciting!  It's really nice.  And I'm so happy that I don't have a secret life because that would be so stressful.

What was it like to revisit the character for the second film, "Catching Fire"?

If possible, there's even less preparation because I was like, "I've done this before."  It was incredible because it was like going back to high school.  We had a lot of the same crew, and obviously Josh [Hutcherson] and Liam [Hemsworth] were there.  Normally, when I do a movie, I'm meeting people for the first time, so it was just amazing to be able to have the same group of people.  It was so fun.  And it's a character that I love, and a story and message that I'm passionate about, so I haven't managed to get bored.  That's a pretty hard character to get bored with, though.

It's a very lengthy interview, and Lawrence talks about how she began her career, the various roles she's already played, how she considers herself an indie actress, and how the Oscar nod feels the second time around. It's a must-read for serious J-Law fans.  Read it all at
Collider
.
Check out MSN Movies on Facebook or Twitter.For more "Hunger Games" news, like the The Hunger Games on Facebook.