Across the Universe: 'The Hobbit' revisited
Does Peter Jackson's movie work without tech bells and whistles?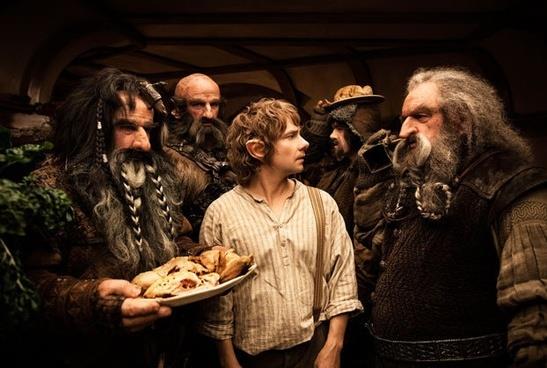 As "The Hobbit: An Unexpected Journey" begins to slip out of theaters -- as of now, it has grossed just short of $300 million in eight weeks -- and heads toward Blu-ray and DVD, it's time for a second assessment of director Peter Jackson's long-awaited adaptation of the J.R.R. Tolkien novel that preceded "The Lord of the Rings."
Bing:
'The Hobbit'
|
Peter Jackson
We first saw the film at a press screening a little over two months ago, exactly as Jackson intended: in 3-D and projected at 48 frames per second, as opposed to the standard 24 frames. 48fps sharpens the picture intensely, causing it to largely lose the "film" quality in favor of a "live," enhanced video look. To supporters, the feeling is more realistic and immersive; detractors say it resembles how a live sports event might look on your HD TV.
After sitting through the movie for two hours and 45 minutes, we were not on board with 48 fps: It was too unsettling and made us feel as if we were watching something on a stage instead of a movie. We had issues with the story and narrative structure of the film as well, but wondered if those were affected by the twin distractions of 48 fps and 3-D.
So this time, we decided to watch "The Hobbit" like a "normal" movie: in 2-D and projected at the regular 24 frames per second. On a purely visual level, this was a far better experience. "The Hobbit" looked like a movie again, not a "Masterpiece Theatre" version of the story, and many of the beautiful compositions created by Jackson and his director of photography, Andrew Lesnie, had the painterly quality that we love about film, which was largely missing from the 48 fps presentation.
But ... and this is a huge "but" ... the movie still has problems that are very much apparent, whether it's in 3-D, 2-D, 48 fps or shown from an 8 mm projector onto a sheet hanging out to dry in your yard.
The biggest issue -- and really, when it boils down to it, the only critical issue -- is that Jackson and company do not have enough story to fill up all this time. You can feel "An Unexpected Journey" straining to find stuff to include, the bizarre opposite of many blockbuster movies that often tend to overstuff themselves.
Scenes that didn't work the first time around -- when at least we were somewhat distracted by the odd look of the whole thing -- didn't improve when viewed in two dimensions. The long dinner with the dwarves in Bilbo's house feels just as long as those old Sunday family dinners where your Uncle Bill got drunk and insulted everyone, except at least Uncle Bill didn't sing two songs as well. The tangential scene with the wizard Radagast the Brown (Sylvester McCoy) should have been kept as a bonus feature for the deleted scenes file on the Blu-ray.
Because the movie encompasses only the first 60 or 70 pages or so of the book, the filmmakers had to add a new, greatly expanded menace -- Azog the orc chief, who gets mentioned in one line of the book -- to create a larger sense of urgency and danger. But everyone -- all 13 dwarves, Gandalf (Ian McKellen) and Bilbo (Martin Freeman) -- emerges unscathed from their climactic confrontation with Azog because, after all, in the book there was no such scene.
Jackson and his
co-writers/producers​
Fran Walsh and Philippa Boyens, who all did such a tremendous job on "The Lord of the Rings," are clearly trying to add enough material to fill three movies, while also attempting to match that material tone-wise as much as possible to the first trilogy they made.
With "The Hobbit: The Desolation of Smaug" (due out next December) and "The Hobbit: There and Back Again" (arriving in the summer of 2014) on their way, we want to offer two or three simple pieces of advice, which may be too late anyway:
1. Merge the two movies back into one and make "The Hobbit" a two-part series, which is more manageable.
2. If it's going to be three movies no matter what, make the remaining two leaner and meaner. Forget trying to hit three hours -- make them both a fast-paced two.
3. Leave 48 fps projection alone. Did enough people go to see "The Hobbit" in that format to justify using it again? We have a feeling the answer is no.
We love returning to Middle-earth, but a few tweaks are needed to make "The Hobbit" as special an experience as "The Lord of the Rings" was.
"The Hobbit: The Desolation of Smaug" arrives in theaters Dec. 13, 2013.