George Lucas confirms Ford, Fisher and Hamill for new 'Star Wars'
...or does he?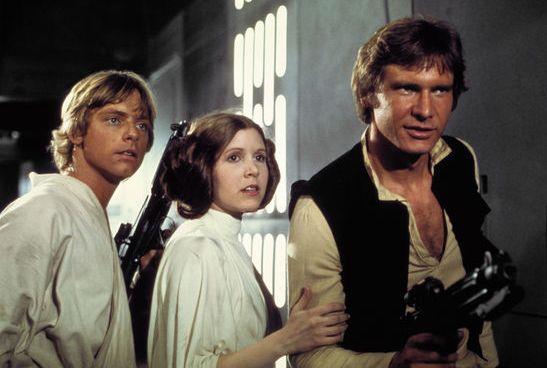 With rumors and random quotes flying around almost daily regarding the new "Star Wars" movies and who will be in them, George Lucas himself has weighed in on the situation. While he didn't exactly make things crystal clear, he has at least confirmed some previous suspicions.
In a new
Bloomberg Businessweek
story (via
Ain't It Cool News
) on the behind-the-scenes negotiations that led to Disney's acquisition of LucasFilm last year, the "Star Wars" creator was asked whether original stars Mark Hamill, Carrie Fisher and Harrison Ford will be in "Star Wars Episode VII" and if he kept them informed about the Disney deal. Lucas responded:
"We had already signed Mark and Carrie and Harrison -- or we were pretty much in final stages of negotiation. So I called them to say, 'Look, this is what's going on'...Maybe I'm not supposed to say that. I think they want to announce that with some big whoop-de-do, but we were negotiating with them. I won't say whether the negotiations were successful or not."
This pretty much tells us what is largely already known: that negotiations were opened at some point to bring the three stars back to reprise their iconic roles. Whether those negotiations have been finished and deals signed is something that Lucas won't divulge, probably because Disney wants to do it in some large-scale official way.
What is interesting about that passage, however, is that Lucas seems to say he was negotiating with the actors before the Disney deal happened. Does that mean he was going to make new "Star Wars" movies whether he sold the company or not? Or did he use that prospect and the possibility of the original cast returning to sweeten the deal with the Mouse House?
Another possibility is that the actors were simply on a need-to-know basis -- that negotiations with Disney were going on at the same time, or even before, they were approached, but that Lucas didn't feel the need to tell them about it until the Disney deal was close to being done.
The rest of the Bloomberg piece is compelling reading as well for anyone interested in the business of "Star Wars." Most interesting is the fact that while Lucas has been involved in the development of the new trilogy, all final decisions are now being made by Disney execs. The "Star Wars" universe clearly has a new ruler, folks, but it does look more and more like we'll be seeing some familiar faces there.
"Star wars Episode VII" is out in theaters in summer 2015.

Disney won't screw it up unless they do something stupid like re-casting the original characters.  Bring back Mark Hamill, Carrie Fisher, and Harrison Ford.  And Anthony Daniels, Peter Mayhew, and Kenny Baker.  SW fans miss them.  And don't worry - we've gotten older, too.  I'd love to see Ewan McGregor reprise his role as Obi-Wan (as Sir Alec is no longer with us).
Are you sure you want to delete this comment?