Across the Universe: New 'Star Trek' trailer arrives
Teaser for 'Trek' sequel keeps raising questions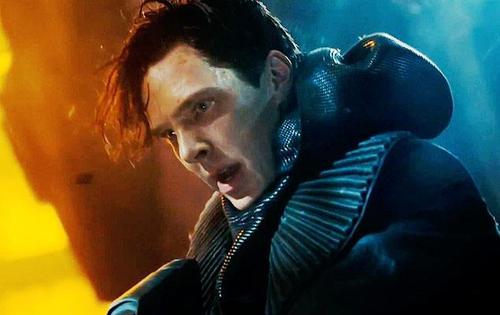 By Don Kaye
Special to MSN Movies

This morning a new teaser trailer for
"Star Trek Into Darkness"
arrived on the Web, expanding on the brief teaser that debuted two weeks ago and offering a much more somber tone to the proceedings (folks who have seen the nine-minute prologue now unspooling in front of IMAX showings of "The Hobbit" say that the tone in that piece of film is much more "fun"). In the first minute of the new trailer, we hear a voice-over from Adm. Christopher Pike (Bruce Greenwood), telling Capt. James Kirk (Chris Pine) that his lack of humility may one day cost him the lives of his crew. The second half of the trailer brings in the villain, "John Harrison" (Benedict Cumberbatch), obviously setting up a situation in which whatever action Kirk takes against "Harrison" may well fulfill Pike's prophecy.
Bing:
More on 'Star Trek Into Darkness'
|
More on Benedict Cumberbatch
We're putting "Harrison" in quotes, of course, because there is widespread speculation that this is a bait-and-switch, and that "Harrison" is actually someone else in disguise. Is it Khan? Gary Mitchell? Charlie X? A representative of the Borg (OK, maybe J.J. Abrams wouldn't go that far ...)? There's still a lot we don't know about this enigmatic figure, which is the way the director wants it -- although quite a few fans are getting a little tired of his so-called "mystery box" games, if the forums on some sites are anything to go by.
But let's say that John Harrison is really this guy's name -- could he be hatching a plan that ultimately leads back to a more famous villain in the "Trek" canon? Our friends over at Badass Digest caught one image from the trailer that sparked more speculation on their part: a shot of what looks like cryogenic tubes, in which Khan and his race of genetic supermen could well be frozen (as was the case in the original "Trek" episode, "Space Seed").
Whoever Harrison is, he's up to no good, and it looks like Kirk and his loyal crew will be pushed to the very edge by his diabolical machinations. As for the rest of the trailer, look also for quick shots of actual space (something missing in  the first teaser) as well as that final shot of the Enterprise crashing into a body of water -- if such a thing is even possible.
There's even some viral marketing in the trailer, as picked up by Trek Movie in a frame-by-frame examination of the clip. A readout next to Cumberbatch's cell flashes a URL that says Are You The 1701? "1701" is part of the Enterprise registry number (NCC-1701) so there may be a connection there. The URL points to a website, Facebook page and Twitter account, none of which are doing much of anything right now except asking you to sign up for something. We'll find out what that is soon enough -- or perhaps they'll just continue keeping us in the dark.
"Star Trek Into Darkness" opens in theaters on May 17, 2013.