'All the Boys Love Mandy Lane' trailer: Okay, yes, we'll love Mandy! We promise!
The long-promised horror outing finally arrives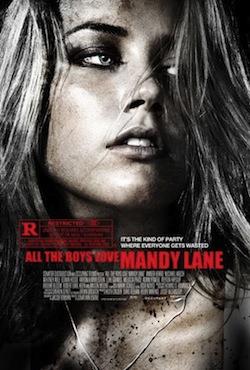 "Wait, wait, wait - did you guys hear that?"
Despite being peppered with tons of horror movie cliches - both spoken and action-based - Jonathan Levine's "All the Boys Love Mandy Lane" isn't exactly standard genre fare. Well, at least we think so. Much like this weekend's horror release, "You're Next," Jonathan Levine's first feature premiered years ago to festival acclaim before finally getting a theatrical release. But whereas Adam Wingard's "You're Next" only had to wait two years and was always due to be put out by Lionsgate, Levine's film premiered seven years ago and has been in limbo ever since. Rights issues, what can you do?
The film bowed at the Toronto International Film Festival, and it was well-liked enough to both get Levine more films ("The Wackness," "50/50," "Warm Bodies") and to launch the career of its eponymous heroine, Mandy Lane (well, star Amber Heard). It's long been talked about, its inability to get released bemoaned, a strange footnote in both horror movie history and on Levine and Heard's resumes. But it's finally coming out! Rejoice!
What's even more interesting about "All the Boys Love Mandy Lane" is that its secrets have remained unsullied for tons of potential fans (I don't even know how it ends, and I've been reporting on this thing for years and years). All we know is that it centers on a suddenly-hot high schooler (Heard) who gets invited to a classmate's weekend party at an isolated cabin (because all the boys want to f-- uh, love her) and all of the horrible, murder-y things that happen once they get there. Is Mandy to blame? Who knows - but the film's first trailer definitely wants to make sure you love her love her LOVE HER LOVE HER. 
Are you sure you want to delete this comment?