Interview: Alexis Denisof is Benedick in Joss Whedon's 'Much Ado About Nothing'
He joins actors from Whedon's other projects in a version of the Shakespeare play that is set in modern-day Los Angeles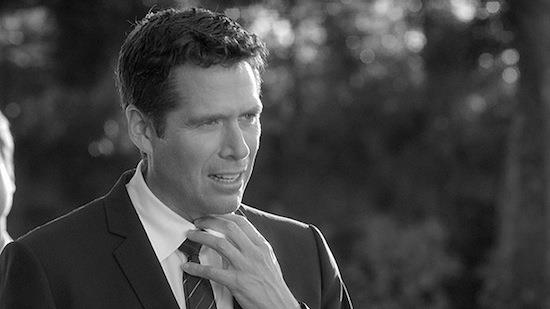 Since it opened last month, Joss Whedon's film version of William Shakespeare's "Much Ado About Nothing," shot in his own home in glorious black and white, has been gaining audiences and accolades wherever it goes. The story of lovers Beatrice and Benedick (Amy Acker and Alexis Denisof) provides a wildly entertaining view of that intricate game of love which seems as relevant today as it did over 500 years ago when the play was first produced. The film appeals to Shakespeare lovers as well as Whedon fanatics. Most of the cast members, including Denisof, Acker, Nathan Fillion, Clark Gregg, Reed Diamond, Fran Kranz, and Sean Maher, have appeared in one or more of Whedon's TV series or films. When I was led out onto the balcony of a Los Angeles hotel room to talk to the talented Alexis Denisof, he greeted me with his trademark humor: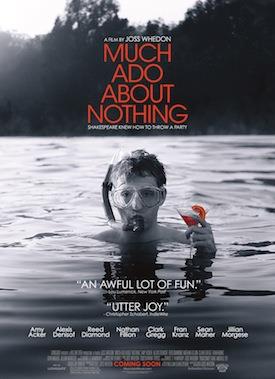 Alexis Denisof: Hi, Danny. Welcome to my balcony. We'll be doing a scene from "Romeo and Juliet."  
MSN Movies: Perfect. I just saw Joss Whedon in the hall. Let's get him out here with a camera.
Exactly! You know you're playing Juliet right?
Yes, I'm ready.
Great! It's easy for you. Just stand there and look pretty.
I think I'll model my Juliet after Natalie Wood in "West Side Story!" 
Love it—you can't go wrong there!
You and Amy Acker are so great in this movie. I have to admit that going in, knowing it was a kind of modern-day retelling, I gave the film about a 50/50 chance! But it only took me about five minutes of getting used to Shakespeare's dialogue coming out of these modern-looking actors' mouths before I was totally hooked.
We so enjoyed making this film! It was such a great sense of fellowship and while the whole thing was a bit of a gamble—what could we lose? It's not like there was much money at stake!
Bing: More on Alexis Denisof | More on Joss Whedon
But when you started did you have any of those fears about doing the play in a modern-day setting?
I actually didn't. The roots of this film were in the readings we did at Joss Whedon's house—readings we always did wearing jeans and t-shirts. I'm familiar with Shakespeare so it wasn't a surprise to me to see how the plays just leap off the page and become alive the moment they're read aloud. Those readings told me that you could do almost anything as long as you do it with the right intentions. If your heart is in the right place and you're not doing a disservice to the author or the beauty of the language, then I think that the genius of Shakespeare always shines through. So I didn't get hung up on the style of it. If anything, I felt liberated by it. This play is not in iambic pentameter, it's in prose so that suggests a more natural and easygoing approach. It's not strict poetry so the rhythms are there to be played with a little.
You came to this with a lot of experience with Shakespeare, right?
I suppose. I mean, I studied—I  took a classical acting course for three years at the London Academy of Music and Dramatic Art and then I was fortunate to have my first theater job in a production of "Hamlet" with the Royal Shakespeare Company where I played Fortinbras, understudied Laertes, and got to choreograph the great duel between Hamlet and Laertes. The best part of that experience was getting to watch Mark Rylance play Hamlet every night.
I imagine that there were members of the cast who didn't have any experience like that. Did that ever prove to be a challenge?
There were actually some advantages to it. Joss was clever—the people that had a lot of lines, he made sure that those actors were comfortable with it, but for parts without a lot of lines, if he felt they could tackle it he gave them a shot. Sure, if you've  never uttered a line of Shakespeare, it would probably not be a good idea to cast you as Beatrice or Benedick, because there's so much to be said and some comfort with the language is very helpful.
And it wouldn't work if it felt like the actor didn't really understand what he or she was  saying.
Yeah, that's very important. But at the same time, to have the freshness and interpretation of people that had never done it before, that brings a certain kind of energy and roughness that is so right for this play. So I don't think we got all that  hung up on who had done what, or who knew what, it was really much more of a "How can we make this work?" and "Do I know my lines for the next scene because it's time to shoot it!" We shot this so quickly that part of it was just survival mode!
And unlike other projects, you're definitely not going to fudge the words in this!
No, never! The last thing Joss said to me when he proposed this lunatic idea was just to make sure I know my lines. And he was right. I wouldn't have wanted to waste any takes for that reason because we only had a couple. That kind of thing could kill a whole day and we didn't have any days to spare.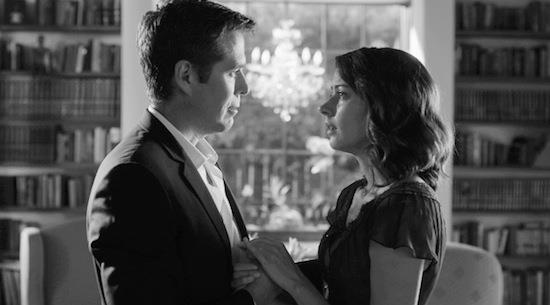 It's incredible to me that you made this film in twelve days, during one of Joss Whedon's breaks from "The Avengers." Is he just a Type-A person who doesn't know how to rest?
Yes, but Joss's idea of rest is when he's creatively fulfilled. And so for him this was not only restful but rejuvenating after the minutiae of a big-budget shoot. I think he just wanted take the saddle off and ride bareback for a few days. That's what this allowed him to do.
I gather you were all quite familiar with the fact that he was a Shakespeare nut since you participated in those readings he had at his house?
Yeah, he loves Shakespeare, so if you got to know him at all, it was a subject that came up. If you were interested in doing it, whether you had experience or not, then he'd have you come over and read a play. We had actors, writers, friends and family of actors and writers—it was a real mix at those readings.  
It's such a cliché, but in this case I think it really applies that this is going to bring Shakespeare to brand new audiences.
I hope so. It's a special kind of English from another age and from Shakespeare's extraordinary mind, but it's still English and after a few minutes, you absolutely understand what's being said and what's going on. In addition to moviegoers, I think it would be great if this film found a life in the classroom. I think that would be a tremendous honor for all of us and a great teaching aid for high school or even elementary school students whose teachers are trying to unlock the magic of Shakespeare. It is a wonderful world that this man has given to us in literature and the more people who discover it, the better. If we can have some small part in that, we'd be thrilled.
When you step into a part like Benedick, are you ever thinking of all those amazing actors in the history of theater who have played that role?
Oh God, I know. This part comes with a hell of a pedigree, both on stage and on film so I tried to push delete on all of that and just find out what was in me that responded to this character and what could I bring to it that was unique to me. I wanted people to feel that this was a real guy. You just try to deliver it in as natural and organic a manner as possible and let the audience discover the beauty of the words for themselves.
I hate to sound like an obnoxious film executive, but seeing how this works so well, don't you think there are other Shakespeare plays that would be perfect for the Whedon touch?
Which ones are you thinking of?
Well, certainly "A Midsummer's Night Dream," don't you think?
Oh, yeah! We've had a lot of fun with that one at the readings, and it's a real crowd pleaser! Can you go find Joss and talk to him about it?
"Much Ado About Nothing" is currently in theaters. For more movie news, follow MSN Movies on Facebook and Twitter.