Interview: Hugh Jackman of 'Prisoners'
'Playing this role was a great privilege ...'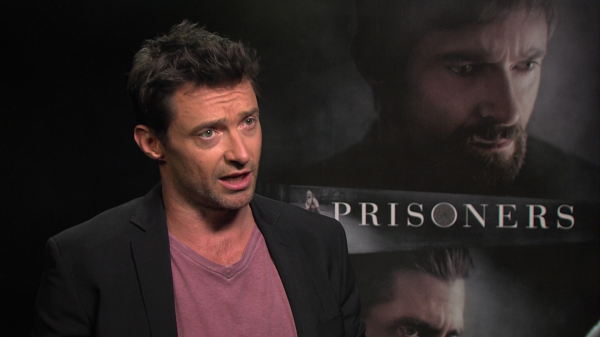 In Denis Villeneuve's "Prisoners," Hugh Jackman is Keller Dover, a dedicated dad and father whose six-year-old is abducted along with the similarly-aged daughter of his neighbors. As the clock ticks on -- and as Paul Dano's low-wattage drifter might have some answers for Jackman's frustrated, fearful father -- the mounting pressure makes it clear what Dover will -- and won't -- do in the name of getting his daughter back. We spoke with Jackman about the film in Toronto.  
MSN Movies: How do you get into the mindset of someone who is going through the worst thing a parent can face?  Is it part preparation and part research?
Hugh Jackman: It's a lot of research.  I like detail, particularly in a movie that really only takes place over eight or nine days, and you're not sleeping.  Sleep deprivation is something I wanted to study, and I did.  What happens to these families?  What are survivalists like?  Who are they?  What's it like for a recovering alcoholic?  All these things really help you build a character that, as a parent, that takes you seventy-five per cent of the way, to understand, just emotionally, what that situation is like.  Not just me, I think anyone.   You know, we see how we get captivated by Castro, that case, or any of these, any number of those cases where we're glued to it because it keys into our innermost fears.  And then, you know, you've just got to open yourself up and your heart up as an actor and trust the actors you're with and be with a great director that's going to push you.
The cast in this, Maria Bello…
Right.
Mr. Howard.
Yeah.
Ms. Davis.  Mr. Gyllenhaal.
Yeah.
When you show up on set and those are your co-workers, do you feel like you've got a little bit of a safety net ...
One hundred per cent.
 ... or is it rather "I've got to bring my A game as well."
Both. But look, all those actors you're talking about, whoever they're working with, they're bringing their A game, because if you're going to be around for anything longer than six months, you're going to be the kind of personality that wants to bring the best out in yourself every take, every day.  That's sort of the mentality, I think, of most actors.  And this, even more so.  And a movie like this, where Denis set up an environment where after he called Action, there was a script, but there was also a sense that anything could happen, because you're dealing with primal emotions.  You're not dealing with thought out, reasoned conversations, you're dealing with people in extremity, so people have to have the freedom to go places, and we would play with scenes.  We'd play them extreme, we'd play them locked down, we'd play them left, right, upside down and when you're with actors like this, that's a joy.  That's exciting.  It is like playing tennis with the greatest tennis player you can imagine. 
Because you know if you make a serve they'll send it right back.
One hundred per cent.  You know, me and Denis would let us ad lib, and working with Jake, you know, we only had four scenes together in the movie, and for me, those four scenes are some of the ones I'll never forget because it was always like that great tennis match. 
Let me ask you this: Keller Dover, the things we get to know about him, we get to know slowly.  He's got a cache of food and ammo in the basement.
Right.
He's a recovering alcoholic.
Yep.
Is playing a character who has taken such a hard road to be a better man …
Right.
… incredibly appealing?
Absolutely.  Yeah, I love the way you said it.  It is a hard road for him.  He's had a lot…you know, you find out that his father committed suicide.  You understand that he's come through a lot and he's done it himself and the hardest thing that can happen for that character is to lose control of the situation like he does in this, when his kids go missing.  So  ... to play someone like that, in extremity, I have great empathy for him, I have understanding for him and in a way, you have to love your character to get inside of him.  But playing him was a great privilege.  It was a great role I'm very grateful for having.
(For more on "Prisoners," watch our video interview:)
For more movie news, follow MSN Movies on Facebook and Twitter.