Interview: Jake Gyllenhaal of 'Prisoners'
Secrets and darkness in a tense, taut thriller ...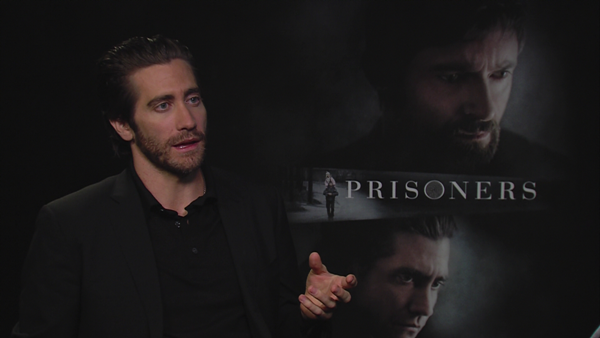 In Denis Villeneuve's "Prisoners," Jake Gyllenhaal plays Det. Loki -- the cop on the case as Hugh Jackman and Terrence Howard's daughters are kidnapped, whose investigation into a current mystery pulls him into the long-past secrets and crimes of a small town. We spoke with Gyllenhaal in Toronto about playing a detective, keeping secrets and the film's dark power ...
MSN Movies: In this, you're a detective.  You're very much a viewpoint character.  Is going through the legal mystery of a plot a great way to get into the deeper mysteries of the themes and the subtext?
Jake Gyllenhaal: Yeah.  There's already a sort of roadmap, and so you follow that.  I think it's also patently deceptive, because whatever narrative things that are stronger or weaker, you're also tied to, you know?  When there's a turn, and you're playing detective in a story, if something works or if something doesn't work, or there's a turn that's slightly hard to make, you have to make it too.  That was actually interesting in terms of finding clues and discovering things with Denis and even with Roger Deakins, was that we all had to work together in moments and try and give a clue and hide it at the same time and we had these three or four different ... I mean, there were these three brilliant minds in the people working there, including our script supervisor and everybody, but in performance and also in how they were shooting it, we were always talking about that and that was great fun.  And then it also allows you to play against the stuff that you already know, which for me is real fun because I love the audience so much, thinking about what they might be thinking and trying to think about it and then throw one half of them off.  That's fun.
It's nice for you to be up there just occasionally throwing curveballs as the plot develops?
Yes, or thinking I am.  (Laughs)
Much is made of Mr. Jackman's character being a reformed alcoholic, being someone who has a strong belief in preparation, being a very pious man, but you can tell that he took a very hard road to get there.
Yeah.
And Detective Loki has this tattoo on his neck, poking out of his shirt all the time ... does stuff like that help you create a past for a character, even if you never articulate it?
For me it's essential because to me, I love improvisation in side scenes if the director allows it.  And I think the preparation you do in a character, the more question marks you can put inside a character for an audience, I think the more interesting they are to watch.  I also believe really deeply in the unconscious connection between the audience and the actor and that we are, as audience members, really excited by things we're not even sure about, you know?  (Laughs).  And I love that idea, and I believe very deeply in it, and think those choices, I take very seriously, and it's not really, for me, about emoting, you know?  Like, putting on a tattoo to be tougher.  It's about ... for me, the tattoos, or behavioral things are all about coming from the essential idea that Denis was trying to communicate and the theme of maybe literally being a prisoner, about hiding and covering up your past, and being ashamed of that, or being proud of that, or being rational about that, you know?  All of those things, for me, if I walked into a scene with somebody asking them questions and trying to find the truth in them, what was I hiding from?  And that was what I was trying to accumulate outside  ... and somehow communicate to the viewer, somehow.
(For more on "Prisoners," watch our video interview:)
For more movie news, follow MSN Movies on Facebook and Twitter.
Have to disagree about the ending being stupid. It was jarring (the audience I was sitting with let out a collective and rather audible gasp). It was visceral. Haunting. Sure as hell isn't one you're going to forget. Alfred Hitchcock would have been proud. And I'm guessing that Mr. Jackman will be up for another Oscar this year. He better be. It was a towering performance.

The Lady was regurgitating the premise of the story so fast and in such a whisper that I missed most of that.  I have a feeling that it was important.  Then maybe I missed something but how does the other
perpetrator fit in?  Was he a former child victim of the Perp, or a  partner, a copycat??
If they tied him to the kidnapping, I must have missed that.
Are you sure you want to delete this comment?