Jamie Foxx is Electro in new 'Amazing Spider-Man 2' clip
Wanna know how powerful he is? So does he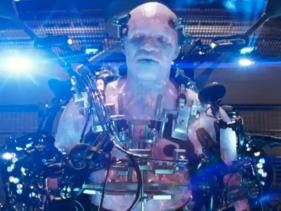 While the completed film is still a long ways off—not due out until May 2, 2014—the promotional onslaught for Sony/Marvel's upcoming "The Amazing Spider-Man 2" is evidently just beginning. Thanks to Comic-Con, today brings us our first non-paparazzi provided glimpse of Jamie Foxx in character as villain Electro. Strapped into machinery vaguely reminiscent of the contraption used by Willem Dafoe to transform himself into the Green Goblin in 2002's "Spider-Man"—and speaking in gravely undertones worthy of Christian Bale's Batman—Foxx proudly proclaims that he is Electro, and that he wants to know how powerful he is. And, I guess, so do we.
Bing: 'Amazing Spider-Man 2'
 |
Dane DeHaan
Although, to be honest, we're a little worn out on superhero antics after "Man of Steel," and we'd be more interested in seeing Andrew Garfield's Peter Parker bro-mance with Dane DeHann's Harry Osborn. Not to mention his proposed romance-romance with Michael B. Jordan's MJ, but that's never going to happen—outside of, hopefully, thousands of slashfic entries—so we can all forget about it.
What say you, Hitlisters? Does Foxx's appearance as Electro bode well for the upcoming sequel? Or is it, eh, just more of the same, and have we become sadly inured to the thrills of superhero movies after watching the world be destroyed one too many times? Check out the clip, posted below, and let us know in the comments...