Rose Byrne could sing and dance her way into the heart of the new 'Annie'
Is there anything she can't do?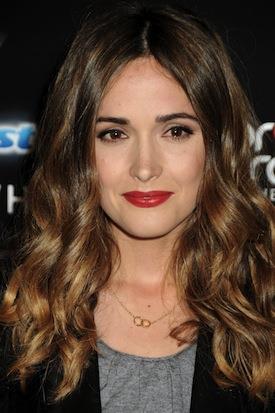 After a doozy of a pre-production process (remember when Willow Smith had this project tailor-made for her, and then dumped it so she could focus on being a kid, i.e. performing more subpar pop songs?), the "Annie" remake finally seems to be on track, and in a big way. Now set to star pintsize Oscar nominee Quvenzhane Wallis as the eponymous orphan, Jamie Foxx as the Daddy Warbucks character (now named Benjamin Stacks), and Cameron Diaz as the evil Miss Hannigan (a casting choice we're still wrestling with), Will Gluck's new take on the material is getting around to casting some of the more minor characters in the film.
Bing: More on 'Annie'
THR
reports that Aussie star Rose Byrne (television's "Damages," "X-Men: First Class," "Bridesmaids," "Insidious," and total delight) is currently "circling" (read: in talks for) the role of Stacks' loyal and lovely assistant Grace (played by Ann Reinking in John Huston's 1982 film, just for reference). 
A key supporting character in traditional "Annie" lore, it's Grace who first picks Annie to come visit Warbucks' mansion during the Christmas holiday (for a bit of a PR stunt, really) and it's also Grace who loves Annie from the start and it's Grace who encourages Warbucks to adopt Annie for good. She evens saves Annie's dog, Sandy! She's essentially a saint. (Oh, and she's also a love interest for her boss, which adds some nice romance to the story.) Byrne would be a wonderful addition to the film, so here's hoping this rumor pans out.
Are you sure you want to delete this comment?