'The Giver' adaptation finally casts its star Receiver (of Memory)
Get ready to see Brenton Thwaites everywhere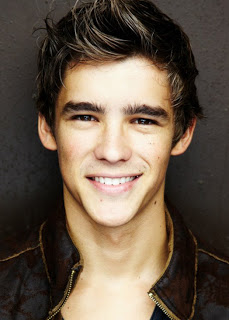 It looks like one of Hollywood's perennially "in the works" projects is finally getting going, two decades after star and producer Jeff Bridges just went and bought the film rights for himself. Deadline Hollywood reports that Australian actor Brenton Thwaites has been cast as Jonas in the film, the eponymous giver (well, sort of) of the project's title. 
Based on Lois Lowry's wonderful, wonderful, wonderful 1993 book of the same name, the film centers on a future society that has eliminated all pain (personal and societal) by way of "Sameness," essentially a process that removes emotion and memory from most people. The "Community" lives under a number of roles beyond just this Sameness, including assigned jobs, arranged marriages, and the forced adoption of children. While the plan behind the societal set-up is meant to allow its citizens to live in a utopia, things are creeping ever-closer to flat-out dystopia. At age twelve, all citizens are assigned the jobs they will hold for the rest of their lives - and that's when young Jonas is told that he will soon inherit the job of "Receiver of Memory."
Turns out, even though the Community has rid its normal citizens of their memories, they need to exist somewhere, mainly as a security measure in case the Community needs to make a decision that would best be served by having memories to reflect on. Jonas begins training with the current Receiver (the role Bridges will fill) and the pair soon come to the realization that the Community must change - and soon. It's typically one of the first dystopian novels middle school-aged kids read, and it's just wonderful. Really, it's wonderful. 
In the novel, Jonas is just twelve-years-old, so the character has been aged up so that he can be played by the twenty-three-year-ol​d Thwaites (who does, admittedly, look younger than his age would make him seem). Thwaites is about to be everywhere - he is playing the prince in "Maleficent" and will next be seen in the Ewan McGregor-starring "Son of a Gun" and William Eubank's "The Signal."
Bing: More on Brenton Thwaites
Philip Noyce ("Salt") will direct the film, with a script by Vadim Perelman with a rewrite by Michael Mitnick. Bridges purchased the film rights to the project two decades ago (though he only officially signed on to produce and star in the film in 2011), and while the book has spawned a one-hour stage adaptation, a play, and an opera, this will be the first time it's been adapted for the big screen. We cannot wait.
"The Giver" will reportedly start filming this fall, so perhaps we may finally get to see this film as early as 2014.
Want more Movies? Be sure to like MSN Movies Facebook and follow MSN Movies Twitter.