Videodrone Classic: 'Lord of the Flies' on Criterion Blu-ray
Plus 'Love is a Many Splendored Thing,' 'Heavy Traffic,' and more Mario Bava on Blu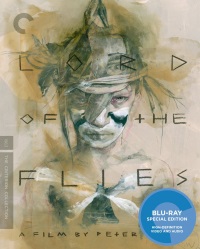 "Lord of the Flies" (Criterion), the original 1963 screen version of William Golding's novel, made the case for the natural state of human behavior as savage and predatory through the story of a class of British schoolboys shipwrecked on a deserted island. The film offers clear-eyed vision of civilization crumbling when the boys, stranded without adult supervision, sink into tribalism, savagery, and finally murder. Filmmaker Peter Brooks brings the point home with his casting and unadorned direction: these are modern day Lost Boys whose adolescent sense of play, flaring emotions, and one-upmanship spin out of control when left to their own instincts. Watching these cute kids descend into violence as if playing a real-life game of cowboys and Indians is all the more disturbing by the sheer charge they get out of it.
The film gets the Criterion treatment on Blu-ray and DVD, with a new, restored 4K digital film transfer, supervised by cameraman and film editor Gerald Feil. Both editions feature commentary by director Peter Brook, producer Lewis Allen, director of photography Tom Hollyman, and cameraman and editor Gerald Feil, the new featurette "Living Lord of the Flies" constructed from 8mm film footage shot by the young actors during the production and set to an essay written and read by actor Tom Gaman (who played Simon), a new interview with Gerald Feil, a 2008 interview with director Brook, and a deleted scene with optional commentary.
Archival supplements include audio recordings of William Golding reading from his novel "Lord of the Flies" (accompanied by the corresponding scenes from the film), an excerpt from Feil's 1972 documentary "The Empty Space" (which showcases Brook's theater methods), and excerpt from a 1980 episode of "The South Bank Show" featuring Golding, and a collection of behind-the-scenes material, featuring home movies, screen tests, outtakes, and stills. Also includes a booklet featuring an essay by film critic Geoffrey Macnab and an excerpt from Brook's book "The Shifting Point."
More cool and classic releases at Videodrone
For more releases, see Hot Tips and Top Picks: DVDs, Blu-rays and streaming video for week of July 16