Videodrone New Release Rack: Brad Pitt vs. zombies in 'World War Z'
Plus Steven Soderbergh's 'Behind the Candelabra,' Sofia Coppola's 'The Bling Ring,' 'The East,' and more
By 
SeanAx
 Sep 17, 2013 12:37AM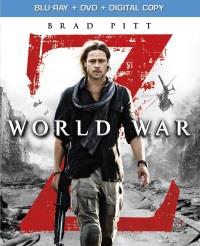 "World War Z" (Paramount), based on the best-selling novel by Max Brooks, takes a global perspective on the zombie horror genre. Where most films take the microcosm approach, with the zombies as handy metaphors for whatever strikes the fancy of the filmmaker, this film straddles the entire world as Brad Pitt, playing a former war crimes investigator, is drafted by the U.N. to search for the source of the virus burning through the civilized world.
Pitt was a producer on the film and brought on director Marc Forster, the director who fumbled the Bond franchise with "Quantum of Solace" but has proven himself sensitive to intimate drama and emotional turmoil ("Monster's Ball"). He is far more adept at choreographing the chaos of a world overrun by the hive behavior of zombie masses and creating a cinematic order to the presentation while the film preserves the episodic structure of the book while adding an action thriller / mission odyssey storyline to create a narrative backbone. What could have been an awkward mix (and pre-release articles were predicting disaster due to last-minute reshoots and an entirely re-conceptualized third act) is in fact quite effective in putting the focus on the human equation of the horror. It turns out that Pitt is a pretty savvy producer in his own right. He helped bring the film back to Earth.
It's "a muscular, engaging and relatively intelligent horror thriller," in the words of MSN film critic Glenn Kenny, and it "delivers a well-above-average quotient of what we've come to expect of summer movie thrillers."
On Blu-ray, Blu-ray 3D, and DVD, The Blu-ray editions feature both the theatrical version and an extended unrated cut that runs seven minutes longer, along with three featurettes and bonus digital and UltraViolet editions for download and streaming. Also On Demand and VOD.
See an exclusive clip from the Blu-ray supplements at MSN Movies and enter to win one of five copies of the Blu-ray+DVD Combo Pack, including one copy signed by the stars.
"The Bling Ring" (Lionsgate), based on the true story of affluent L.A. kids who use social media to target celebrity homes, seems a perfect fit for Sofia Coppola, who has done marvelous work in ethereal studies of disconnection and emotional confusion, of people lost in their worlds or blinded by celebrity and affluence. The problem is that these kids (led by Katie Chang and Israel Broussard, with Emma Watson and Taissa Farmiga quickly joining in and staking their piece of the bling) don't actually yearn for anything beyond fashion accessories and the thrill of robbing the rich and famous and they lack any capacity for self-reflection. The dispassionate observation, intercut with social media alerts and pop culture snaps and stories, makes them a reflection of that world, offering an interesting take on contemporary celebrity culture without giving us a character underneath worth caring about. It does, however, takes us for an interesting ride through the closets and cribs of the rich and famous. Blu-ray and DVD with three featurettes and an UltraViolet digital copy. Also On Demand and VOD.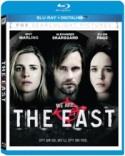 "The East" (Fox), the second collaboration between screenwriter / actress Brit Marking and screenwriter / director Zal Batmanglij, casts the talented Marling as an agent for a private security firm sent undercover to infiltrate an eco-minded activist collective that targets corporate leaders. It's a "well-made thriller filmmaking that doesn't insult your intelligence but engages your sense of story and suspense," recommends MSN film critic James Rocchi. It "has the feel of a techno-thriller, with changes of scene and high-stakes action unfolding to build toward the climax; at the same time, Marling and Batmangli are smart enough to know that character and ideas matter, and how the presence of those things can improve action and suspense." Alexander Skarsgård, Ellen Page, and Patricia Clarkson co-star. Blu-ray and DVD with three featurettes. The Blu-ray edition includes three additional featurettes, deleted scenes, and a digital copy. Also VOD and On Demand.
"Disconnect" (Lionsgate), which channels the "Crash" style of interconnected urban characters for the digital age, was savaged by critics and ignored by audiences. MSN film critic Glenn Kenny observes: "The filmmakers are so determined to make their points, which are basically iterations of the fact that the Internet is a scary place that is changing the way people relate to each other, not always for the better, that they all but rush to them." Jason Bateman, Hope Davis, Paula Patton, and Alexander Skarsgard are among the stars of this ensemble. Blu-ray and DVD, with commentary and a featurette, plus a bonus UltraViolet digital copy on the Blu-ray. Also On Demand and VOD.
"The Croods" (Fox) is available this week on HD digital, two weeks before disc.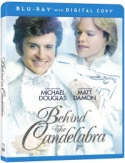 Cable pick:
"Behind the Candelabra" (HBO), Steven Soderberg's take on the queasily strange but true story of Scott Thorson, who for five years was Liberace's live-in lover before he was booted to the curb without a cent, made its world premiere at Cannes this year but its American debut was on the small screen. A passion project of Soderbergh's for over a decade, it was finally made for HBO on a limited budget when all the studios passed on the project ("They basically said it was too gay," explained Soderbergh in interviews earlier this year), with Matt Damon as Thorson and Michael Douglas as Liberace ("Call me Lee").
Click on "More" below for reviews of "Gimme the Loot," "Augustine," "The We and the I," and other releases 

There's definitely an edge of camp to the excesses of Liberace's glitzy palace-like Las Vegas mansion and his flamboyant wardrobe on and off the stage – not to mention the savvy casting of Rob Lowe as a plastic surgeon with an unnaturally enhanced face that can barely change expression -- but there's no winking to the audience in the performances or in Soderbergh's direction of their intimate scenes. Soderbergh and screenwriter Richard LaGravenese are more interested in the people behind the pose than in ridiculing Liberace's persona. Their sex life and Thorson's addictions are only part of the story of a complicated love affair tangled up in lust, obsession, control, and vanity. It was nominated for 15 Emmy Awards, including Outstanding Mini-series or Movie, Direction, Writing, and Lead Actor for both stars.
Blu-ray and DVD, with a featurette, and a digital copy of the film (your choice of iTunes-enabled download or UltraViolet copy for download and instant streaming).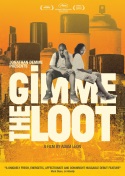 Indie pick:
"Gimme the Loot" (IFC) is not a heist film or a gangster drama. This loose little character pieces follows a pair of graffiti artists (Tashiana Washington and Ty Hichson) through long, hot New York summer day as they try to raise money to execute the ultimate graffiti tag. "Like the spray paint the lead characters boost in the film's first reel, "Gimme the Loot" sprays and spits with contents under pressure leaping out to bright, bold results," recommends MSN film critic James Rocchi. "It's mostly the equivalent of a long and lazy and slightly stoned summertime tall tale made and meant to be shared on a stoop." First time filmmaker Adam Leon writes and directs. DVD with filmmaker commentary, a bonus short film, a featurette, and a deleted scene.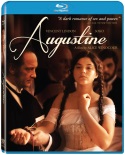 Foreign pick:
"Augustine" (Music Box), a French drama directed by Alice Winocour, stars Vincent Lindon as 19th-century French neurologist Jean-Martin Charcot and French pop star Soko as Augustine, a young, illiterate housemaid who becomes his star patient and his obsession. "[E]ssentially a dark romance of sex and power… "Augustine" is a love story, but not in the conventional sense and not only because the romance violates an obvious ethical taboo," writes New York Times film critic A.O Scott. French with English subtitles on Blu-ray and DVD, with interviews with director Winocour and star Soko, two short films by Winocour ("Kitchen" and "Magic Paris"), historical photos from the Pitié-Salpêtrière Hospital, and two music videos.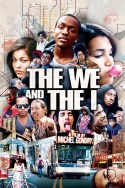 More indies and oddities:
Michel Gondry's "The We and the I" (Virgil, DVD), a collaborative slice-of-life created with students at a South Bronx community arts center and set almost entirely on a city bus ride through the Bronx on the last day of school, is an admirable project that never breaks free of its pageant of cliques and clichés. There are some convincing performances but it comes off as less a film than a social studies experiment as group theater performance. They can't seem to help putting the lessons of the experience into dialog form. But at least this is one urban tale that doesn't descend into guns and drugs and violence. More reviews here.
"Bless Me, Ultima" (Sony, DVD, On Demand), adapted from the Rudolpho Anaya novel, is the first theatrical feature from Cark Franklin ("One False Move," "Devil in a Blue Dress") in a decade. It's an often lovely tale of growing up Hispanic in New Mexico during the war years and Franklin is savvy about race and sensitive to the way boys interact in their little worlds, but otherwise favors symbolism and imagery over human drama and magic realism over the social culture. More reviews here.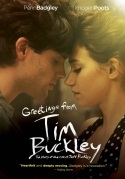 "Greetings from Tim Buckley" (Cinedigm, DVD, VOD) is actually the story of the late folk singer's son Jeff Buckley, played by Penn Badgely, from his debut in 1991 to his untimely death six years later. Imogen Poots, William Sadler, and Norbert Leo Butz co-star in the film by Dan Algrant. With cast and director interviews. Reviews here.
Two comedies: "Somebody Up There Likes Me" (Cinedigm, DVD, VOD), with Keith Poulson and Nick Offerman as best friends and Jess Weixler as the girl they both love, and the satire "And Now a Word From Our Sponsor" (Virgil, DVD, VOD), with Bruce Greenwood as an advertising executive who can only communicate through slogans and Parker Posey as the single mother who tries to help him out.
Two thrillers: "Simon Killer" (IFC, DVD), about an American in Paris who joins forces with a prostitute to blackmail her clients and ends up tangled in the underworld, and "Scenic Route" (Vertical, Blu-ray, DVD, VOD) with Josh Duhamel and Dan Fogler as best friends turn on one another when stranded in the desert.
"Drift" (Lionsgate, Blu-ray, DVD, VOD), an Australian drama based on the true story of two brothers who revolutionized the surfing industry, stars Myles Pollard, Xavier Samuel, and San Worthington, and "Shanghai Calling" (Anchor Bay, DVD, VOD) is a romantic comedy set in the business culture of China, where Chinese-American attorney Daniel Henney finds himself completely out of touch.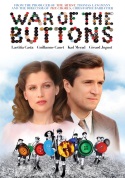 More foreign affairs:
"War of the Buttons" (Anchor Bay, DVD, Netflix Instant), the fifth film version of Louis Pergaud's anti-war novel about kids playing war and the second version made in the last couple of years, relocates the 1912 story to occupied France in World War II. Laetitia Casta and Guillaume Canet head the adult cast of this juvenile war game, directed by Christophe Barratier, played out in the fields of a small country village. "Unfortunately, Barratier's reinterpretation errs on the side of heavy-handed, unpersuasive moral lessons," writes MSN film critic Kat Murphy. "[T]his "War of the Buttons" is glossy and bland, a French pastry for folks who prefer their parables sweet, with no bite." French with English subtitles, with a featurettes, deleted scenes, and bloopers.
Hong Kong superstar Chow Yun-fat is "The Last Tycoon" (Well Go, Blu-ray, DVD), who rises from street thug to mob boss in Wong Jing's gangster opera (in Mandarin with English subtitles). "In the Fog" (Strand, DVD), a Russian war drama set in 1942, is Sergei Loznitsa's follow-up to the lovely "My Joy" (Russian with English subtitles).
The Chilean horror film "Hidden in the Woods" (Artsploitation, DVD) sends brutal gangsters after two sisters trying to escape their father's abuse and the fallout of his criminal life (Spanish with English subtitles, with an interview, a featurette, and a booklet).
Most releases are also available as digital download and VOD via iTunes, Amazon, and other web retailers and video services.