'World War Z' giveaway
Enter to win one of five copies of the Blu-ray+DVD Combo Pack, including one copy signed by the stars
By 
SeanAx
 Sep 16, 2013 10:59AM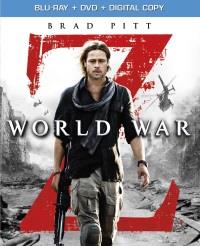 When the zombie infection burns through the world, Brad Pitt is sent on a mission to find the source of the virus, the only hope for a cure for the plague that threatens the survival of mankind.
Based on the best-selling novel by Max Brooks, "World War Z" (Paramount) takes a global perspective on the zombie horror, preserving the episodic snapshots of a world under siege of the book while adding an action thriller / mission odyssey storyline to create a narrative backbone. 
Bing: "World War Z" DVD / "World War Z" Blu-ray
What could have been an awkward mix is in fact quite effective in putting the focus on the human equation of the horror. And while the film was almost dismissed before its release, thanks to stories of last-minute rewrites and an expensive reshoot, the resulting film is compelling and exciting and as well as unexpectedly human. Read the review by MSN film critic Glenn Kenny.
It comes out on Blu-ray, Blu-ray 3D, and DVD editions this week. The Blu-ray editions feature both the theatrical version and an extended unrated cut that runs seven minutes longer, along with three featurettes and bonus digital and UltraViolet editions for download and streaming.
See an exclusive clip from the Blu-ray supplements at MSN Movies
MSN and Paramount are giving away copies of the Blu-ray+DVD Combo Pack. One lucky winner will receive a copy signed by stars Mireille Enos and James Badge Dale, with four runners-up receiving the Blu-ray+DVD Combo Pack sans signatures.
Enter to win by following these steps:
1. Like MSN Movies on Facebook and Twitter
2. Tweet and comment the following message: I want to win the @MSNMovies #WORLDWARZSIGNEDDISC​ giveaway!
3. Email msnmovies@hotmail.co​m with the following message: I want to win @MSNMovies #WORLDWARZSIGNEDDISC​ giveaway!
4. Stay in touch with MSN Movies Facebook to see if you've been selected as the winner
Entries are accepted until Monday, September 23. Good luck, MSN Movies fans!
More current and upcoming releases here